Today is the official launch day of my dear friend Gabby's new book, Miracles Now!!! I've been very lucky to have had a copy in my hands for awhile now, so I've been able to spend some real quality time with it. She knows I love all of her books, but I can honestly say this one is like the perfect trusty companion — you can flip open to any page and use that tool to lift your energy immediately. This book is a freaking gift to humanity, people!!! (And I may or may not be mentioned in tool #55 in the book…so that's reason enough alone to get it). Tee heeeee!
I sat down with Gabby the other day in NYC's East Village and we were jamming about the launch of the book. She seemed super calm about it considering it was only 2 days away. I asked her what excited her most about the book coming out.

She said..
"My hope and intention for this book is that it wakes you up to your own inner light. As you elevate yourself, you elevate the world. You can help awaken everyone around you. Your presence is your power.
I want to put people on the path of being a teacher."
Legit.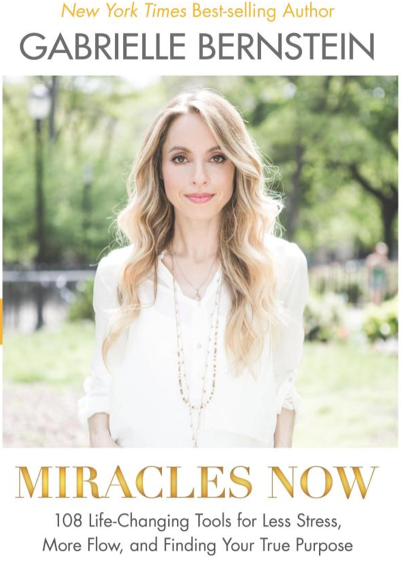 I woke up super early this morning and couldn't fall back asleep, so I decided to crack into Miracles Now and share 3 tools with you that I find particularly powerful. There are so many more good ones, it was hard to choose, but here you go. :)
3 Tools To Help You Live A More Epic Life…from Miracles Now
Tool #8: Positive perception playlists. "Music is one of the strongest tools we have to reconnect ourselves to our inner spirit."
This is my favorite thing!!! Music is one of the all time best tricks I use to change my mood and energy immediately. Making a positive perception playlist is really fun. Here's one of mine. :) When I was in London with Gabby, all it took was listening to this one song to transform my entire perception of my life. Even just for a moment. WORTH IT!
Tool #33: Leave a powerful energy impression. "Your energy speaks louder than your words…we all pick up on each other's energy, even if it happens on a subconscious level. Before you enter any environment, take a deep breath…say, 'I choose to remove any negative energy I'm holding onto. I choose to retrieve all the positive energy around and within me. My intention is to share my positive energy with the world." 
So true. I honestly believe people can feel your energy even through text or email. So clean it up before you make any moves!!!!
Tool #46: Measure your success based on how much fun you're having. "It's easy to measure our success based on a dollar amount, relationship status, or job credential. But what I've learned is that nothing outside of us can make us feel truly happy. We can take pleasure in life's successes, but we must focus on the greatest success of all: living a fun, fulfilling life." 
That tool itself is probably the best thing I've ever read. Really!!!! THIS IS LIFE, people. Like…right now. This is it. Let's have more fun. Let's be easier on ourselves. Let's laugh and do fun things that light us up with smiles every day. All day. Please!
Wheee! Thanks, Gab, for sharing your gifts so generously with the world. I LOVE YOU.