Hey 2015 friends. That's right, it's a new year, and I'm writing this post from BED, that's how serious of a writer I am in 2015. Don't worry, I have my blue blocking glasses on so I won't lose any sleep from staring at a screen right before bed. Yes, totally serious, this is so much fun. Blogging with sunglasses on from bed makes me feel like a real 2015 baller.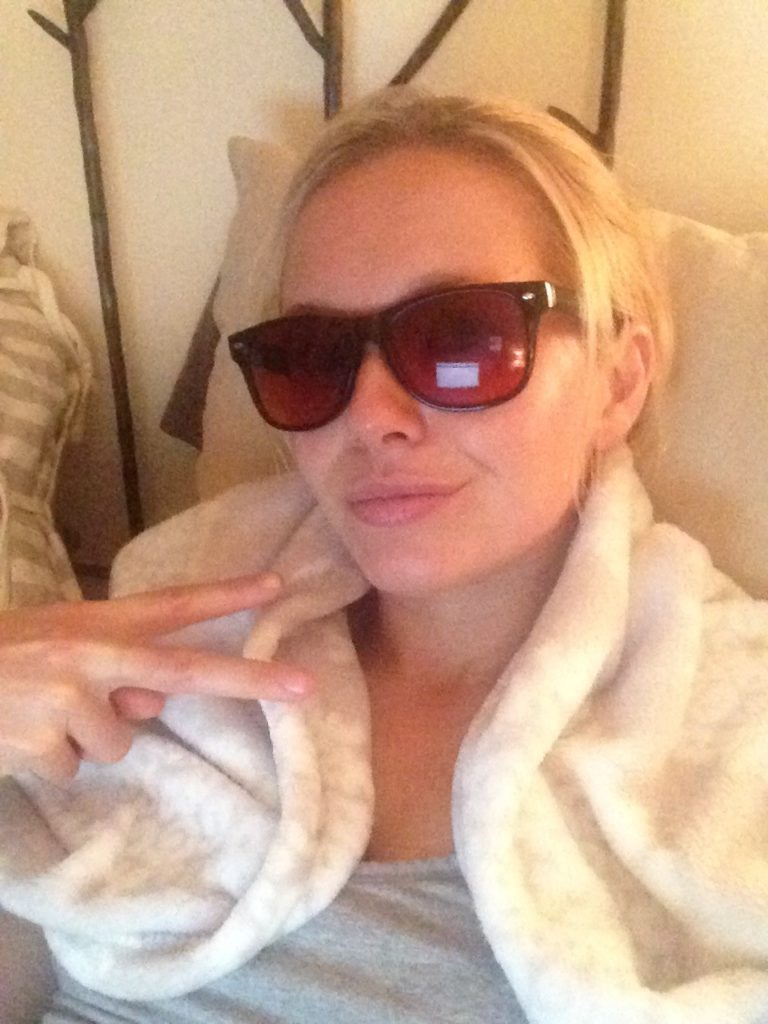 How's your year going so far? You know what could make it even better than it already is? Read on to find out.
The other night I was at dinner with some friends and I arrived there a few minutes late. This is not out of character for me, but there was a weird reason this time — I had accidentally skipped the stop on the subway that I was supposed to get off at. Now, that may not sound all that weird to you but I've lived in NYC for almost 8 years now, and I've taken the subway probably millions of times, and it's a very rare occasion that I simply skip a stop or take the wrong train. I mentioned to my friends that it had actually happened to me twice in a short period of time.
"You're dehydrated," one of my friends said.
I hadn't thought of that before, but I realized she was right. Along with a million other benefits, being hydrated makes your thinking clearer. Your brain needs water to function optimally. When you're dehydrated, you can feel foggy-headed and your memory might not be as sharp.
I started thinking about all the other things that being dehydrated has an impact on, which is pretty much every function in life. A few categories you may care about are energy, mood, weight, skin, digestion…and endless more. I don't need to really school you guys on the importance of water, right?
Then, the other night my family was playing a game at Christmas – a "questions" game, and one of the questions was "if you could have one wish what would it be?" The first thing out of my mouth was "everybody would be hydrated." I honestly don't know what made me say that but it came out on impulse. So I guess that's my one wish in the world, for everyone to be hydrated.
And we're actually really lucky to have access to clean drinking water, SO MANY PEOPLE DON'T, and it makes me really upset to think about, because the way I feel when I'm dehydrated sucks, and it must be a million times worse for so many people who can't get clean water.
On that note, if you feel inspired to help people get clean water so everyone can be hydrated, you can donate to Charity Water.
Anyway – long story short – I made a resolution to get hydrated. I had remembered reading this article awhile back about a woman who drank 3 liters of water per day for a month and felt amazing afterwards, so I decided to 3 liters a day for the month of January as a personal challenge.
Starting today (Jan 1) I'll be drinking about 108 ounces of water per day (a little more than 3 liters). A liter is about 34 ounces, so 3 liters = 102 ounces. I'm drinking 108 ounces because the water bottle I'm using is 27 ounces, so 4 bottles is 108 ounces.
Too much math? Sorry. Point is = I'm drinking 3 liters of water per day.
This is, I imagine, significantly more water than most people are accustomed to drinking. I say this because it actually takes effort to drink this much water. Yes, you'll go to the bathroom more, but that's the price you pay for staying HYDRATED ALL THE TIME (sing it with me). Woo!
I'm gonna start recording any differences I feel from all the hydration and I'll do another blog about it after the month is over.
Who's with me?
If you join and post anything about it on the insta, use the hashtags #hydrationchallenge and #hydratedallthetime and of course tag me @jennysansouci so I know you're hydrating.
If you do drink 3 liters of water every day for 30 days straight (doesn't have to be on the same timeline as me, just start any day), please let me know in the comments, and for every comment I get saying someone COMPLETED 30 days, I'll donate $5 to Charity Water.
As far as timing, I will submit the $5 donation for anyone who completes their 30 day hydration challenge by the end of February. In order for me to donate the $5 on your behalf, you must leave a comment on this blog post when your challenge is finished.
UPDATE: Because of some concerns I've received, I will honor the $5 donation for anyone who drinks 2 liters of water per day (64 oz) for 30 days as well.
If you complete it I'd also really like to know what benefits you experienced, so please leave that in the comment too.
Ok?
3 liters of water a day (ok, fine, at least 2) for 30 days. You can start anytime. You can start now. Now is the perfect time. GET HYDRATED!
Oh, coffee and caffeinated teas don't count towards your hydration but herbal teas are good to go. I say this because caffeine is dehydrating so that would be missing the point. K?
I care about your hydration!!! I really do. Because hydration makes you a happier person and happier people make a happier world. IT MAKES SENSE! SO DRINK UP!
Love you,
Jenny