The other night I was out having dinner in Manhattan with my friend Jamie, telling her about my experience at Landmark. One of the things that happens at Landmark is you identify areas of your life you want to have a breakthrough in.
A couple definitions of "breakthrough" that I like:
Breakthrough: 
1) Producing results beyond what is reasonable and predictable, beyond "business as usual."
2) Taking extraordinary action to make something happen that would not have happened otherwise. 
In my experience so far in the one month of 2014, getting out of my comfort zone always produces breakthroughs. I honestly believe getting out of your comfort zone can be the admission ticket to a life beyond your wildest dreams. I'm serious.
I said to Jamie — "You know, in February I'd really love to create a breakthrough in fitness."
Her eyes lit up. Jamie is obsessed with fitness. "Can I be your fitness concierge? I'll find us fun workouts to do all over the city."
Now we're talking! We designed a plan for the month (outlined below).
Why do I want to create a breakthrough in fitness? Well here's the deal. I've never been a "fitnessy" person. Maybe that surprises you because I'm all about health and wellness and all that, but really, I pretty much do yoga and run. All other fitness type things are outside my comfort zone. Also, for me, yoga is more about moving stagnant emotional energy and running is more about clearing my head and channeling creative ideas. I've never really been focused on fitness.
BUT…I realized that if I just keep doing the same thing over and over, I'll just have the same results I've always had. I've always wanted to take my physical fitness to the next level and feel really strong, fit and healthy in my body — so this means I need to take new actions.
I've realized from taking hip hop dance classes for the past month as part of my Comfort Zone Crusade that I can put myself in uncomfortable physical situations and be totally fine, learn about myself, have fun and find a lot more freedom in life. Not to mention feel more open and sexy.
So, this month I'm gettin' SERIOUS about fitness. You can tell from this photo of me laying in my bed, gently holding a weight.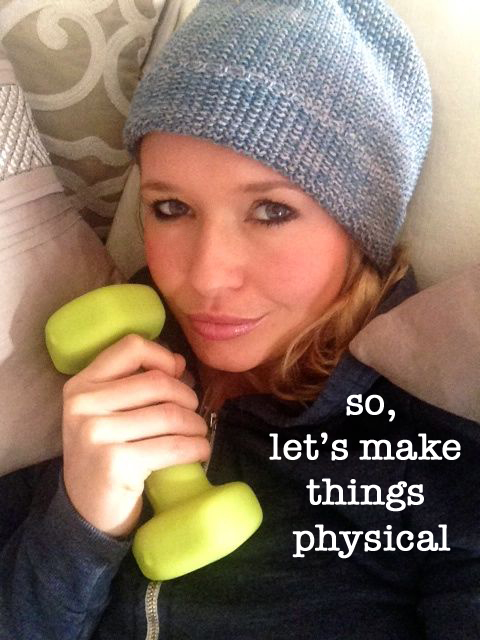 Here's my plan:
Starting FEB 1 (TODAY)!
30 days of movement
At least 8 new, different workouts over the course of the month (maybe more, once I get into it)

3 liters of water a day (I'll have to fill up my bkr bottle 6 times)

What do I mean by movement?
Jamie proposed the idea of "movement" for this challenge being at least 45 minutes straight (not broken up) of some type of exercise that actually exerts effort (for me, walking does not count this month, although I love walking…but I gotta get out of the comfort zone).
I can still run and do yoga as I usually do as part of this movement challenge, but I plan to do at least 8 new kinds of workouts that I wouldn't normally do over the course of the month. Next week, I'm already signed up for some type of "rowing" class and a spinning class.
Other ideas people have given me include different forms of dance, zumba, pole dancing class (eeeek, bye comfort zone), hot yoga, surf classes (yes they have them indoors in NYC) and even…crossfit. Oh boy. I mean, it sounds like the options are endless. Maybe even indoor rock climbing. Who knows. I'm dedicated to finding the most fun workouts and staying true to my commitment to myself.
During the course of the month, I'll be posting the workouts I do on instagram with the hashtag #30daysofmovement.
At the end of the month, I'll post a full list of every workout I did each day. Maybe that will bore some of you but it's a way for me to stay accountable and show people what options are out there.
I mean, if this doesn't totally blast me into a new realm of possibility for my fitness, I don't know what will!! :)
Oh by the way, this is the official song for the challenge. Please, just do some type of physical exercise while listening to this song and tell me it wasn't the best workout you've ever had. I went on a run yesterday and listened to it on repeat and I was so amped up, I was scaring myself and probably others. There's really no denying that Britney still OWNS IT.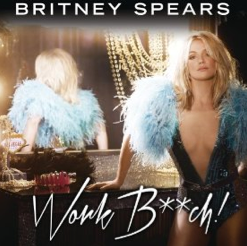 Please…JOIN ME in 30 days of movement!! 
It's so much more fun if we do it together!!!
You DO NOT need to commit to trying new workouts in order to do this challenge. Just commit to 30 days of movement that feels exciting to you, starting today. (I just threw the "new workouts" thing in for fun).

Start where you are!! For you, it could be committing to walking every day. Maybe you want to do at at least 30 mins of exercise instead of 45. The point of this is not what workouts you do. It's to HONOR your commitment to yourself to establish a daily physical practice, for your growth, freedom, health and happiness. What feels good to you?

If you plan to commit to 30 days of movement, please leave a comment below and tell me. Post your workout photos on instagram, tag me in the caption @jennysansouci and use the hashtags #30daysofmovement and #healthycrush. I freaking love hanging out with you guys on instagram and seeing your photos, it's so fun for me. Let's inspire each other with workout ideas!!! I wanna see what you're up to.
Obviously you don't have to post every workout you do. Whatever you feel like sharing.
Start today, the day you're reading this.
If you're on Spotify and you need a crazy absurd but super fun workout playlist, here ya go.
Now, get to work. :)