Hey little nugs.
I haven't been checking in with you guys here on the blog for a couple of weeks, because I've been on the road again traveling around looking for hip and healthy resources to share with you guys. I'm in beautiful, sunny San Diego right now, after a fantastic trip to Austin for the PaleoFX conference.
PaleoFX is a conference focusing on "health, nutrition, fitness, sustainability, & everything in between." Many of the brands I support and the nutrition experts I follow and learn from were there. Let's just say…I totally geeked out. My boyfriend said being at a nutrition conference with me was "like letting a dog loose at the dog park." Not sure if that was meant to be a compliment but I think it means I was VERY excited.
One of my favorite parts of PaleoFX was seeing all the fun food products and trying samples of them.
Protein bars are something I get asked about A LOT. Because let's face it, no matter how much we want to preach about only eating whole foods and sitting down to quietly savor each meal, everyone wants a convenient snack you can throw into your gym bag and eat on the go.
Most Protein Bars Are The WORST!
The challenge is this: most protein bars suck. They suck because they are full of sugar, artificial sweeteners, and insane crazy crap. To prove this point, I searched "protein bar" on Amazon. Here are the ingredients for the top 2 protein bars they have listed.
Pure Protein Bars: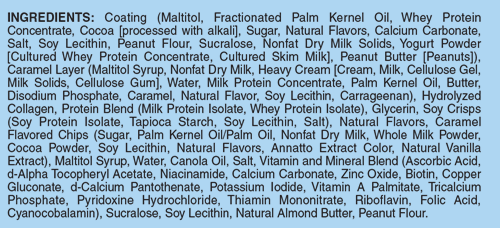 Power Bar, S'mores Flavor:
Ingredients: Chocolate flavored coating (sugar, fractionated palm kernel oil, cocoa, whey, nonfat milk, soy lecithin, natural flavor), glucose syrup, chocolate filling (glucose syrup, sugar, palm oil, alkalized cocoa, nonfat milk, chocolate, natural flavor, carrageenan, soy lecithin, salt), TriSource™ Protein Blend (whey protein isolate, calcium caseinate, soy protein isolate), maltitol syrup, vegetable glycerin, oat fiber (contains wheat), soy crisps (soy protein isolate, tapioca starch, salt), marshmallow flavored nuggets (sugar, cornstarch, maltodextrin, fractionated palm kernel oil, vegetable glycerin, rice flour, dextrose, gum arabic, water, natural flavor), high oleic canola oil, and less than 2% of: ground almonds, calcium phosphate, soy lecithin, salt, potassium phosphate, natural flavor, ascorbic acid (vitamin C), molasses, partially defatted peanut flour, ferrous fumarate (iron), pyridoxine hydrochloride (vitamin B6), thiamin hydrochloride (vitamin B1), riboflavin (vitamin B2).
Ick!!! These things are filled with ingredients I would not want anywhere near my body (if I can help it). Sugar, sucralose (artificial sweetener), canola oil, carageenan, soy…"marshmallow flavored nuggets"…bye felicia. No matter which way you swing it, those things ain't food.
Fortunately, at PaleoFX I found a few bars worthy of eating and feeling good about. They are all made with actual foods! Plus, I met the people who work for these companies and they are all great people who care about your health.
NOTE: none of these are vegan bars. If you are a vegan, I'll recommend something for you at the end of the post.
Here goes –
4 Protein Bars That Don't Suck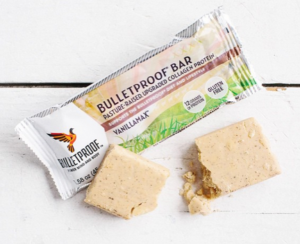 Bulletproof Collagen Protein Bars: These things are my new love and definitely my favorite of the bars I'm listing here. You guys all know my obsession with Bulletproof products and I knew I'd be into these bars. They just came out and I've already ordered 2 boxes of them! The vanilla ones are my favorite. They taste like cookies. They are full of healthy fats and collagen protein (read more about collagen here), and very low in sugar (2 grams). INGREDIENTS: Organic cashew butter, Bulletproof® Upgraded Collagen Protein, chicory root fiber, Bulletproof® XCT™ Oil, organic cashews, Bulletproof® Brain Octane, organic coconut oil, Bulletproof® VanillaMax™ (lab-tested Madagascar vanilla beans), sea salt, stevia. 12g protein.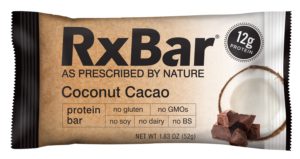 Rx Bars: I had heard about these bars from the Whole30 folks, and because they are Whole30 approved I had been wanting to try them for awhile. Turns out they are delicious and full of whole-food ingredients. The protein in them comes from eggs. My favorite flavors are Coconut Cacao and Blueberry. The only drawback to these guys is they are a little higher in sugar than I'd normally like (14g in one bar), but comes from dates, not refined sugar, so that's a big plus. INGREDIENTS: Dates, Egg Whites, Figs, Almonds, Unsweetened Coconut, 100% Chocolate, Natural Coconut Flavor. 12g protein.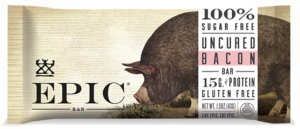 Epic Bars: I was so scared to try these. I've been seeing them around for awhile but I was like, who wants to just bite on a meat stick like that? But fortunately for me, the great people from Epic were at PaleoFX and had every single flavor out as a sample. And they are made with 100% grass-fed meats and other high quality herbs and spices. I figured – let's go, now is the time. You need to do this for investigatory journalism. And it was GOOD. Surprisingly good. I didn't try all the flavors, but I really liked the 100% sugar free uncured bacon bar. To be honest, I can't say I'll be carrying these around often, unless I am REALLY hungry, but they are legit. Ingredients: Uncured bacon (pork, water, sea salt, vinegar, celery powder), natural pork, lactic acid. 15g protein.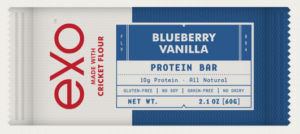 EXO Bars: If you think I was scared to try a meat bar like the Epic bar, I was even more afraid to try a CRICKET BAR. I keep hearing about how cricket flour is the next big thing, but eating bugs is scary to me. But with a flavor like Blueberry Vanilla, and 10g of protein from crickets…I went for it. Delicious and not insecty at all! These bars also carry a higher sugar content (14g) from fruit and honey, but have a nice amount of protein and fat to balance that out. Ingredients: Almonds, Apricots, Blueberries (Blueberries, Apple Juice Concentrate), Strawberries (Strawberries, Apple Juice Concentrate), Cricket Flour (Acheta Domesticus), Honey, Ground Flaxseeds, Coconut, Vanilla Extract, Sea Salt. 10g protein.
So those were the 4 bars I tried at PaleoFX that I had never tried before. I think they were all a big win and I would recommend them over conventional protein bars any day.
And drumroll, what I know everyone has been waiting for…
What do I think about Quest Bars?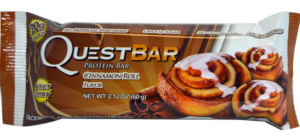 Oh, everybody's beloved Quest bar. I have to admit. When I first saw a box of Quest bars, I just assumed I would never touch them because they looked like one of those fitness "health foods" that was actually full of crappy ingredients. But then I was encouraged to check the box and find something wrong with them. I picked up the Cinnamon Roll box and took a peek. It wasn't as bad as I expected.
Cinnamon Roll Quest Bar: Protein Blend (Whey Protein Isolate, Milk Protein Isolate), Isomalto-Oligosaccharides* (Prebiotic Fiber), Almonds, Water, Erythritol. Contains less than 2% of the following: Sea Salt, Stevia, Lo Han Guo, Natural Flavors, Cinnamon.
Here were my 2 issues with this bar: 1) no idea about the quality of the whey protein, and 2) the "natural flavors" – you never know exactly what this means.
But my issues weren't THAT huge with these Quest bars, and I was surprised about that. Sure, they were less "real food" than what I would normally recommend, but they contained no artificial sweeteners, sweetened with stevia and erythritol (a sugar alcohol), no weird oils or soy…hmm. Then I bit into one. And it was delicious. What? I had to investigate further.
Here's the issue I eventually found with Quest bars – most of them DO contain artificial sweeteners (probably about half of the flavors, actually). This is a non-negotiable for me. I won't ever knowingly touch artificial sweeteners at all – here's why.
There are 7 Quest bars that don't contain artificial sweeteners, and these are the only ones I consider acceptable to occasionally eat. Are they the most natural food in the world? Not at all, but you have to pick your battles sometimes. If you do choose to eat a Quest bar, choose carefully based on these guidelines:
Quest Bars without artificial sweeteners:
That's it. Don't touch ANY of the other Quest bars if you want to maintain a high vibe in the world. K?
Whew! That's mostly it for now when it comes to what I think about protein bars. If you have a question about a specific bar, please ask me in the comments and I'll look up the ingredients and get back to you. :)
But don't ask me about KIND bars. I don't like them. Unless you can show me a KIND bar without "non-gmo glucose" as an ingredient. That's just another name for sugar, right? If someone can tell me otherwise, I'm all ears. Otherwise I have no idea why so many people in the health and wellness world are promoting KIND bars. It boggles me.
I mentioned I would provide a protein resource for vegans — I recently found Onnit's Hemp Force protein powder and it's awesome. Try the chocolate maca flavor! It's a shake, not a bar, but it rules. If you want vegan bars, you could try Larabars, Chia Bars or Granilla Bars for plant-based bars – they aren't necessarily high in protein, but they are made of mainly fruit, nuts and seeds.
Okey dokey. That's all for today. Let me know in the comments if there's another protein bar I should check out. (Hint: if it has cane sugar or artificial sweeteners in it, it isn't approved by the Healthy Crush panel of judges and I can't imagine it ever will be. But who knows, I would have never thought I'd be promoting a bar of meat)… ;)
Remember – stick to eating fresh food when you can, but if you need a quick snack on the go, these protein bars won't steer you wrong. :)
Love,
Jenny