Howdy my little chickens. 
If there's one thing I can never get enough of, it's sauces and condiments. Seriously, I think I'm a flavor addict. You should see me when we go to City Tacos in North Park. They have a taco condiment bar with all kinds of sauces.
I don't take it easy.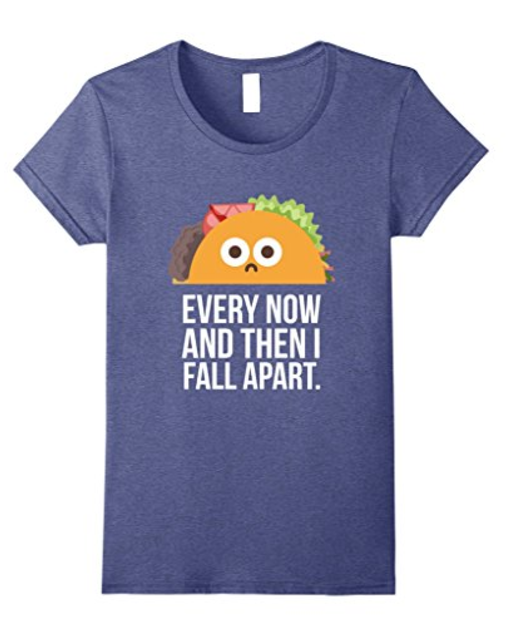 To me, life without sauce is….well, no life at all.
As you know, I've been a little bit of a grill master lately. The cool thing about using a grill and cooking outside is that you don't need to create complicated recipes. You just throw a bunch of different things on the grill, and then put some sauces on top of them. It's a completely brilliant plan.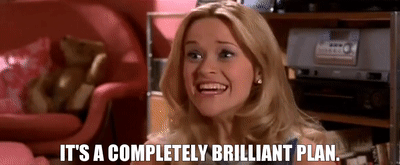 So if you've come over to my little house recently and I've grilled for you (hi everyone, thank you for being my friend during such a transitional and emotionally vulnerable time in my life)….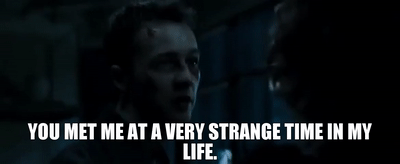 …then you already know. Grilling a variety of foods + adding a variety of sauces = everything. 
Sorry, I just learned how to create gifs (hello!) and I don't know if I'll ever stop.
So tonight I'm sharing 5 sauces with you that are currently in my fridge and have been making the rounds at dinner on the nightly.
Have you had this yet!? It's unreal. It's definitely got a spicy kick to it, and perfect for putting on tacos, chicken, eggs, burgers or veggie burgers, asparagus…anything that could use chipotle mayo, really.
Ingredients: Avocado Oil, Organic Cage-Free Eggs, Organic Cage-Free Egg Yolks, Organic Vinegar, Sea Salt, Rosemary Extract, Chipotle, Lime, Garlic, Chives.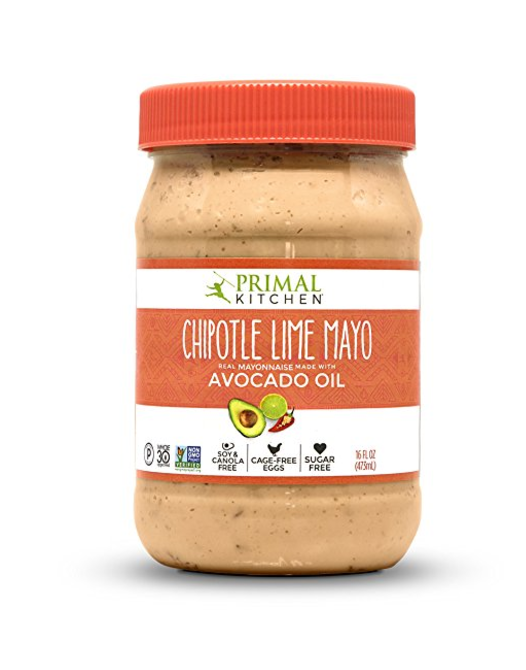 Do you guys even know about romesco sauce!? The first time I had it was at Olea Restaurant in Fort Greene, Brooklyn — arguably my favorite restaurant in all of New York City. They have this incredible halloumi cheese, and they serve it in a plate of beautiful romesco sauce.
Halloumi cheese has always been a magic cheese to me because it doesn't melt, which means you can put it on the grill. And it's made with sheep and goat's milk. Only eat it if you love salt though. It's a very salty cheese. Grill it up and top it with some lemon juice and ROMESCO!
Romesco would also be awesome on any vegetables, chicken or fish.
Ingredients (in the one I have – pictured below):  Olive oil, tomatoes, almonds, hazelnuts, vinegar, garlic, herbs, beet fiber, salt.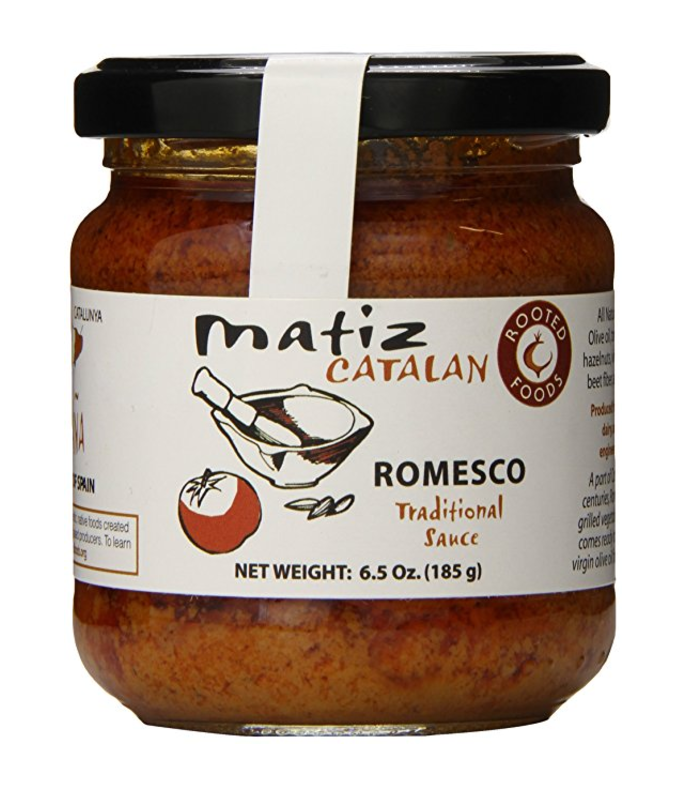 This is a native San Diegan sauce. I forgot about it until I got back to San Diego, and since I've been here (almost a month – what!?) I keep seeing it (and taste-testing every flavor) at all the farmer's markets around town. There is something extremely addicting about it (oh right, it's the Nutritional Yeast/known as "nooch" to vegans around the globe).
Anyway, I've been buying every Bitchin' Sauce flavor on rotation these days and my favorite Bitchin' Sauce is Cilantro Chili. If you have the cilantro-hater gene (sad), try the Chipotle flavor. 
Ingredients (in the Cilantro flavor):  Water, Almonds, Expeller-Pressed Grapeseed Oil, Lemon Juice, Cilantro, Nutritional Yeast, Bragg Liquid Aminos (soy protein), Garlic, Spices, Sea Salt.
By the way, I do think grapeseed oil is questionable — Mark explains why here. I would rather see olive oil in there, and I'm probably consuming this a litttttttle too frequently these days. At least I'm not putting it on high heat, right!? But we can always make our own version of this sauce, too. And I will. Trust me on that one.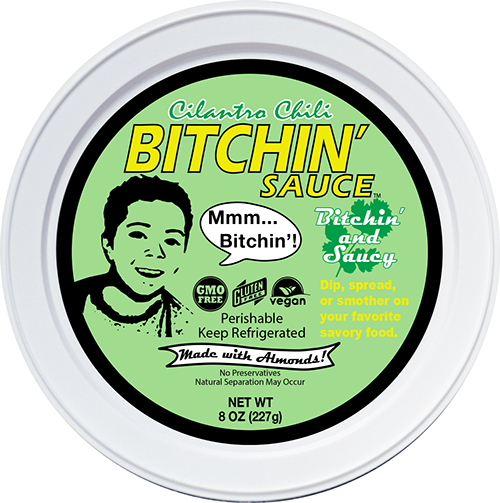 This stuff is insanely good on anything grilled — if you like mustard, that is. I've personally been making these organic chicken sausages (spinach flavor!) on the grill and dipping them in this mustard. I plan to make these for my mom and dad when they come to visit. It's kind of a no-brainer if you're serving meat-eaters. If you're serving veggie-only eaters, well, this mustard would be fantastic on…veggies. ;) I was going to say vegan sausages, but I couldn't find a brand with ingredients I liked. (Let me know if there is one). Just please don't buy these vegan sausages, eek! I just fainted and shrieked reading that ingredients list.
Mustard ingredients: Organic Apple Cider Vinegar, Water, Organic Mustard Seed, Sea Salt, Organic Horseradish, Organic Spices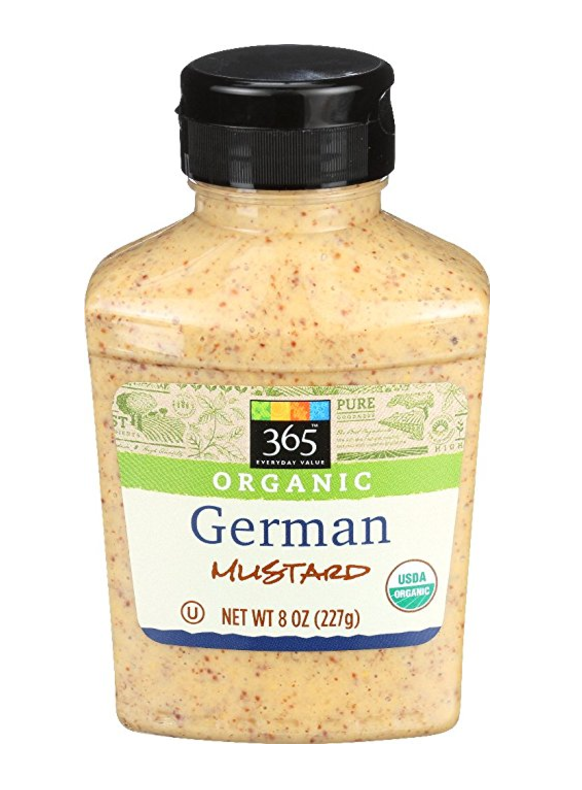 Last but not least, my favorite hot sauce in all the land. Not crazy spicy, no sugar, perfect flavor (to my taste buds).
Ingredients: Water, Peppers (Arbol & Pequin), Salt, Vinegar, Spices, Xanthan Gum.
Ok…xanthan gum. What's the verdict? Chris Kresser says it's generally safe for adults, but don't consume it in large amounts every day – it could cause digestive distress for some.
If anyone has a favorite hot sauce that's xanthan gum free, let me know. Otherwise, I'll be trying my hand at my own hot-sauce making soon too.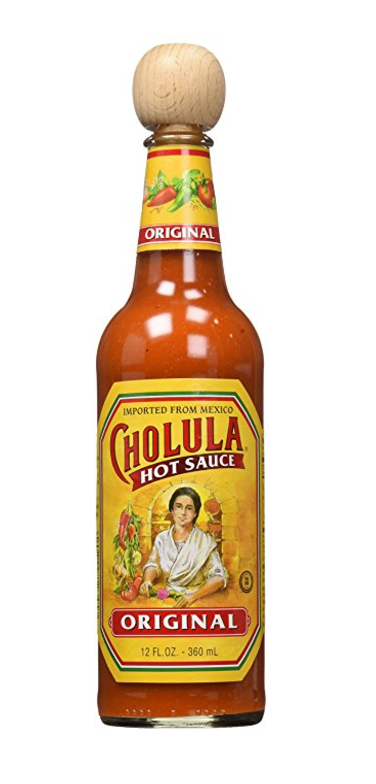 Mouth watering yet? What are your favorite condiments?
By the way, all of these are definitely makeable at home. I'll share more soon about an exciting sauce-making journey I'm going to embark on that will benefit us all. Hold tight. :)
Love and extra sauce,
Jenny