The time for cooking squash has arrived, and luckily there are tons of different squashes to experiment with. Hours and hours of fine holiday fun. ;)
Nutrition Action magazine this month featured the beautiful, nutty acorn squash, so I thought it'd be nice to share the goodness with you. Acorn squash is packed with fiber, magnesium, potassium, B vitamins and vitamin C.
Aside from that, the flavor is a delicious union of sweet and savory – perfect for a comforting fall meal.
You can do anything with an acorn squash that you normally would with a butternut or kabocha squash (or any other winter squash), but one of the COOLEST things about an acorn squash is the size and shape. Because it's small and round, you can actually cut in half, bake it, and use the halves as BOWLS for soup, stew, rice, veggies, etc. That is SERIOUS MAGIC, people!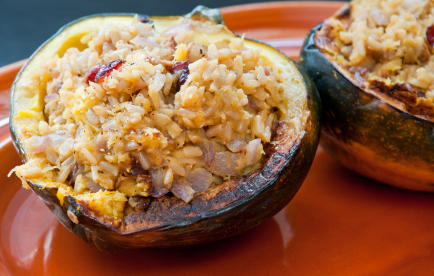 Simple Roasted Acorn Squash:
Cut squash in half and remove the seeds.
Brush the inside with extra-virgin olive oil
Sprinkle with sea salt & black pepper
Bake at 400 degrees for about 35 minutes.
Stuff with soup, stew, or stuffing of your choice and enjoy!
Yum! I get way too excited about squash-making season. ;)