The other night in Denver, I was staying at a friend's place and we decided to have a dinner party with 6 people, where everyone contributed a dish. I could hardly contain my excitement as we stopped at Whole Foods to pick up ingredients. I made this chopped salad with hummus dressing, and my friend Amy made this incredibly delicious spaghetti squash recipe. (Someone else made an avocado brulee for dessert, which I really have to get the recipe for). Anyway, when I posted the spaghetti squash photo on instagram, twitter and facebook (of course), I had some requests for the recipe, so here it is!
I always forget about spaghetti squash, but it's so great and easy to make – and a totally kick ass, gluten free alternative to regular pasta. Amy said this is one of her "go to" recipes, and I can understand why. 3 kinds of tomatoes, basil, onions, garlic, pumpkin seeds…I mean..yowzers. This is good stuff, people. Veggie heaven.
So listen, Amy and I are a lot alike in the sense that we don't really use specific amounts when cooking. We just kind of wing it with reckless abandon. The best way to cook, in my opinion. But we tried to get some estimated amounts here for you guys. I encourage you to experiment. Play with what works for you!
Amy's Tri-Tomato Spaghetti Squash
Made enough for 6 people as a side dish
1 medium/large spaghetti squash
1-2 cloves chopped garlic
1 sweet yellow onion, chopped
Small handful of chopped fresh basil
Big handful of chopped sundried tomatoes
28oz diced tomatoes (if you don't want to use canned tomatoes, use about 2-3 cups of fresh diced tomatoes)
2 cups sliced cherry tomatoes (we used yellow cherry tomatoes)
A sprinkle of red pepper flakes
Sea salt and pepper to taste
Oil for sautee – whatever you like (olive & coconut oil are my faves)
Optional additions: toasted pumpkin seeds, spinach, browned tempeh, a little parmesan cheese or whatever else you like.
Directions
Cut squash into 2 halves, lengthwise. Scoop out the seeds. Put the halves face down in a large baking dish with about an inch of water.
Bake in oven at 350 for about 40 minutes. When it's done, the outside of the squash will be soft to the touch so you know the water has made it all the way into the squash.
While squash is cooking, sautee the garlic, onions, and diced tomatoes with a little oil in a pan for a few minutes, until they are hot.
Throw in the cherry tomatoes, sundried tomatoes and basil, mix everything well.
When the squash is done, scrape out the spaghetti and mix it into the pan with with sea salt, pepper and red pepper flakes. Let simmer on the heat for a few minutes until all flavors are well combined.
You can add whatever additional things you want – we went with some toasted pumpkin seeds for a little extra crunch. Super good.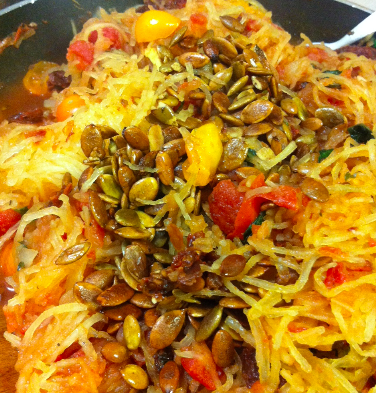 A special thanks to Jake for hosting the dinner party. Nothing better than delicious healthy food and great company!