Hey guys! Hope you all had a great weekend. It's Sunday night over here and it's the one day of the week where I'm a little sad that I don't have cable because my one and only show I watch is on at 10pm (I'm not ashamed to admit, it's Revenge). I was all about Aereo when it was legal (a service that let you watch LIVE TV online, for a monthly fee) but the Supreme Court shut them down. MAN! Sadness! But I guess that means I get to work instead of watching TV, probably a better idea. Also, Emily Thorne doesn't sit around watching TV, she has serious ass-kicking to do. Right? Sometimes I think to myself, "What would Emily Thorne do?" #WWETD
Anyway. On Friday night I had the pleasure of having dinner with one of my favorite people, who also happens to be an incredibly successful hormonal health expert, Nicole Jardim. (Most of the time when I talk to her she's working from some beautiful cafe in in Rome, or on the beach of Antigua…talk about lifestyle design!!!)
At dinner, we were talking about our experience with going to the Institute for Integrative Nutrition together (I'm writing my official IIN review TOMORROW! Stay tuned!) and how it's such an awesome way to get your career in wellness kick-started, but if you want to specialize in something and learn all the ins and outs about it (like hormonal health), it can be extremely helpful to take supplemental courses in whatever genre of health you want to focus on.
I'm personally obsessed with learning about hormones (they affect everything!!), and I consider Nicole the best in the biz – I go to her for every question, even texting her late at night or super early in the AM (thanks Nicole) ;) (Maybe that makes it sound like I need emergency hormonal help, but really I just get very curious about my cycle at odd hours). Ha.
(By the way, when I say hormonal health, I'm talking about hormone imbalances, PMS symptoms, sex drive, birth control methods, what happens in each phase of our menstrual cycles, how food, supplements, herbs and lifestyle choices affect us hormonally…etc).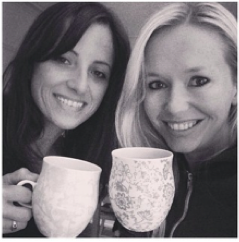 That's us drinking bone broth (great for your hormones!!!)
So when Nicole told me she's coming out with a Hormonal Health Apprenticeship program for people who may already be a health coach or want to focus their business on hormonal health, I was like WHAT! These peeps are the luckiest! Best thing I've ever heard, since I get to experience her wisdom firsthand all the time, and now you guys can.
UPDATE: Application page is open and there are a few spots left! Apply here.
I've learned SO much from her and I understand my body so much better now. It's kinda the best. I'm literally having trouble finishing this blog because I am reading her blog too and I keep switching tabs.
(Remember this awesome video we did together? It made me squeamish but HEY! It's important).
With this apprenticeship, Nicole is literally opening the doors to her brain and business. She's covering everything you might want to know about your own hormonal health and how to help other women with it, as well as business set up, marketing, and more.
Nicole recommends that people who apply for her apprenticeship already at least have a Health Coach Certification, but it's not absolutely required, so when you apply, let her know your situation and she will let you know whether it seems like the right fit.
Honestly, I don't know all the details because she's releasing them this week…I can't wait. But if you want to be on the list to be the first to know what it would be like to apprentice with her, just click here to get on the list. She already has 250 people on the interest list (OMG) and she's only taking 10 apprentices!
Update — Apprenticeship application is available, click here to apply!
Once you're on the list, Nicole will be sharing detailed information about a day in her life as a hormonal health coach, how much money you can make, how to be successful in this industry, and all the pros and cons of this career path that you can expect.
YAY! I know a lot of my blog readers are IIN grads, so if you are, I hope you find this super helpful! If you're not an IIN grad but interested in being one, you can check out a free sample IIN class here. 
If you aren't looking to be Nicole's apprentice right now but you just want to get amazing info on hormonal health, check out some of Nicole's free videos, she really dishes out the good stuff.
Ok, end of my love fest. Nothing makes me happier than spreading the work of people doing AWESOME stuff in the world!! :)
Yes! I'm interested in applying for Nicole Jardim's Hormonal Health Apprenticeship Program
That's all for now. Jealous of anyone who has cable and is about to watch Revenge (DO NOT TELL ME WHAT HAPPENS)! Things are getting so crazy on there. Do you think Jack and Emily will end up together? I mean, they have to, right? Please don't let Jack get killed off! OK gotta go, this blogging-every-day business is making me reveal too much.
Love ya.