So the very kind and generous people over at Bella Nutripro sent me a juicer to review. I mean, that is a pretty cool thing in itself. A gifted juicer…I think if the 2008 newbie blogger version of me could have seen that coming, I would have fallen off my chair with gratitude and glee.
I already have a Breville Elite juicer, which I love, but I left it up at my parents house in MA so I could make room for my new experiment with the Bella NutriPro. At first, when I opened the box, I was skeptical. My Breville was all tough and stainless steel, and the Bella NutriPro had a lot of plastic parts. Plus, I am loyal to my Breville. We've gone through a lot of emotional experiences together.
The Bella NutriPro juicer is a cold press, bladeless juicer, that claims it gets more nutrients out of produce than traditional juicers. According to Bella NutriPro, traditional juicers and blenders with spinning blades create heat and break open the cell walls of the produce, exposing it to oxygen and reducing nutrients. So that's the dilly on the benefits.
When I finally gave the Bella NutriPro juicer a shot, I noticed a couple of awesome things immediately. First, there are 2 visible spouts – one that spits out the juice, and one that spits out the pulp into a separate container. You can see it all as it's getting mushed out. It's actually pretty cool.
But the COOLEST part that I noticed was the screen that the juice goes through after it's extracted, further straining any bits of pulp. With my Breville I always end up straining the juice through a strainer after I make it, because I just like super smooth juice. The Bella NutriPro has it built in, which is nice.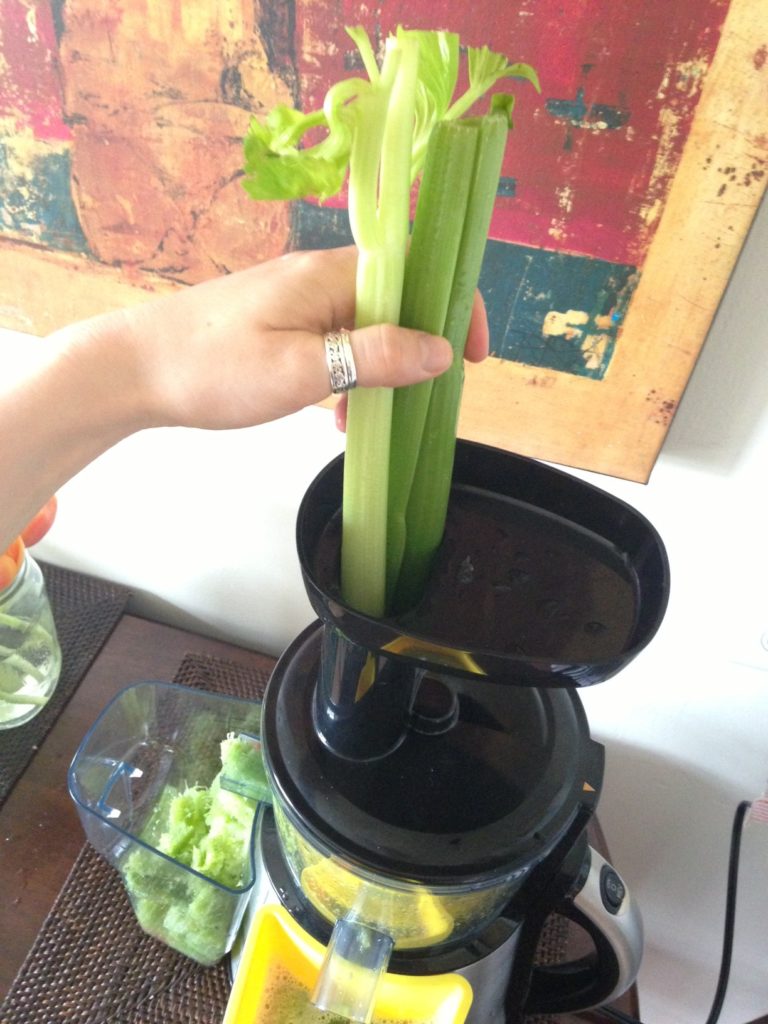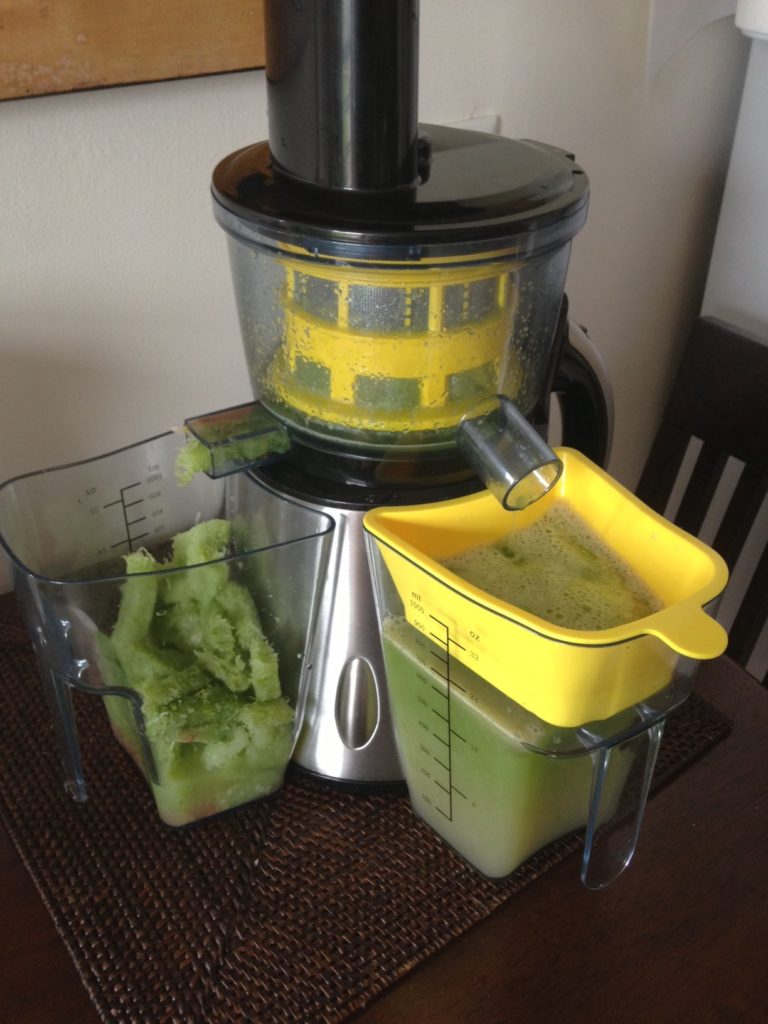 My first juice was a green juice with kale, celery, apple, cucumber, lemon, ginger, basil and grapefruit. I made it for my roommate and her family and it was a huge hit. (Get 10 of my juice recipes here).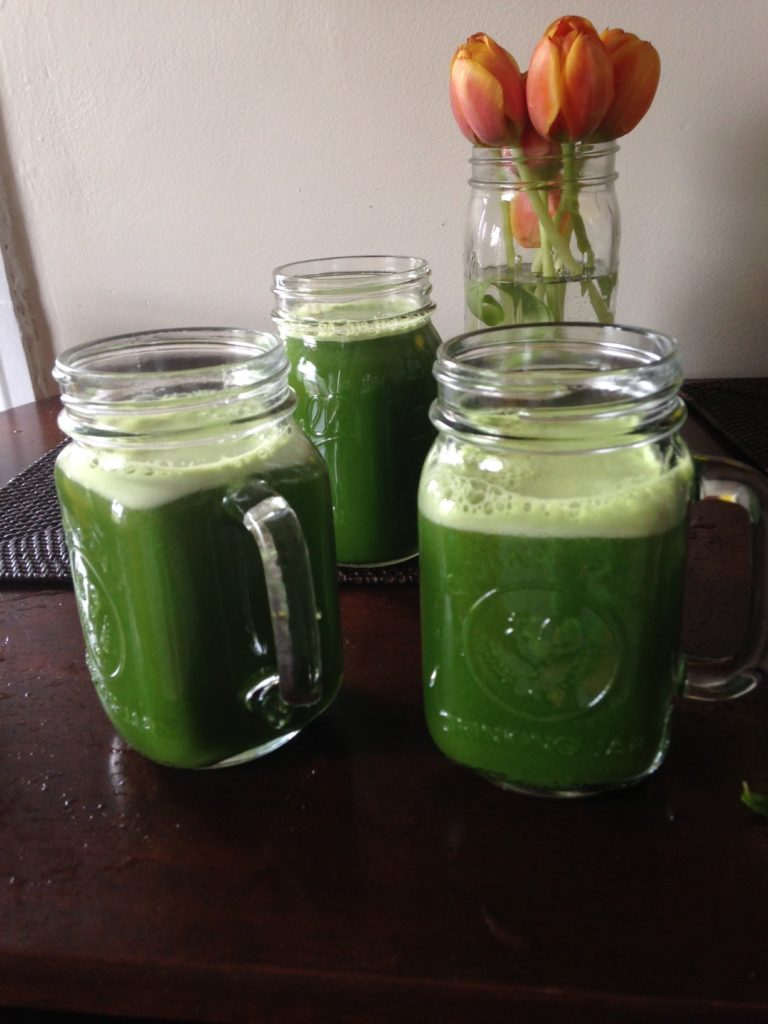 Regarding using the juicer, I felt like it was working really hard to chew up all those fruits and veggies. It was kinda loud, crunching the juice out, and it just seemed like it was doing a lot of hard work, compared to my Breville which seemed to gnaw through the toughest veggies in 2 seconds. I'm not sure what's "better" or "worse" when it comes to juicers, so please give me your input if you have opinions! The final result, though, was a really good amount of great tasting juice.
Regarding all the plastic, I asked the Bella Nutripro people about it, and they said "the NutriPro is a pretty heavy duty machine. The combination of plastic and steel makes it a bit lighter and easier to store and use in the kitchen." Ok. I mean, it's not like the Breville doesn't use some plastic too.
Bottom line? This juicer makes a lot of juice. The juice tastes great and the juicer is not super hard to clean. I am having fun with it and I love the little pulp screen. As far as which juicer is better, as I mentioned, I don't know the definitive answer to that, because I love my Breville too. They are similarly priced, with the Bella Nutripro being about $50 cheaper than the Breville Elite.
The Bella NutriPro ($249.95)
The Breville Elite ($299)
Have you tried the Bella NutriPro juicer? What juicer do you use? Would love to hear your thoughts!
Other posts you may like:

The Best Yoga Mat