Yesterday I was doing a little grocery shopping with my sister at Whole Foods in LA when I realized I left my stainless steel water bottle back on the east coast. I didn't want to spend all my time in LA buying plastic water bottles, so I went to check out what water bottles they had there. I saw lots of cool looking bottles, but the one that really caught my eye was a cute glass bottle with a blue-green sleeve on it (the one all the way on the right in the photo below). It turned out to be a bkr bottle.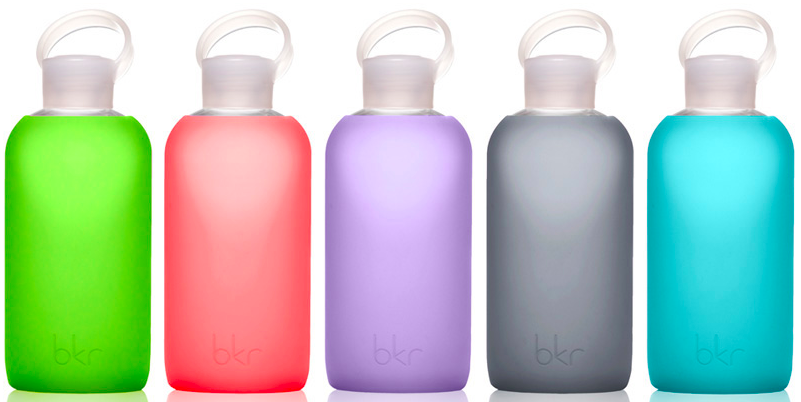 After reading more about the product and seeing their tagline ("all clean everything"), I decided to try it out and I'm really happy with it so far. It's a great size (16 oz), it's not too heavy, and it has a little loop on the cap which makes it easy to carry around. I brought it on a hike today to Runyon Canyon and it worked out great.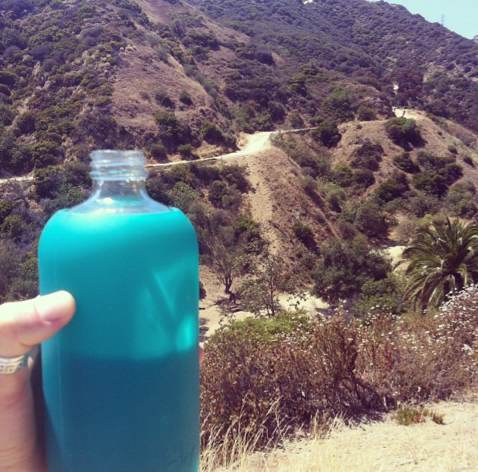 I read a little bit on the company's website and I liked these tidbits from the founders:
"bkr = clean design, clean body, clean earth. All clean everything."
"One day clean will be deeply integrated into the way everyone creates, consumes and exists."
Also from the bkr site:
Q. Why a glass water bottle?
A. Glass is better for your body and the earth. Glass is chemically inert; it does not alter the taste of its contents and does not allow any unsafe chemicals to leach and make you sick. Glass is a fully recyclable material. It can be recycled endlessly and recovered glass is used as the majority ingredient in new glass containers. And without question, everything tastes better out of glass.
The bottles are made of glass with a silicone sleeve – recyclable and non-toxic. Questions? Read the FAQ here.
$28, available online and at these locations