In the past month, I've been served black rice 3 times (twice within the past week)!
Black rice appearances:
On the outside of a sushi roll at a Lady Foot Locker event
Tossed with scallions in talented chef Isabel Tonelli's kitchen
Topped with pumpkin curry sauce at a Halloween dinner at my friend Jeanne's apartment
With black rice showing up in my life with such unexpected frequency, I took that as a sign that I needed to do a little more research on black rice + share it with you. :)
I'm so glad I decided to research this. It turns out that black rice is PACKED with antioxidants! The deep black/purple color contains the same antioxidants found in blueberries and acai.
Black rice, according to Lotus Foods:
Cooks in only 30 minutes
Is a whole grain
High in anthocyanins, powerful antioxidants reputed to prevent cancer and many other diseases
High in iron
Gluten and wheat freePlus….it tastes awesome! Black rice has a rich, nutty flavor that would go perfectly with so many different cuisines. I've loved it every time I've had it, and I can't wait to get cooking with it in my own kitchen!!
What black rice looks like cooked: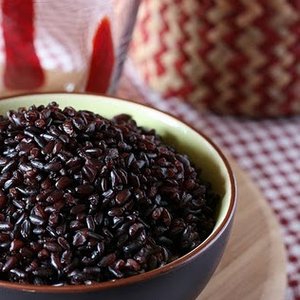 The pumpkin curry dish with black rice I had this week:
Swap out your regular brown or white rice for BLACK RICE and let me know what you think!!