Deep in the jungle of Nosara, Costa Rica lies the ultimate health-lover's paradise. I've spent the past week at the Blue Spirit Retreat for a conference with the Institute for Integrative Nutrition, and it has easily been one of the most amazing weeks of my life. Because Blue Spirit was founded by the the same people who opened the Omega Institute (my other favorite place to visit), I knew I'd be in for a real treat.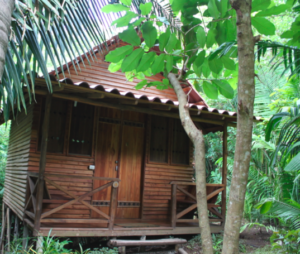 The coolest thing about Blue Spirit is that it truly feels like a hidden sanctuary. It's surrounded by nature and wildlife, and right on the beach. You can hang out at the retreat center, get a massage, go for a swim in the pool, or go on excursions (I took surf lessons)!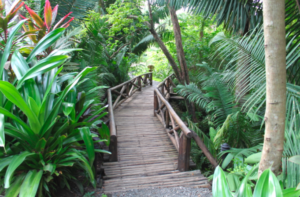 There's a few outdoor covered yoga studios, and we've had yoga classes every morning. My favorite has been when those Costa Rican rain showers happen during the yoga class – so calming and refreshing to listen to the sound of the rain in the jungle while doing yoga.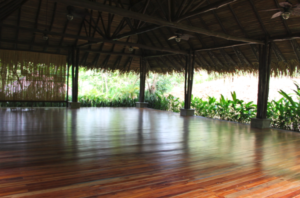 Obviously one of the most important things to me is the food, and Blue Spirit has not disappointed me at all. They serve 3 local, seasonal meals per day, with lots of organic ingredients. The food is mostly vegetarian but they do serve fresh, local fish as well. They label every meal as "cleanse appropriate" or not, so if you're following a standard cleansing program (avoiding the most common food allergens) you will know just what to eat. Plus, they have basically a KEG of Master Cleanse Lemonade available at all times! I've been drinking a lot of it here, and my body is happy.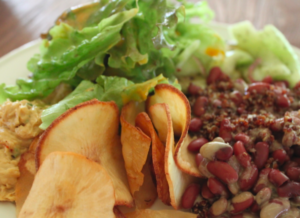 Aside from the main dining room, there's also a cafe with plenty of raw & vegan treats available. Green smoothies in paradise, anyone?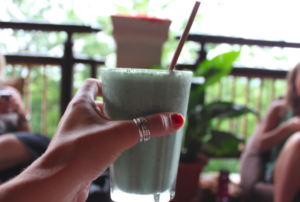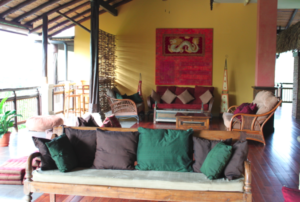 Aside from the magical surroundings, food, and the overall experience at Blue Spirit, the actual conference, hosted by IIN, has been very transformative. I've met so many new incredible soul sisters & soul brothers, and we've had classes on the following topics so far:
-Perfectionism and Procrastination
-Detoxing/Cleansing
-Eating for Longevity
-Food Allergies
-Vitamins & Supplements
-Target Markets/Niche
-Creating Goals/Being Accountable
-Work/Life Balance
-Ayurvedic Exercise
-Creating Online & Group Programs
We even had one class in the pool. Not too shabby!!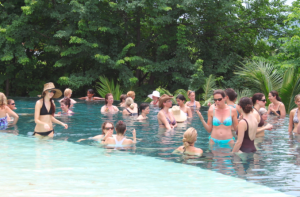 The range of topics covered here is very similar to what you'd learn in the IIN course – lots of food & nutrition information but plenty business & life information as well. It's been a beautiful week in a beautiful place, and I feel so grateful to have been invited to this conference!!
I give Blue Spirit Retreat a glowing recommendation for anyone looking for a healthy, rejuvenating self-care/yoga vacation in paradise.
Pura Vida!!