I'm currently reading The Bulletproof Diet by Dave Asprey. I'm learning some pretty cool stuff and I haven't gotten very far in the book yet, but it reminded me of an email I got recently from someone, saying:
"I was wondering what your thoughts are on B

ulletproof

C

offee

? I've read about how it's good to get the healthy fats first thing in the morning, there's no crash later, etc. Do you think it's really a good alternative to a plain morning

coffee

? Or am I fooling myself?
I'm sure you've heard of Bulletproof Coffee (also called "butter coffee") by now. If not, welcome to the party. I realized how totally nutballs it is that I haven't written anything on Bulletproof Coffee. People ask me about it all the time. The reason I haven't, probably, is I'm always so on-and-off coffee that by the time I get excited to write the post I've given up coffee again. Such is life.
(By the way, the photo at the top of this post is from when I found Bulletproof ICED Coffee at my favorite health food store in Los Angeles — Erewhon. Love that place).
I got inspired to share this post because Dave Asprey (the inventor of Bulletproof Coffee) seems like a really smart guy. When I first came across him, I thought, wow, this guy sells a lot of his own products, he's created a whole Bulletproof empire – must be a good marketer. Now that I'm reading his book, though, I realize that he's spent many years and many dollars researching and testing in order to figure out the best ways to achieve optimal mental performance and peak physical condition.
You can read his book for more, but he's pretty fascinating.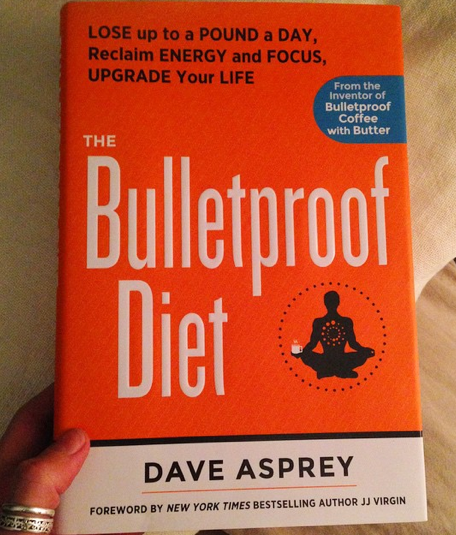 I'm sure I'll write a better recap of his actual book once I'm done, but I thought I should at least touch upon the coffee that's on everyone's mind.
What is Bulletproof Coffee?
Bulletproof Coffee, if we're talking in simple terms, is black coffee blended with grass-fed butter and
MCT oil
(some people use coconut oil instead).
If we're getting SERIOUS, Bulletproof Coffee is made with low-toxin beans (such as
Bulletproof Upgraded Coffee
, unsalted grass-fed butter and
Brain Octane
or
XCT oil
(2 oils that are 6x and 18x stronger than coconut oil).
According to Dave,
drinking Bulletproof Coffee as your breakfast gets your body into fat burning mode first thing in the morning, improves mental clarity and makes you feel lean, focused and energized.
He calls it a "high performance buzz," which I personally love. It also keeps you full for hours.
From what I can gather, coconut oil, MCT oil, XCT oil and Brain Octane are all just varying levels of strength and effectiveness of medium-chain triglycerides (which our bodies "metabolize into energy almost instantly" and with Brain Octane being the strongest).
Bulletproof Coffee Recipe
1-2 tbsp grass-fed butter (unsalted)
1-2 tbsp MCT oil, Brain Octane, XCT oil or coconut oil
1-2 cups of hot black coffee (ideally brewed with low-toxin beans (like Bulletproof Upgraded Coffee) and ideally using a metal filter (like french press or gold filter drip).
Blend all ingredients in a blender (high-speed blenders like Vitamix work best, but regular blenders will certainly do just fine too – just blend longer).
*Optional (but awesome): add in a little bit of cacao, cinnamon, or vanilla. If you like your coffee sweet (I personally don't) you could add a couple drops of stevia.
I just found this Bulletproof Starter Kit on Amazon — Bulletproof ground coffee + Brain Octane oil. Read the reviews (my favorite activity)! But after further research, it might actually be a better deal to buy it from his site directly. 
I remember when I first found out about Bulletproof Coffee. We started making it at Dr. Lipman's office and every patient who came in, we were like "you have to try this!" and we'd run into the kitchen to blend up a new batch. It was a lot of fun. Because the thing is – Bulletproof Coffee is DELICIOUS. You may think it's gonna be weird, but it's great. It also DEFINITELY does keep you full and satisfied for a long time.
If you're drinking Bulletproof Coffee in the morning, it should be your breakfast. Trust me, you will feel full from this, and your body and brain are getting plenty of nutrients. I first mentioned Bulletproof Coffee in 2013, actually, when I wrote this post about Intermittent Fasting (something I no longer really do, meaning I don't count hours, but I still don't usually make a point to eat breakfast – I just eat when I get hungry, which is usually not first thing in the morning).
Now, the interesting part for me is this. Whenever I drink coffee, I get a super buzz and then I completely crash later in the day. This is why I have to give up coffee all the time – it sends me on an INSANE rollercoaster. BUT… Dave says:

Not all coffee is created equal.  The wrong coffee will sap your energy and leave you feeling lethargic and irritable.  This is the main reason people believe they don't tolerate coffee.  It's not coffee they don't tolerate, it's the mycotoxins in the coffee. Toxins in cheap coffee steals your mental edge and actually makes you weak, but clean coffee is actually healthy, and gives you important antioxidants.
This makes me want to do an experiment. I already know I like the taste of Bulletproof Coffee, so I might just try it with low-toxin beans and see if it feels better. In his book, he talks about how switching from crappy coffee to high quality coffee made a HUGE difference in the way he felt — from tired/irritable/anxious to clear/focused/energized more sustainably. I think it could be worth a shot.
You can also Bulletproof your tea if you don't want coffee. I've made insane Bulletproof yerba mate before. It was so good.
The low-toxin coffee bean thing is what I'm most interested in at this point – I can't wait to experiment. Any excuse for me to consider coffee drinking as part of my health-researching career.. ;)
I know this was just a start to all the things I could say about Bulletproof Coffee and the Bulletproof lifestyle in general. I can't tell you whether or not Bulletproof Coffee is a healthier or better choice than what you're already doing. But you can read more and decide for yourself. :)
Have you ever tried Bulletproof Coffee? What was your experience? More importantly, have you tried it with low-toxin coffee beans? Did you feel a difference?!
Thanks for learning alongside me, guys. It's a pretty cool journey we're on.
Love,
Jenny