Last week, I held a NibMor healthy hot chocolate giveaway. To enter, you had to submit your favorite healthier version of comfort food. I picked the one that made my mouth water the most!
The winner was Lea, and her recipe was for cauliflower alfredo sauce made with almond milk and white beans.
She sent me the link to the original recipe, but I altered it, because yo, I need garlic. And after I tasted it, I thought to myself, "this needs acid!" At that moment, I knew I had been watching too much Top Chef. And I added lemon juice.
I don't know about you, but when I was younger I LOVED alfredo sauce. I used to order it at every restaurant. Now, there's a dairy free alternative that uses awesome whole, natural ingredients! No soy, either, if you're wondering. Win win win!! Thanks Lea, for the inspiration!
Ingredients:
2 cups cauliflower
1 1/4 cup unsweetened almond milk
1 cup cooked white beans
1 large shallot
Juice from 1/2 lemon
3 cloves garlic
salt & pepper to taste
3 tbsp olive oil
red pepper flakes (optional)
Add cauliflower to pot of boiling water and boil until tender (a few mins).
Add 1 tbsp olive oil, sliced shallot and chopped garlic cloves to a pan. Heat until tender.
Add almond milk, beans, cauliflower, shallot, garlic, lemon juice, remaining 2 tbsp olive oil to blender. Blend until smooth.
Taste, add salt & pepper as needed, & blend again. I had to add a good amount of salt and pepper to get it to my liking. Be your own judge.
Pour over your favorite pasta, protein or veggies! Top with red pepper flakes, if desired.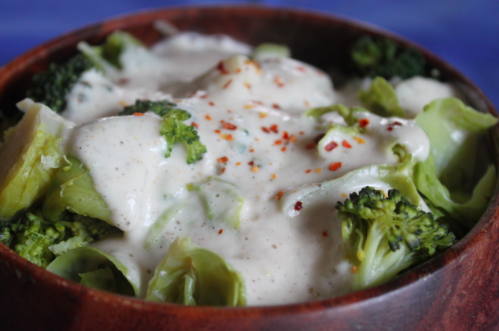 Kiss your cheesy alfredo cravings goodbye! See ya! Wouldn't wanna be ya.

Got a killer sauce recipe you want to share? Comment below. I love sauce.