I'm obsessed with chocolate. It's no secret. The first time I tried chocolate sweetened with natural sweeteners instead of sugar/corn syrup, I just about passed out. Ever since that day, I've been constantly on the hunt for new brands of chocolate to try and share with you.
I was in Portland recently and I bought a few bars of raw chocolate with health-supportive herbs. The cashier said to me, "that's a lot of candy bars."
"CANDY BARS?!?! DUDE, this is medicinal!!" Ok, I got defensive. Don't call my beloved raw chocolate a candy bar. And just so you know, guy, I'll eat 100% cacao, unsweetened, like it's nobody's business. Just for the rush. (Learn more about chocolate and other healthy highs).
I will go on the record here and say that CHOCOLATE IS A HEALTH FOOD. If you choose the right chocolate, that is. There are tons of brands of chocolate out there that are doing an incredible job creating chocolate with integrity – using minimally processed, nutrient-dense ingredients, and putting a lot of love and consideration into their creations.
Cacao is one of the highest antioxidant foods out there!!!

What about sweeteners? My philosophy:
I don't touch anything with regular sugar, even if it's organic cane sugar. I just don't. (If I do, it's extremely rare or probably was an accident). Why? Quite frankly…it makes me feel like crap. I prefer more natural sweeteners that don't compromise my immune system or send me on a blood sugar rollercoaster. I'm super sensitive to the "sugar blues" and it just isn't worth it to me.
I'll get down with chocolate if it's sweetened with:
Raw honey
Maple syrup/maple sugar
Coconut sugar
Dates
Stevia
Unsweetened (100% cacao)
More info on my approved sweeteners
I know it can be overwhelming trying to choose a chocolate bar among the masses of new brands popping up. That's why you have me. Winning!
Here are some Healthy Crush approved chocolate brands – with links to purchase them if you really wanna party.
LoveBean Superfood Fudge Spread
You guys, this stuff is FREAKING DELICIOUS. It's "vegan AND paleo" and it's organic — so go nuts on it. I recently ate almost an entire jar within a week's time, and I can confirm that it's very versatile. Put it on berries. Eat it with a spoon. Spread it on someone you love and see what happens. :) Also makes a great gift. Who wouldn't be excited to receive a box full of healthy fudge spread? COME ON PEOPLE. Magic in a jar.
Ingredients: Organic Coconut Sugar, Organic Extra Virgin Coconut Oil, Organic Coconut Milk, Organic Cacao Powder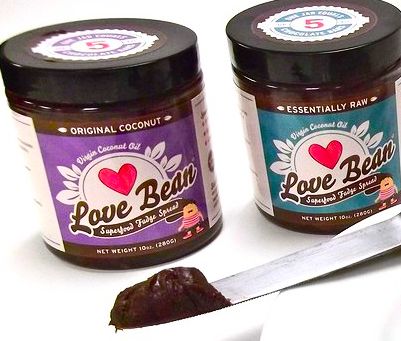 Eating Evolved Primal Chocolate
You're reading that right. Coconut butter cups. WTF! This "primal chocolate" from Eating Evolved is unreal, and they have tons of awesome flavors. My favorite? Crunchy Caramel and Vanilla Bean + Coffee. The bars are sweetened with maple sugar or raw honey, and the best part is they have a few 100% cacao bars for people who want to avoid all sweeteners but still want a serious cacao fix. No junk, no fillers, fewest ingredients possible. GET RIDICULOUS!
Buy a sampler pack. Try 'em all.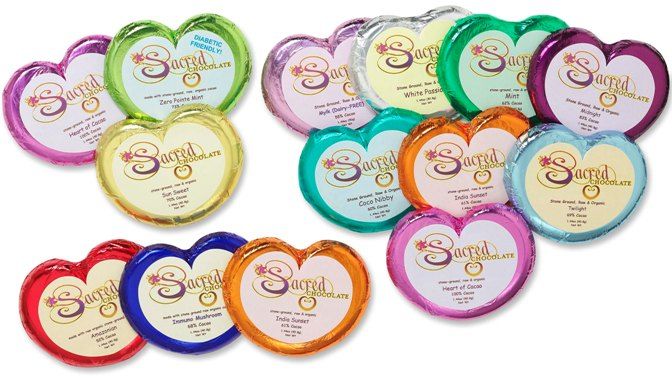 The only reason I don't buy this chocolate more is because I don't find it at a lot of stores around me, so it tends to take the back burner. It tastes amazing, though, and is also loaded with superfoods and super herbs. My great friend David Wolfe is a huge supporter of this chocolate and I basically trust anything he tells me. ;) The heart shape makes me really happy. Sweetened with maple sugar/coconut sugar. This stuff is truly medicinal. Get it.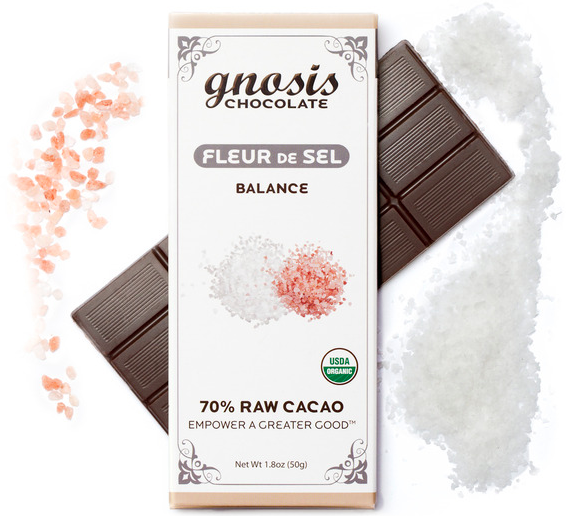 Gnosis is another chocolate brand that really packs a lot of superfoods and herbs in. It really is the world's most nutritious chocolate, and is a fully functional food. The founder of Gnosis went to IIN with me, and she is extremely conscious about every ingredient and process that goes into her chocolate. You can trust that what's going into your body is the highest quality available on the plane. My favorite is thefleur de sel bar. Get some.
This was the first raw chocolate I ever tried – and much like a first true love, this chocolate dove straight into the center of my heart and hasn't left. It's made right down the street from me in Brooklyn, and I've been a big supporter for years. This chocolate is everything I've ever wanted.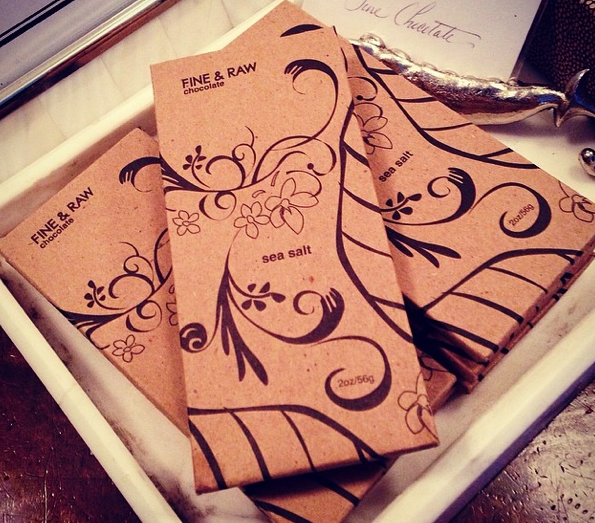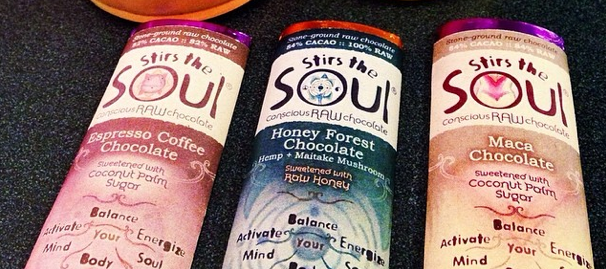 Every time I'm in Portland or Boulder (2 of my favorite places to visit, vibe-wise), I get this chocolate. It's delicious, contains natural sweeteners like dates, honey and coconut sugar, and excitable fun things like espresso and maca. This chocolate makes me smile for hours. Get some!
What other chocolates do I need to try? Trust me, I'll leave and go get them right now.
Follow me on the insta to see when I come across new, awesome chocolates.