I've been inspired lately by the book I'm reading – The Spice Necklace by Ann Vanderhoof. The book is about traveling through the Caribbean and learning all about island cooking and spices, with lots of great recipes included. Reading it has really made my mouth start watering for some of my favorite island-inspired ingredients — coconut and lime! I created this recipe for my healthy book club last month, and so far and it's been a hit  – it's extremely flavorful and will give your taste buds a much-needed tropical vacation. ;)
Ingredients (makes about 6 servings):
2 cups short-grain brown rice
2 cups regular water
1 cup coconut water
1 package organic flax tempeh (Lightlife brand)
1 yellow onion
2 cloves garlic
About 2 tbsp organic, unrefined coconut oil for cooking tempeh **important to use UNREFINED oil so you get the coconut flavor!! The refined kind has no flavor.
A few large splashes of tamari or shoyu
1/4 cup lime juice from fresh limes (about 4 small limes or 2 large limes)
Pinch of sea salt
A few pinches of black pepper
Chopped cilantro or scallions
Directions:
Cook brown rice with the plain water & coconut water mixed together. Add more water towards the end of cooking if the rice needs more.
Chop tempeh up into little pieces. Add to a pan with coconut oil and tamari/shoyu.
Chop onion & garlic, add to pan with the tempeh.
Shake in some black pepper.
Saute until browned & slightly crispy.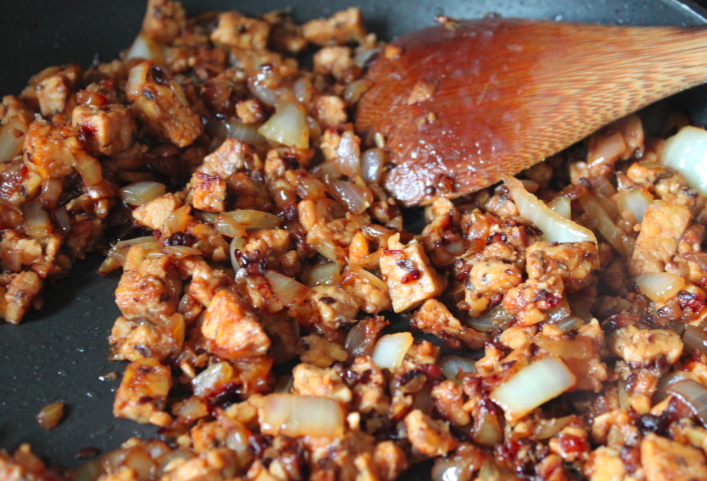 When rice is done cooking, add the lime juice to it, along with the pinch of sea salt (add more to taste) and another small tsp of coconut oil for more coconut flavor. Mix well.
Add rice to large bowl and stir tempeh/onion/garlic mixture into it.
Top with scallions or cilantro and eat!