Happy Mother's Day, my friends!
Today I woke up and decided to make a delicious Mother's Day wake up smoothie. I'm feeling grateful to be at my Mom's house today in Massachusetts, and I'll be spending the day with her outside and, of course, making some great food later.
To kick off the morning, though, I created this smoothie with the help of my wonderful friends at Fair Trade USA. They sent me a great box of Fair Trade goodies, including cinnamon, coconut oil and coffee. I thought these 3 things would be perfect to put into a smoothie. :)
They also paired me up with some Fair Trade organic tea farmers so I could share a little bit about where Fair Trade products come from and the people behind them.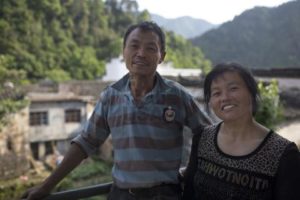 Wang Zubin, 49 (left), and Jing Dingmen, 48 (right), are organic tea farmers from Gangkou. In 2013, both their daughter and their son received partial academic scholarships from Fair Trade premiums to attend Beida and Qinghua, among the best universities in China. "Naturally, we are very happy that our children have succeeded, with the support of Fair Trade. It makes us proud to work within such a system. I hope that our tea farmer association continues cooperation with Fair Trade and can further help others in need!"
Learn more about their Fair Trade tea farming here.
It's important to think about where your food actually comes from, and there are many amazing moms behind many of the foods you eat. You can read more about the Fair Trade Moms here!
So in honor of Mother's Day and the Fair Trade Moms around the world, here's the smoothie recipe. :)
Chocolate and coffee are 2 of my favorite things in the world, so this smoothie makes me really happy.
Coffee Cacao Smoothie (serves 1)
1 cup unsweetened almond milk
1 tsp ground coffee (or coffee beans if you have a powerful blender!) I used Just Love Coffee (organic, fair trade)
1 tsp cinnamon – I used Whole Foods cinnamon (organic, fair trade)
1-2 tsp coconut oil – I used Nutiva (organic, fair trade)
1 scoop chocolate protein powder of choice (Tera's Whey dark chocolate is organic and fair trade)
A few ice cubes
Blend and drink!!
A few notes and substitution ideas:
If your protein powder is already sweetened with stevia, you may not need any extra sweetness (I didn't!). If you do want more sweet, try adding one date.
If you don't have chocolate protein powder, you can use 1 tsp of cacao powder plus any vanilla protein powder you have on hand.
If you don't want to use whey protein, you can try a hemp protein. Onnit has a chocolate maca one that would probably be great in this smoothie.
Note – if you don't use whey protein, this smoothie might not get creamy, so if you choose hemp protein or another protein, adding a small piece of avocado or banana could help the texture get creamy.
If you don't want to use any protein powder at all, try blending in cacao powder + a banana if you like bananas to get it thick. You could also use cacao powder + avocado + a few drops of stevia if you're avoiding sugar.
Let me know if you try it! It's the perfect boost of energy.
Happy Mother's Day. :)
Love,
Jenny