Kris Carr's Crazy Sexy Diet has started a health revolution. The book may have a cheeky, cute name, but this woman means business when it comes to a healthy lifestyle! A self-proclaimed "cancer thriver," Kris was diagnosed with cancer in 2003 and has put together a whole book of diet and lifestyle tips that have kept her cancer at bay and helped her to be completely asymptomatic and live a life beyond her wildest dreams. Read more of her story in this New York Times article.
I had the pleasure of assisting Kris at her recent weekend workshop at the Omega Institute. I can tell you that she truly GLOWS! Her energy is magnetic, her happiness is contagious and she seems healthy, at ease, and eager to spread her message to help others.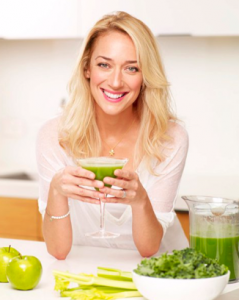 The Crazy Sexy Diet (Eat Your Veggies, Ignite Your Spark and Live Like You Mean It) is not only for people diagnosed with cancer. Far from it. It's the epitome of healthy living for anyone who wants to thrive in life and feel great! I love this book – it's my go-to manual when I want to brush up on things like acid/alkaline balance, the importance of greens and juicing, self-care techniques, and being the healthiest me I can be!
Some of the things you'll learn from the book:
How to create an anti-inflammatory diet and lifestyle (inflammation is one of the main causes of all disease)
How to easily and gently decrease foods in your diet that aren't adding to your vitality and add in new, exciting foods that will boost your health
The importance of juicing and greens
Detoxing, cleansing and healthy digestion
The ultimate self-care regimen (not just diet)
Lots and lots of mouth-watering recipes!
Trust me, she's amazing. If you want to get a detailed, thorough explanation of a lifestyle that could help you achieve optimum health, look no further than Crazy Sexy Diet.
Check out more from Kris at Crazy Sexy Life.
As Kris would say…
Peace & Veggies!