No, no – I'm not making Brussels sprouts into a dessert….don't freak out.
I call these Cream Puff Brussels Sprouts because that's exactly what I said when I first bit into one. "These are like CREAM PUFFS!" And they are. Except healthier. ;)
(As you can see, I'm back on food).
On New Year's Eve, my friend Gabby had a dinner party and I saw these glowing orbs of goodness in the center of the table. I had never made (or eaten) Brussels sprouts before that weren't cut in half before cooking. These were just full on, uncut balls of sprout. I bit into one. Magic happened.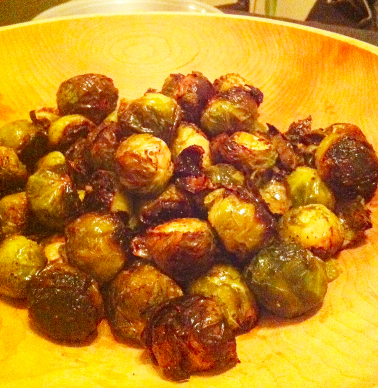 That evening was my last time eating solid food for 10 whole days. I even mentioned in Day 2 of my juice cleanse recap that I was craving these things. I thought about them quite often during the first 3-4 days of the cleanse.
Now that I'm off the cleanse and eating solid food in the form of fruits and vegetables only, I knew it was time. I called Gabby and said "how do I make those cream puffs?" She told me the deal. It was ON.
They were as good as I remembered. Crispy on the outside, soft and creamy on the inside. Seasoned to perfection.
So this was my dinner tonight. A big ole bowl of cream puffs. I felt very indulgent.
Ingredients:
Brussels sprouts (whatever amount you want to eat)
Olive oil (enough to lightly coat all of the sprouts)
Sea salt + pepper to taste
Heat oven to 425.
Wash and dry sprouts. Put them in a large bowl and toss with olive oil, salt, pepper. Put on baking sheet.
Bake for 30-40 mins. Check them at 25 mins – make sure they don't burn. Cut into one of the sprouts and see if the middle is creamy yet. You'll know when they are perfect because the outside will be dark brown, but not charred, and the middle will be creamy.
If this doesn't make you fall in love with Brussels sprouts, I suspect nothing will.
Expect more vegetable goodness on the blog soon as I make my way back into the world of chewing food.
Brussels sprouts – love em or hate em? Let's hear it, my friends.