My friend Paige Geffen has been posting some delicious looking healthy food pictures lately, so I asked her to submit a guest recipe for Healthy Crush. This chocolate pudding looks awesome – and it's made with simple, vegan ingredients. No pudding powder from a packet here, folks. And it's sweetened with dates instead of sugar! Extra points.
Ingredients:
1 whole avocado
1/3 cup dates
3/4 cup almond milk
1/8 cup cacao powder (add more if you want it more chocolatey)
2 teaspoons maca powder (optional, for that extra boost)
Note from Paige:
So you're probably thinking "chocolate and avocado….?" When whipped or blended, avocado becomes creamy and mousse-like, which creates a fantastic base for condiments, sauces, soups and even pudding! The flavor of the avocado is mild and will allow the buttery sweet flavor of dates and the chocolaty rich flavor of cacao to marry.
Directions:
Combine avocado, dates and almond milk in blender until smooth and creamy. Sometimes the dates do not combine easily – if this happens, you may have to pause and stir the mixture in between blending.
To avoid getting powder everywhere, first stir in the cacao and maca with a spoon and then blend.
Put the mixture in a bowl and pop it in the fridge. After a couple of hours the pudding will set, and you have a cold, creamy, delicious, guilt-free treat. If you are impatient like me, you can add a few ice cubes to the mixture in the blender for a cold treat right away (the pudding will be less thick this way).
The final and optional step is to add your favorite toppings. Today I decided on coconut flakes for some texture and fresh mint for another layer of flavor. Fresh berries and nuts would be delicious, too. Use your imagination!
*If you cannot find dates, you can always use agave as a substitute. I just love dates because they add velvetiness and are packed with fiber.
BONUS RECIPE:
If you follow the recipe and add the juice of one large lemon instead of the cacao – you will have a deliciously sweet and refreshing lemon dessert mousse!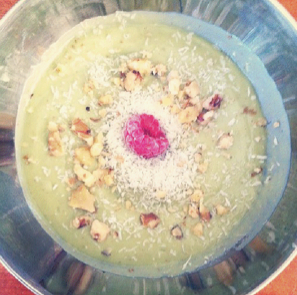 Thank you PAIGE! These puddings sound awesome, I can't wait to try them.
If you guys try either of these, let me know in the comments! xx