Ah, the Vitamix. One of the most favorited and coveted pieces of machinery in the health food world. I remember the day I decided to get one. It was right when I finally made the decision to enroll at nutrition school, and I knew my life was changing. All of the people I had read about and respected in the nutrition world would mention the Vitamix. I wanted to be legit. I wanted to make green smoothies that would absolutely blow my mind. I ordered one.
The Vitamix did truly change everything for me. I started making green smoothies every morning — throwing everything imaginable in there, and the Vitamix made it into the smoothest liquid ever. No bits and chunks, just incredibly, insanely smooth smoothies. I started to feel more vibrant and alive just starting my day out with these green magical potions. I had never experienced this kind of power or results in any other blender. Not to mention, I started making soups, sauces, almond milk, hummus, desserts and whatever else I could come up with – and everything came out perfectly. I ran around telling everyone how much I loved my Vitamix. I pretty much shouted it from the rooftops.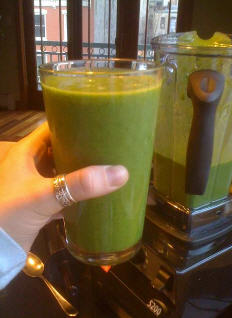 There is a catch, though.
1 – The Vitamix is a big piece of equipment. It takes up a good amount of counter space (especially if you live in a small apartment).
2 – The Vitamix is about $500. Yeah. It's a big investment.
For me, I absolutely do consider it worth it. I've used it a million times since I bought it over 3 years ago. It's like a family member to me.
BUT – I speak to a lot of people who say they don't need such a huge powerful blender, or that they would never pay that kind of money for a blender. Which of course, I get. We all have our priorities.
But these people DO still want to make delicious smoothies.
In comes an alternative that's much smaller and much more affordable, but still works awesomely. The NutriBullet.
I've been hearing about the NutriBullet "superfood nutrition extractor" for awhile now from my superfood pal David Wolfe, but wasn't sure how it would really measure up to my beloved Vitamix.
I was at my sister's place in LA last week and she has one. We made "nutri-blasts" (according to the NutriBullet peeps they are "not smoothies" – but really they are) every morning. We piled in the kale, spinach, chia seeds, blueberries, spirulina, hemp, cacao, maca and whatever else was around. 2 things we used that particularly excited me were blue-green algae and aloe, which you can learn all about in this video from Health Ranger Mike Adams.
They came out amazing. I was impressed.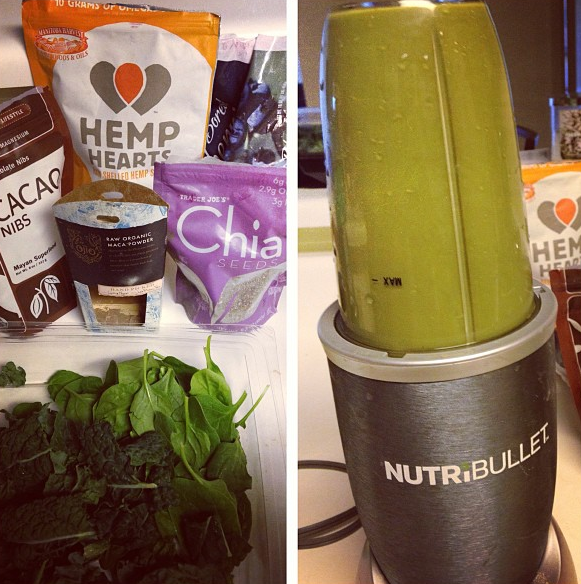 So how does it measure up in price?
The NutriBullet is around $115 on Amazon, compared to closer to $500 for the Vitamix.
The NutriBullet can only make enough smoothie for 1 person at a time, which is different from the Vitamix, which can make a huge blender full of smoothies. So we each had to make our own, but it was fine because we could customize them.
Also, of course, because it's smaller, it's less powerful and I can't say that the smoothies were TOTALLY as smooth as the Vitamix. But definitely incredibly smooth compared to having to drink down chunks of kale bits from a regular blender.
So here's what I say.
If you are looking for something smaller (1 smoothie at a time) and more affordable, but still powerful – go with the Nutribullet.
If you're looking for something super high-powered that can do a lot more and make a lot more at once, and willing to pay for it, go for the Vitamix.
What's your opinion? Have you tried the NutriBullet? Gimme the scoop!
For more amazing resources on nutrition, check out the videos on GaiamTV – they have everything, including this awesome video about the Power of Green Foods.