Beans are one of my favorite ways to get healthy, plant-based protein. There are so many different kinds of beans to eat that I never get bored of them. Plus, they are so cheap, it's like a no-brainer to make them a frequent part of your diet.
What's so great about beans? They are high in protein, iron, B vitamins and fiber. They are low glycemic, so they don't spike your blood sugar – instead, they give you a slow, steady stream of sustained energy and keep you feeling full. Especially if you eat a low/no animal product diet, beans are an important food to embrace. They are fabulous!
I know what you may be thinking — beans aren't always the easiest on digestion, and can leave you bloated and gassy. Luckily, there are some awesome ways to make beans + your digestive system = best friends. Here are just a few:
Soak your dry beans overnight before cooking them.
Add kombu or kelp seaweed to the beans while cooking, and remove the seaweed before eating.
Chew beans thoroughly to start digestion before they reach your stomach.
Season with sea salt towards the end of cooking.
Add a little apple cider vinegar at the end of cooking.
Skim off cooking foam from top when cooking.
Here are a few easy, delicious recipes so you can create a more beaningful life.
Bean cooking chart (for dry beans) with approximate times, courtesy of the Institute for Integrative Nutrition: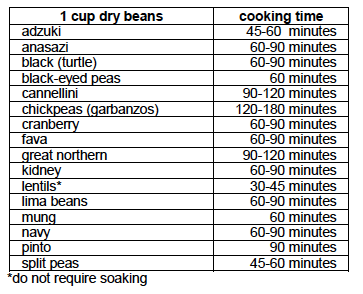 Southern Beans & Greens:
Recipe from the Physicians Committee For Responsible Medicine (PCRM):
1 cup vegetable broth or water
3 cups drained cooked or BPA-free canned beans (your choice of any kind of bean – I like Eden Organic brand)
1-2 cloves crushed garlic
4 cups chopped fresh kale
1 teaspoon olive oil
sea salt, to taste
black pepper, to taste
hot sauce, to taste (any brand — I love Cholula)
Combine beans, broth or water, and garlic in a large saucepan. Place chopped kale on top of beans and bring to a boil. Cover, reduce heat to low, and simmer until kale is tender, about 15 to 20 minutes. Remove from heat and stir in oil, salt, black pepper, and hot sauce to taste.
White Bean Mash (an amazing substitute for mashed potatoes!):
2 cans of white beans or about 1 1/4 cups dry beans (butter beans, cannellini beans, navy beans, etc)
1 tbsp extra virgin olive oil
2 cloves of garlic, chopped
sea salt & pepper to taste
Soak & cook dry beans according to package directions, or rinse & drain canned beans. Add cooked beans to a saucepan with olive oil and garlic. Heat for a few minutes until they reach desired temperature. Pour mixture into blender and blend until smooth. Add salt & pepper to taste! Consistency should be like mashed potatoes. If too dry, add a little water and blend until desired consistency is reached. (These are so yummy!)
Black Bean Dip
Serve with veggies or favorite healthy cracker/chip

1 can of beans or about 2/3 cup dry beans. White beans or black beans are both great for this!
1 clove garlic
1/2 small onion
2 tbsp lemon juice
1/4 cup olive oil
1/4 cup cilantro, chopped
Drizzle of hot sauce
Sea salt & pepper to taste
Cook dry beans, or drain & rinse canned beans. Place beans, onion, lemon juice, olive oil & garlic in blender. Blend until smooth. Stir in chopped cilantro. Add salt & pepper to taste. Drizzle hot sauce on top.
Red Lentils & Spinach
Delicious served with brown rice
1 cup red lentils
1 big handful of spinach, washed & chopped
1 onion
2 cloves garlic
1 tbsp unrefined coconut oil
1 tsp turmeric
Pinch of cayenne
1 inch piece of ginger, grated
Sea salt & pepper to taste
Cook lentils with water according to package. (Lentils don't require soaking). Add onion, garlic, ginger and spinach to a pan with coconut oil, saute a few minutes, until onions are tender. When lentils are done cooking, add spinach/onion/garlic/ginger mixture to the lentils. Add turmeric, cayenne, salt & pepper and mix well! Serve with brown rice.
Italian Bean Salad (pictured above)
1 can or 2/3 cup dried cannellini beans
1 red onion, chopped
1/2 cup chopped sun-dried tomatoes
1 tbsp lemon juice
1/2 tbsp extra virgin olive oil
1 clove garlic, chopped
Sprinkle of parsley
Salt & black pepper to taste
Cook dry beans, or drain & rinse canned beans. Mix together beans with all other ingredients. Serve chilled.
What's your favorite way to eat beans?