Hey friends!!
I'm giving you a few things today because I'm excited.
I'll tell you a great hormonal health tip in a second, but first I have a few things to say.
I'm currently on a plane to Seattle and then Victoria B.C. for the weekend. I can hardly contain my excitement because I'm headed to check out Dave Asprey's Bulletproof Biohacking Lab!!!! If you don't know what Bulletproof is, you can check out all my favorite Bulletproof products here. Let's just say I'm a bit of a Bulletproof fan girl…and ENTHUSIASM PAYS, people, because I won this trip for free! :) I honestly think enthusiasm is one of the most important things in life…
Biohacking:
(v) To use systems thinking, science, biology, and self-experimentation to take control of and upgrade your body, your mind, and your life.
(n) The art and science of becoming superhuman.

Please keep an eye on my instagram, I'll share as much as (super)humanly possible.
Speaking of travel, I am going to start writing more soon about how I travel for free in general. So stick around. One thing I'll note right now is that Alaska Airlines is making me very happy!!! I'm on a brand new non-stop route, JFK-Seattle (this is only their 2nd flight on this route!), and they are celebrating by giving everyone double miles. How cool are they!? They also have outlets and USB ports in every seat, even in economy in the back of the plane. This means I will arrive with everything fully charged. HAPPINESS! Get on the ball United!!! Seriously. I love flying United because of the great miles conversion rates but hey, let's go ahead and upgrade those planes.
Ok.
Now. To the point. If you are familiar with Dave Asprey's Bulletproof brand, you already know one of the main staples of a Bulletproof lifestyle is Bulletproof Coffee.
This means…drinking grass-fed BUTTER. That's right!

Grass-fed butter. The *key* is grass-fed (which means the cows who make the butter eat grass for nourishment). Dave Asprey says, "grass-fed butter is as close to a "magic elixir" for everything from your heart to your hormones as you can find in nature." More on that here – Can Meat and Butter be Healing?
I love grass-fed butter. (Did you see my dinner last night?!)
I cooked those eggs and those greens in generous amounts of grass-fed butter. Yum.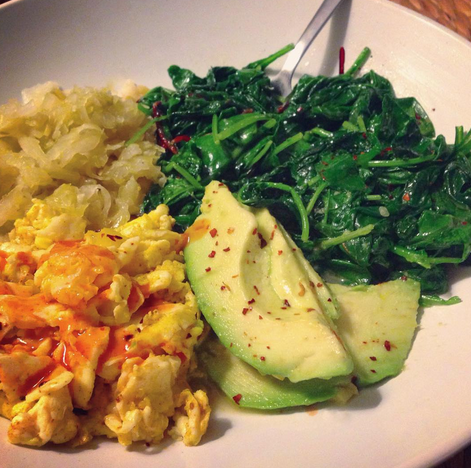 Because it's rich in healthy fats, cholesterol (this is a good thing!) and omega 3s, grass-fed butter is anti-inflammatory and FANTASTIC for healthy hormone function!! And healthy hormone function is important for EVERYTHING. We're talking energy levels, PMS symptoms, sex drive, skin, weight, mood, and more. Hormones are everything…

One of my best friends (and fellow Virgo) Nicole Jardim is a hormone expert and she confirmed with me that grass-fed butter is a beautiful friend to your hormones. (By the way, if you want to know what it's REALLY like to be a hormone expert and how you can become one, she has an awesome email series about it here).
You don't need to take my word for it about all this hormone stuff. I'm merely a hormonal health enthusiast. Consult the expert. She's got a hormonal health apprenticeship that's about to begin, and today is the last day to get a great discount on it!
So while I'm busy biohacking in Canada (THERE WILL BE A FLOAT TANK THERE!) I hope you'll be putting some delicious grass-fed butter on your veggies this weekend.
Just go to the store and look for butter that says it comes from "grass-fed cows." It should be a deep and beautiful yellow color. :)
And please…don't eat margarine ever again.
Love you,
Jenny
Healthy Crush