In honor of Earth Day, my friends over at Bliss sent me a bag full of healthy goodies! I love getting fun stuff in the mail, and thought I'd take the chance to share my thoughts on each item in the bag with you. I think it's important to be conscious and mindful about the products you use in your everyday life – from the food you eat to the water you drink to the products you put on your body.
The Bliss Bag included:
Bobble Bottle: I've actually always wanted one of these, so I was psyched to see it included. This water bottle is BPA-free and filters water for you as you drink it! You just fill the bottle with water and chlorine and other contaminants are removed. Pretty darn cool, I think.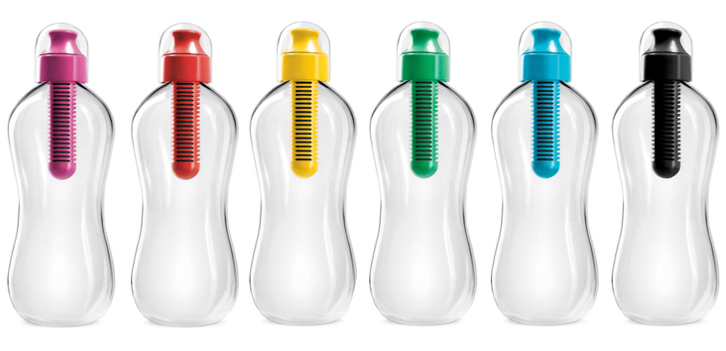 Simple Squares: Kinda crazy – I just discovered these things 2 weeks ago at LGA airport, and I'm really into them. They are little nut & honey snack bars, basically, but the ingredients lists are awesome. No weird stuff. They taste delicious, too. The sage one is my favorite. Ingredients: organic cashews, organic almonds, organic honey, unsweetened coconut, organic vanilla extract, sea salt, sage. Good stuff.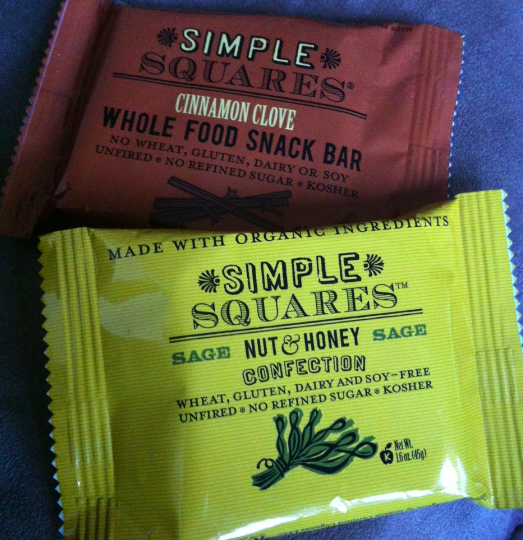 Crate & Barrel Organic Bamboo Tool Set: Um..how did you guys know I was in the market for awesome new kitchen stuff? I always am, I guess. I love these bamboo spoons and spatulas. Bamboo is considered eco-friendly because it grows really fast and is therefore renewable pretty quickly. Plus, it looks and feels great.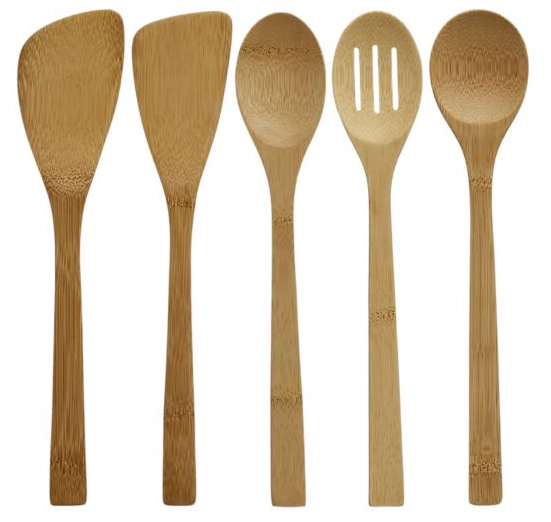 Yoga Fan: When I saw this, I was like….wtf is a yoga fan? But when I opened it I realized it's actually a fan-book of yoga poses that you can travel with. That's kind of amazing. It goes through over 50 yoga poses, plus step-by-step instructions, modifications, safety tips and sequencing. This is great for when you can't make it to a yoga class and you want to just practice on your own at home. Now I'm going to be able to quiz all my yoga teacher friends. ;)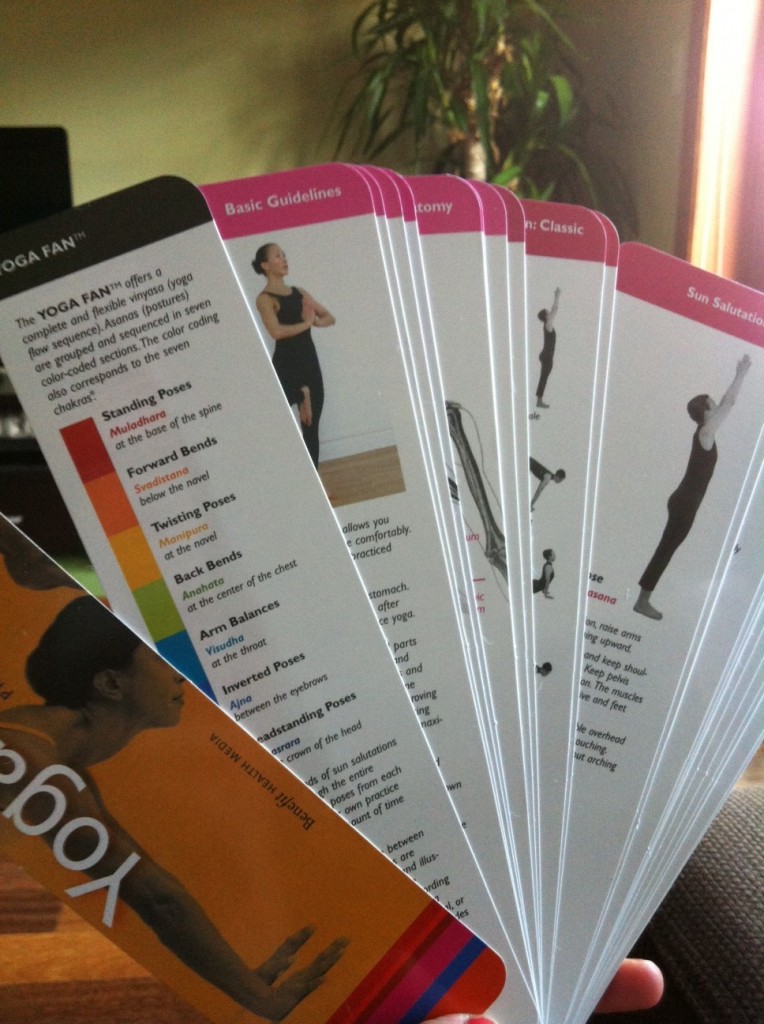 The Luffa Farm Natural Luffa Sponge: I think it's so cool that luffa sponges are just grown out of the ground. I remember when I first found that out. I was like – what!? You can grow sponges? Amazing. This particular sponge is grown in California from heirloom seeds, and it's softer than commercial luffas. It's really great for exfoliating your skin. I love it!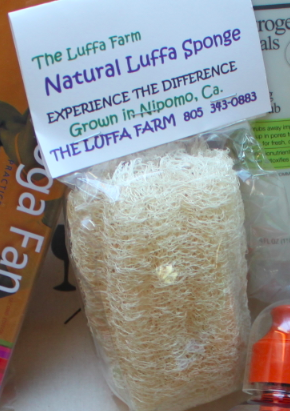 Neutrogena Naturals Products: You guys probably know by now that I tend to use 100% all natural products in my beauty routine. That being said, I know not everyone wants to just use sesame oil and rose water on their face. So if you're into buying different kinds of products for your skin, these more-natural products are a good way to wean off of your chemical-laden ones.  If you're going to buy beauty products, the more natural and less chemicals, the better. I received a multi-vitamin nourishing moisturizer, purifying facial cleanser, a face & body bar, fresh cleansing + makeup remover, purifying pore scrub, and lip balm. I tried out these products so I could let you know my thoughts.
The healthy pros on all of these products: No sulfates, parabens, petrochemicals, dyes, or phthalates. Almost totally naturally derived. Not tested on animals (yay!). Packaged in post-consumer recycled plastic and 100% recycled paper.
Cons: The products, aside from the lip balm which is 100% naturally derived, range from 86% naturally derived to 99%. There are still some non-naturally derived ingredients, such as fragrances. Most of the products were highly fragrant, in my opinion.
You can check out the full line of products here, but I'll just touch upon a few.
Multi-vitamin nourishing moisturizer: I like that there's yerba mate tea in this moisturizer. It went on my skin smoothly and felt very silky, but it has a slightly stronger fragrance than I expected so I'm not sure I'd use it on my face. Felt nice on my hands, though.
Multi-vitamin nourishing night cream: Feels moisturizing, not oily or greasy. Goes on thick so you don't need to use too much. I don't use a night cream at the moment, but I'd say it's probably great replacement for your regular night cream, especially if you're currently using one with a lot of chemicals.
Face & Body Bar: I really like this bar because it's one of the more natural of the products. It's made with avocado and olive oil, and it's fragrance free, which is great! If hotels would carry this soap that could be really cool. It's a great all-purpose bar of soap.
Purifying pore scrub: I like scrubs. This one has very small, gentle micro-beads in it which feel good on the face. When it comes to facial cleansers, I like ones that feel like they're really getting down & dirty into my pores vs. gentle cleansers. So this is nice, but again…very fragrant.
Lip balm: This was my favorite item. 100% natural, no fragrances, felt really moisturizing on the lips.
So there you have it. My Earth Day Bliss Bag, revealed! Thanks again, Bliss, for sending this bag my way!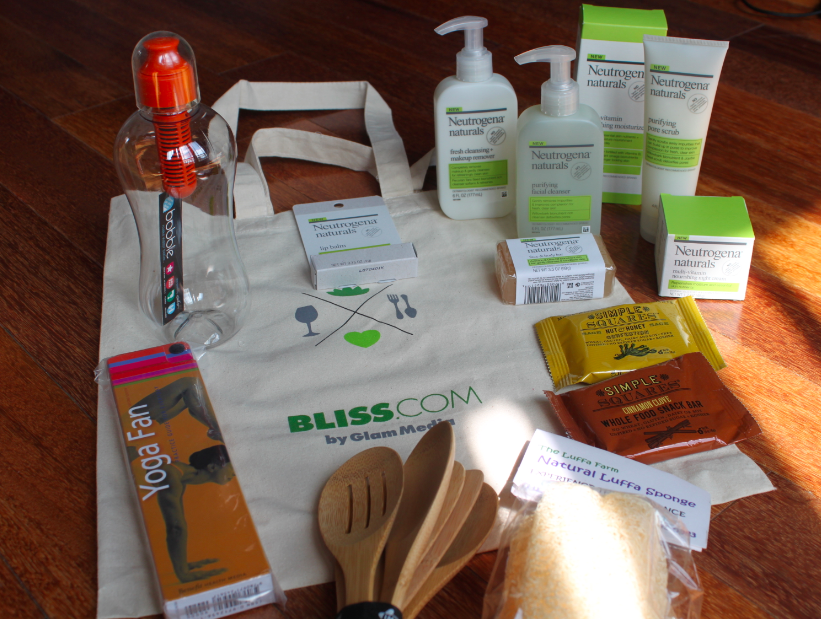 Cheers to switching to more natural products in every area of life! Here are some other articles about how you can go more natural in your life:
Natural Beauty Routine
Best Foods for Beauty
10 Ways to Green Your Home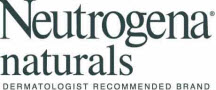 NEUTROGENA® Naturals Multi-Vitamin Nourishing Moisturizer is a daily lotion that replenishes essential skin nutrients while providing continuous moisture throughout the day for healthier, younger-looking skin. It contains no harsh chemical sulfates, parabens, petrochemicals, dyes or phthalates.
NEUTROGENA® Naturals Multi-Vitamin Nourishing Night Cream replenishes essential skin nutrients and is fortified with vitamins B, C, E and anti-oxidant omega bionutrients. This nourishing cream is clinically proven to boost skin's defense against dullness and roughness, leaving it naturally radiant, healthier and younger looking today and in the future. It contains no harsh chemical sulfates, parabens, petrochemicals, dyes or phthalates.
Disclosure: Compensation was provided by Neutrogena via Glam Media. The opinions expressed herein are those of the author and are not indicative of the opinions or positions of Neutrogena.