This morning I was making a few hard boiled eggs to bring along as my companions for the day, and I experienced a frustrating (yet all too common) phenomenon. You know exactly what I'm talking about. That moment where you try to peel a hard boiled egg and the shell comes off in the teeniest pieces possible, you're endlessly picking at it until half of the egg is stuck to the shell, it's all crumbly and the whole situation is just a total downer.
Then there are those days where the shell comes off effortlessly, and you feel like you're glowing from the inside out, and trumpets are playing outside your window. It's a truly spectacular moment.
I posted about it on instagram and got tons of comments with advice on what to do. Thanks guys, you really know how to save me from the pits of egg-peeling despair!!! Read all the comments here for the full range of egg-peeling methods.
I decided to try one method that a few different people recommended and I am proud to say IT WORKED! I can't vouch that it will work every time, but I will say, I had major success. If you don't have success with this method, try one of the others mentioned in that instagram comment thread, because people have some very cool ideas there for how to conquer the egg-peeling dilemma.
First of all I guess I should tell you how I make a hard-boiled egg. If you must know, I learned it from Gwyneth Paltrow. You can think that's toolish of me if you want, but I really have no problem at all with the fact that I like her cookbook, and I think it's kinda baller that she has a recipe in there for a hard boiled egg. Plus, it works.
Here's the method of boiling plus the added tips that I believe allowed me to peel the egg perfectly – those added tips are bolded below and involve salt and ice.
1. Put eggs in a pot of cold water (water just covering the eggs)
2. Add a pinch of salt to the water and bring water to a rolling boil
3. Let boil for 1 minute.
4. Remove pot from heat. Let eggs sit in hot water for 7 minutes.
5. Immediately drain the hot water from the pot, cover the eggs with COLD water and add ice to the pot.
6. Let eggs sit in ice water for about 5 mins.
7. Crack egg on the counter or the side of the pot and begin to peel. The shell may not come off in one piece, but it SHOULD come off without the shell sticking to the egg and causing a big scary mess.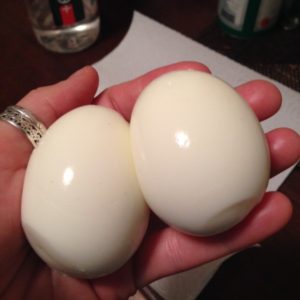 Voila! There you go. Perfectly smooth pearly white eggs.
All I had to do was add salt to the water with the eggs, and let them sit in ice water for 5 mins afterwards. Let me know if this works for you, or if you know of any other genius ways!
Someone told me to BAKE hard boiled eggs in the oven, who knew you could do that!? That's my next venture, for suresies.
Gourmet chefs unite!!!!