Hey sweet friends.
Tonight I really want to share something special with you. It's something very close to my heart. I've shared about it a ton of times on instagram and in various holiday gift guides here around the site, but I don't think I've ever dedicated a full blog to it. Which is a travesty. Except for the fact that I get to write it now, which is fun.
There's a book I've been reading in the mornings for the past few years – it was given to me as a lovely gift from one of my first health coaching clients ever. I've loved it so much over the years that the cover is torn off!!!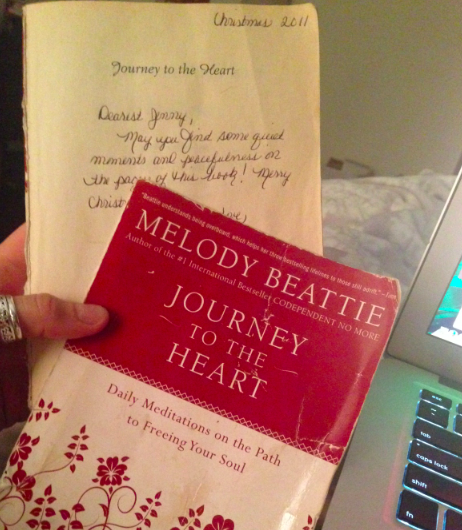 I've given it as a gift to several people in my life, I travel with it sometimes, and I actually have a brand new copy tucked beneath my bookshelf, just waiting for the right recipient. :)
The book is called Journey To The Heart by Melodie Beattie. The reason I love it so much is because it gives a small passage to read each day, with the date on it. There's really no confusion about it at all. It starts with Jan 1, and there's a different inspirational message to meditate on for every single day of the year.
What I usually do is read the passage for the day and then sit quietly for a few minutes with my eyes closed and just let the message sink in. It's really a beautiful way to start the day. For some reason the message always resonates with me in some way, and shifts my perspective.
The best part of this book has been, for me, re-reading certain dates each year and realizing how differently I perceive the message based on what's going on in my life at the time. It actually helps me to have compassion for my former self when I think about times that were difficult, and it gives me perspective and hope because I realize that difficult times aren't permanent.
The person who gave me this book wrote on the inside, "I hope you find some quiet moments and peacefulness on the pages of this book." That's an understatement!
For instance, let's go ahead and check out today's passage…it's technically Jan 14 still but I'll share the one for Jan 15th in case you're reading this in the morning. :) (This is just a portion of it, not the whole thing).
 January 15
You're Free To Follow Your Heart
No one has taken your freedom away. You may have relinquished it for reasons known and unknown. But you've always been free – free to choose.
Celebrate the breaking of the chains. Celebrate your freedom. And share it joyfully with others. Tell yourself, tell others too, that you're free to trust and follow your own heart.
—
Aw! Good right?
Here are a few others I've posted on instagram along the way…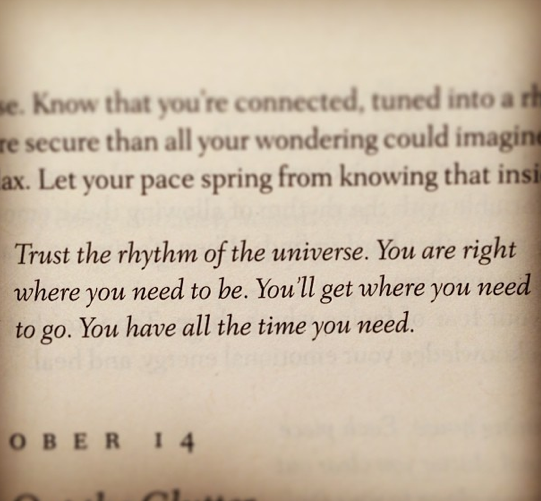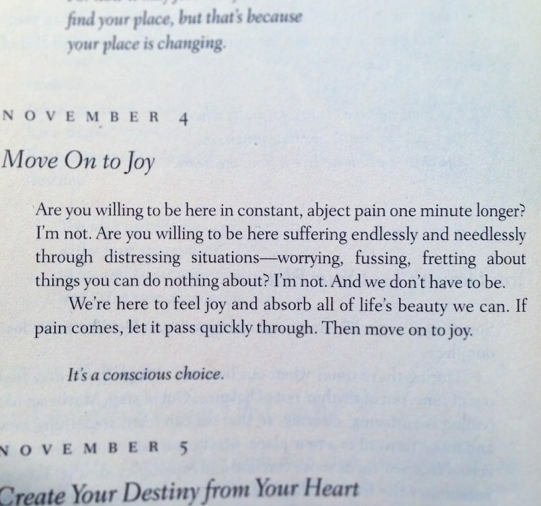 So if you're looking for a short daily dose of inspiration to sit with each morning, I think you'll really like this one. :)
Melody Beattie – Journey To The Heart
Night night.
Sweet, sweet dreams…
Jenny