it's been an interesting week. i'm not sure why, but last week when i was in barnes and noble, i just happened to stumble upon the feng shui section and bought this book: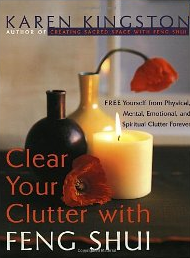 I had a feeling this book would change some things for me. and it really, truly did. if you know me, you know i tend to get emotionally attached to possessions, especially ones that have memories attached to them. it's really hard for me to let these things go (or, at least, it has been in the past). This isn't to say that it's bad to hold on to memorabilia, but too much stuff can really keep you stuck in your past istead of moving forward smoothly.
anyway, this book promised to show me how to "clear clutter" in my physical, emotional and spiritual life. tall order, huh?
well, i read it over 4th of july weekend and i was immediately drawn to action. i got home and cleared out 8 bags of clothes to donate to salvation army!! After that, I didn't need my dresser anymore, because it had just held useless clothes that i never wore (do i really need 6 Maryland t-shirts? 5 pairs of jeans that look pretty close to identical? sneakers that look like i stole them from a homeless person?), so I threw out my dresser! insane, i know.
but here are the 3 questions you're supposed to ask yourself when clearing your room/apt/house feng shui style:
1- do i feel energized and happy when i see this item?
2-do i absolutely love it?
3-is it genuinely useful?
If you can't answer yes to at least 1 of these questions (ESPECIALLY number 1), you should chuck it. And it's hard. And I may miss some of my stuff, but my gut feeling towards each item is what matters.
Books are next on my list. In the spirit of feng shui, you are only supposed to have books that represent who you are TODAY and who you WANT to be in the future. So I should chuck all the books that symbolize who I was in the past or have no meaning for me anymore.
It's kinda like getting over old relationships – some people come into your life for a reason, make an impact, and then it's time to appreciate it for what it was and how it changed you, and then let go of it and things that associate you with it, in order to make room for new relationships.
Much more to come on this topic, i'm only in the beginning stages of this.
"10 miles behind me, 10,000 more to go."
james taylor