Hi guys!!
If you know me in real life, I've likely had a conversation with you before about why I'm not usually into "direct sales" or "MLM" business opportunities. As someone who works in the online world of wellness, these opportunities are presented to me ALL the time, and I'm almost always a no, although a few have definitely sparked my interest along the way because the products actually sounded interesting. Interesting enough for me to take a meeting or a phone call about it – but I still usually walk way from the meeting as a "no" for the following reasons:
In my experience, sometimes people can be a little misleading about what you're actually getting into – they don't tell you right away that you have to buy a minimum amount of products yourself each month, they mention that you don't "have to" throw the parties or build a team "underneath" you in order to make money, but then later on it turns out, actually, you do. 
I have zero (repeat: zero) interest in throwing parties, socials or gatherings with the intention of selling products.
I also have zero interest in building a "team" that I then have to consistently mentor in order to sell products.
Most of the time, when someone approaches me with an opportunity like this, I already have loyalty/preference for another company in that category based on the products I use and love in my life, and I have no need or desire to switch.
I've made a living through affiliate sales on my blog and I'm very open about that, but all of it has been through writing and linking to stuff I genuinely love. If I love and use a product and the company has a traditional online affiliate program set up (i.e. I post a link in one of my blog posts, someone purchases, I receive commission), I'm always thrilled to have that kind of relationship. If there's actually more to the story (i.e. throwing events/growing a team/purchasing a monthly minimum of products), it becomes more complicated and time-consuming (for me, personally) and it's just not the type of business I'm interested in running. There's nothing wrong with wanting that kind of business, at all – some people LOVE it, and that's awesome! It's just not my joy.
Anyway, over the years I've grown very wary of people reaching out to me to get involved with these types of companies because I've had multiple experiences where someone said "Oh, yes! Of course – you can treat it like a traditional affiliate program, you can just link to the products if you like them, you don't really need to throw parties or buy a lot of products every month or anything like that…." and then it turns out, I look into it, and the fine print reads differently.
So – I think you get it. I just haven't been into it. :)
Beautycounter has been one of those companies that multiple people have reached out to me about, knowing that I'm generally interested in products with healthier/safer ingredients. It makes sense that people would think it would be a good fit for me to promote, considering I run a wellness blog. But to be honest, I have never given these requests much thought, because my stomach tightens up automatically when someone approaches me with this kind of business opportunity. (I'm quite the sensitive little chicken).
But recently that shifted when one of my nearest, dearest friends – a sister to me, my best friend from college (and an incredible makeup artist!) – became a Beautycounter consultant.
She sent out an email about her new endeavor, she was super pumped about it, and was inviting her closest girlfriends over to try some of the makeup and beauty products. She lived a block away from me in Brooklyn, and she's like family to me, so yes, of course I'd stop by. She's the type of person who I'd go out of my way for to support pretty much anything she does (within reason…) ;) Plus, she's a Virgo like me so I know she's extremely particular with what products she uses. I really, really trust her. This was much different than getting a random message on Facebook or Instagram.
Of course, on my walk over to her apartment, I planned my little speech about how happy I was for her, but that this kind of business is just not for me… 
I went to her house and checked out all the makeup and beauty products she had gotten in the mail, and we played around a lot of it. I even washed my face with the exfoliating cleanser in her bathroom, and then used face oil and put on foundation.
As we were playing around with all the products, she told me how during pregnancy and after having her newborn baby girl and breastfeeding, she started to get a lot more particular about the chemicals she was using in her household products and on her skin.
She was really concerned when she started reading about the kinds of harmful chemicals that are in conventional beauty and makeup products, and as a makeup artist, she knew she needed to overhaul her entire stash – for her own health and the health of her baby daughter. She found Beautycounter that way, because of their "Never List" – more than 1,500 potentially harmful chemicals that they never use in their products. Over 1,400 of them are either banned or restricted in the European Union but not in the US (wtf!!) and the others are chemicals that Beautycounter has screened and found to be potentially harmful.
Beautycounter's List of Banned Chemicals and Ingredients.
I was touched by the passion in her voice and how deeply she cares about using safer ingredients, and how much it concerned her to learn how many banned ingredients in other countries are used without restriction here in the US. 
I showed my support, and then reluctantly I voiced my opinion and experience with direct sales companies. Sadly, I told her, these companies tend to not make it easy for a blogger to run a traditional online affiliate program, so even if I truly loved the products, it would be difficult for me to be involved in a business partnership.
She said she hadn't even considered that I'd be interested in joining her as a Beautycounter consultant (she knows me well) but she said she'd look into that whole affiliate link thing for me, just in case there was a way to make it work for me if I did end up really liking any of the products. We both agreed it would be a shame not to support a company who's goal is to get safer beauty products to more people. 
I wasn't getting my hopes up, but she emailed me that night saying:
She looked into it and YES, you actually can just simply share links to products on the blog, if you do like them. You are not required to do any parties or recruiting. (whaattt!?)
There actually is no monthly minimum amount of products you have to buy, and you don't have to buy a starter kit of products (whaaaaaat?!)
There are other online wellness writers who have VERY (very) abundant Beautycounter businesses simply through sharing links to the safer makeup/beauty products they love – just like I do now with other products on Healthy Crush. WHAT.
I was really surprised. I can just try out some of these products, and share about them like a traditional affiliate, if I like them…!?
Whoa.
She told me, hey, there are a couple of obligations to be able to sell these products, and you may decide it's not for you if it's too much. Here they are:
You have to pay an $85 startup fee for access to the backend materials, sales platform, trainings and business materials (I'd love for that not to be the case, but ok. I'm assuming this helps to get people to sign up who are willing to make a bit of an investment and commitment, vs. anyone just being able to sign up all willy nilly).
You have to hit a minimum amount of sales volume in a 6 month period in order to remain active ($1200), $250 of that being new volume every 6 months. ($1200 in 6 months seems like a piece of cake to me as a blogger if I actually like the products, so I wasn't worried about that).
So here's the deal.
I'm not currently loyal to any makeup or beauty products. In fact, I change up my makeup and beauty products quite frequently. Right now I use mostly Tarte makeup from Sephora and a random rotation of other products. I wash my face with Dr. Bronner's soap (don't judge). Haha!
The ONLY thing I'm fiercely loyal to is my Amazing Face lotion. I love it so much.
I LOVE the mission that Beautycounter has (read the mission here), and I love that they remove so many ingredients and chemicals that are banned in other countries. It actually kinda makes my blood boil that the US isn't on board with watching out for these harmful chemicals in our products. It's about freaking TIME!
I also like that Beautycounter isn't only passionate about getting their own products out, but passionate about getting the word out about safer ingredients – period. 
So I made a decision.
I decided to simply order ONLY products from Beautycounter that I was already using in my regular life, that I'd have to replace/buy again anyway. And that I'd make the commitment to replace my current products with Beautycounter products until those products run out. That way I can give them a very good test run, and I will know for sure which ones I love and which ones I don't. 
If I love them, I will share which ones I love on Healthy Crush. You guys know me, and you know I am insanely particular about what products I share about with my affiliate links. I've always gone by the motto, LOVE the product first, then share it – not the other way around. Staying in integrity about that is important to me. In fact, I've deleted some of my biggest revenue streams in the past because they weren't 100% aligned with my values. So that's my commitment with this stuff. 
Here's what I'm trying first: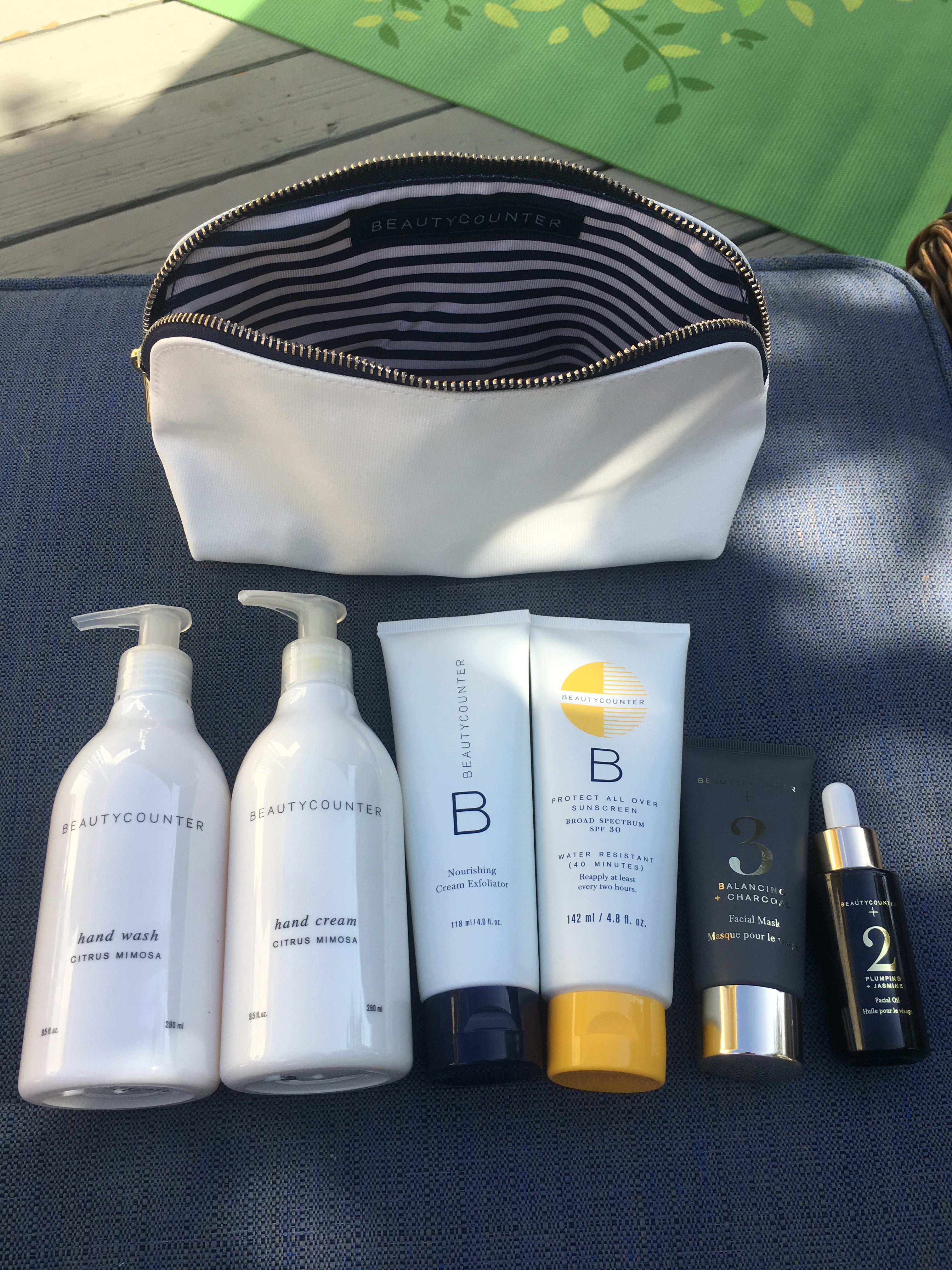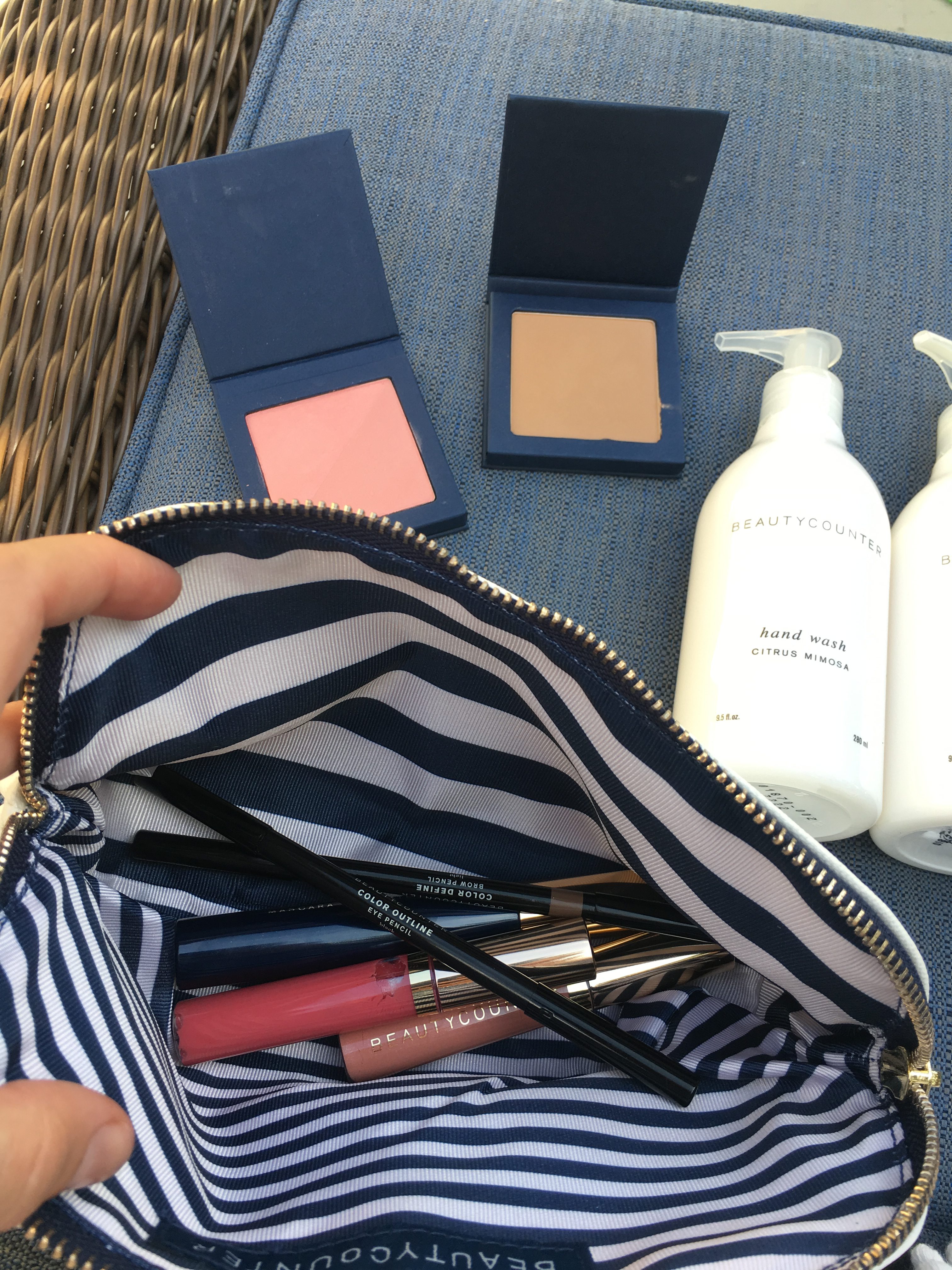 List of products I'm trying: 
I'm swapping out all my regularly-scheduled beauty products for these for the time being. A few things I usually use were out of stock at the time of my order so I'll share more after I try more. I will let you guys know what I love and don't love. Experiment time!!! 
If you want to purchase any cleaner/safer makeup and beauty products from Beautycounter, check out all the products here.  If you DO want to sign up as a consultant yourself and sell products, you can sign up here and my BFF will mentor and support you. :) 
Love you all. 
To cleaner beauty, experimentation, and integrity in sharing. :)
Love,
Jenny