My friend Rachel sent me this recipe for garlicky kale, which she got from Whole Foods. In her message to me, she said it's her "favorite thing in the whole wide world." When someone gets that enthusiastic about kale, you KNOW I have to try it!
This amazingly yummy dressing makes it easy to eat a lot of kale in one sitting. That's a good thing. :) In fact, if you've ever had kale chips, this recipe tastes really similar to kale chips – except the kale is fresh instead of dehydrated or baked. It's so easy to make, it'll likely become a staple in your kitchen! It's great as a side dish or when you want a savory snack.
Ingredients:
1 tbsp tahini
1 tbsp lemon juice
1 tbsp tamari
1 tbsp water
2 tbsp nutritional yeast
1 clove garlic, chopped
1 head of kale, washed, dried & stems removed.
Pinch of cayenne
Rip kale into bite sized pieces. Blend all ingredients. Pour over kale.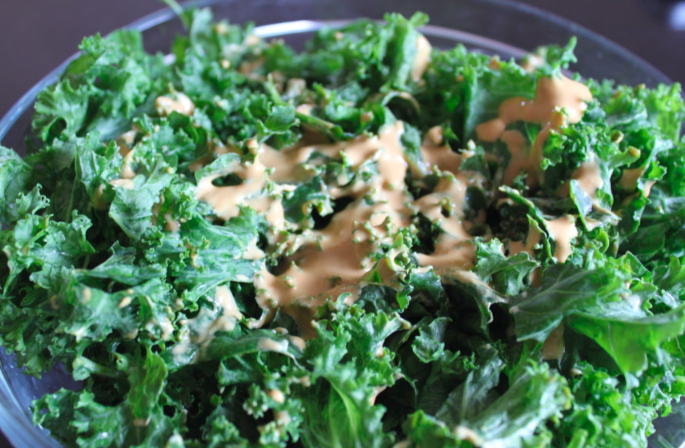 Massage dressing into kale. Sprinkle with cayenne. Let sit in fridge for about 30 mins to let the dressing set in (or eat it right away…why not!)
The other cool thing about this recipe is that you can swap out whatever ingredients you want and try it with other things. Try a little dijon mustard. Add a little olive oil. You really can't go wrong. Get your kale on, people!!