I don't usually write about really personal things here on Healthy Crush. I usually try to spread the positive stuff and shed light on all the health-conscious things going on around me. But being healthy includes a focus on personal growth, and this is what's going on in my life right now. After what I've gone through over the past week, I've realized that pain and suffering are part of the human experience. Everyone goes through love and loss and eventually awakens to a new experience of life. If this post helps even one person cope with a breakup, then this is worth sharing. It's an incredibly powerful period of growth for me – and for you too, if you're going through heartbreak.
The past week has felt like a blackout blur. And no, I wasn't on some kind of drug bender…I was going through an epic breakup. It's been one of the most painful and overwhelming experiences of my life thus far. And I'm surviving. And I'm here to tell you what's helped me get through it.
When an important relationship comes to an end, whether both people knew it was coming or not, it's a huge change and a huge loss. Especially if you live together (which we did, for over 3 years). It feels like life as you know it is being ripped out from under you. It feels like you have to create an entirely new life – alone – and that's a really scary way to feel. You want things to be back to normal. It's a crazy, confusing array of emotions.

When we decided officially to end the relationship and move out, the first few days were insanely painful. Painful doesn't even describe what I was feeling. I was in total denial and shock that it was actually over. After years of sharing every moment of my life with him, it was impossible to even imagine what life would be like without him. I felt like I was losing my best friend, my partner, my lover, my companion. Even though we both knew this was going to happen – needed to happen, even – I was totally unprepared for how it would actually feel. Heart-wrenching, awful, terrifying and incredibly sad.
(Before I go any further, I should probably mention that I have his full approval to write this blog).
So listen. I'm not going to try to tell you how to get over your ex, or how to move on, or anything like that. I'm going to tell you how to literally survive the first week of the breakup – because if you're going through a breakup and you're questioning whether or not you can physically and emotionally bear the weight of the pain…I relate.
Here's what I've done over the past week to survive and get through the initial stages of the breakup. It hasn't been easy, but these things helped so much.
1. Sleep at a friend's house. The first few nights after the breakup, there was no way in hell I was going to sleep in our apartment. It had changed, in a matter of minutes, from a comforting home into a graveyard full of our old memories. Torture. I had to get out of there, fast. I crashed on my friends couches and air mattresses and I let my them take care of me like I was a little baby (THANK YOU Jeanne and Gabby). Yes, of course it was hard to fall asleep when I was so distraught. But being with people who love me was really necessary and a huge part of my coping and healing process.
2.  Eat something. I've never been one of those "I'm too upset to eat" types of people. Didn't believe I ever could be. But shockingly enough, my appetite was total zilch for days after the breakup. I didn't want to put anything into my stomach because I was so nauseous. Fortunately my friends coaxed me to drink a juice, a smoothie, and eat some berries. That's all I could force down, but if I hadn't eaten anything the emotional turmoil would have been much worse. Once I was on my own I had to force myself to eat an apple, a grapefruit and eventually a few almonds. Trust me, if you don't eat anything, you'll feel more out of control than you already feel. Now that I've gotten comfortable using my juicer again (my first thoughts after the breakup were "I'll never use 'our' juicer again!" – thankfully that passed), I've been making green juice every day and my healing body is thanking me.
3. Call people all the time. All of my closest friends and family members got multiple phone calls throughout the past week. I needed to feel like I wasn't alone, and having "void" alone time was excruciating. Talking to my friends and family did miraculous things for my healing. One thing was that many people had a breakup war story of their own to tell me – including the part where they end up OK. The other thing was that I allowed myself to be super vulnerable and actually let people know that I needed help and was suffering. That's usually really hard for me to do. I already feel my friendships getting stronger because of my vulnerability. So call people. Your friends want to be there for you.
4. Feel it. I've heard the phrase "the only way out is through." It's true. Don't avoid your pain with overeating, alcohol, drugs, jumping into the arms of someone new, or other ways of numbing out. Cry as much as you need to. Feel every bit of sadness. The real suffering comes from trying to push away the feelings. Have acceptance that you're going through a hard time, and let it exist. It's not permanent, and the more you let yourself feel, the sooner you'll start to feel better.
5. Ground yourself in physical tasks. Part of going through a grieving process is that sometimes you just don't know what to do. You probably won't feel inspired to do anything that involves thinking too hard. What really helped me to get through the "what do I do" moments was to do mindless physical tasks like laundry, cleaning out the refrigerator and doing dishes. It will help you move through your day.
6. Exercise. The pain and sadness need to move through you. There's a lot of stuck energy in your body that needs to be released. For me, the first couple of days, walking outside for hours was a welcome relief and gave me a chance to breathe and make phone calls. Yoga has been helping tremendously too.
7. Help someone else. I know, this probably sounds like the last thing you feel like doing right now. But miraculously, and definitely for a reason, I was scheduled to work at a self-help workshop the day after my breakup. I was assisting Kris Carr and Nick Ortner at their Omega NYC weekend workshop. Even though I felt like a complete and total wreck, and it took every ounce of my strength to get through the day, helping them out gave me a very welcome relief from sitting around in my own head all day. It was no accident that I was scheduled to be there that day. (THANK YOU for everything, Kris and Nick).
8. Commit to staying healthy and nurturing yourself. Treat yourself as if you were sick. Hydrate. Eat something nourishing – soup, juices, smoothies. Take a day or two off of work if you can. Let it be OK that you're not as productive as usual. Give yourself a break. Light candles. Wrap yourself in blankets. Try to sleep.
9. Read this book. Broken Open – How Difficult Times Help Us Grow, by Elizabeth Lesser. My dear friend Gabby put this book into my hands right after the breakup. "You need this," she said. And I did. This book is full of stories of people who have been transformed and awakened and have grown through pain, loss and suffering. It kept me company and truly made me begin to have compassion for myself and for everyone around me. It gave me hope.
10. Ask for help in whatever way feels right to you. Whether you pray, meditate, read passages from spiritual books, ask for help from a mentor, a friend, a family member, a therapist, God, angels, spirit guides, the Universe, your higher self, Buddha, John Lennon…it doesn't matter. What matters is that you try to maintain even a slight shred of belief that things are unfolding as they should, you're not in this alone, you're on the right path, you're taken care of, and you're exactly where you need to be.
If you're suffering, take it day by day, hour by hour, moment by moment. Try some of the tips I've shared, as I can vouch that they work wonders. Soon, you'll start to get to the place where the moments of pain are fewer and you'll begin to feel more moments of clarity, hope and peace.
I've been broken open. And if you're going through the initial stages of a breakup now, you're broken open too. Your heart is becoming more open, vulnerable, compassionate. You're about to enter into a transformational stage of your life where you're going to get to know you – the real you – much better. And it's going to be beautiful and better than you could have ever imagined. I truly believe that for myself and for you.
And expect more personal growth blogs here in the near future. I've got a lot of growing, awakening and transforming to do…which, I'll admit…is kind of exciting.
The morning after I spent the night at my friend Gabby's apartment, I saw this magnet on her fridge and it struck me deeply. ACCEPTANCE, I knew, was the missing piece.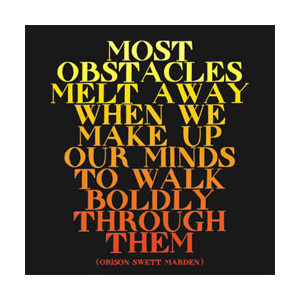 So now I'd love to hear from you. Share your experiences in the comments below. Let's boldly walk through this together.