Hey Coolios!!!
Guess what time it is? That's right, time for me to give away another VITAMIX. Why is life so awesome???
My last Vitamix giveaway contest was so much fun it's gonna be tough to match, but I have faith in you guys. You have more heart than Hallmark on Valentine's Day.
The best part is that I'm giving away the brand new, just released PERSONAL VITAMIX S30. I'm extremely excited about this for a bunch of reasons. While I've always ADORED my Vitamix 5200 as if it was a member of my family, I will say…it's a big piece of machinery. Worth every inch of counter space it takes up because it makes the BEST smoothies in the entire world, but I know some people prefer a more compact, personal blender.
Now a personal Vitamix blender exists and it's literally blowing my mind. DREAMS COME TRUE, MY FRIENDS!
Look how cute it is. It's so small yet so powerful!!!! I cry just a little.
It also has multi-speeds, which is the key to enlightenment. (Trust me on that).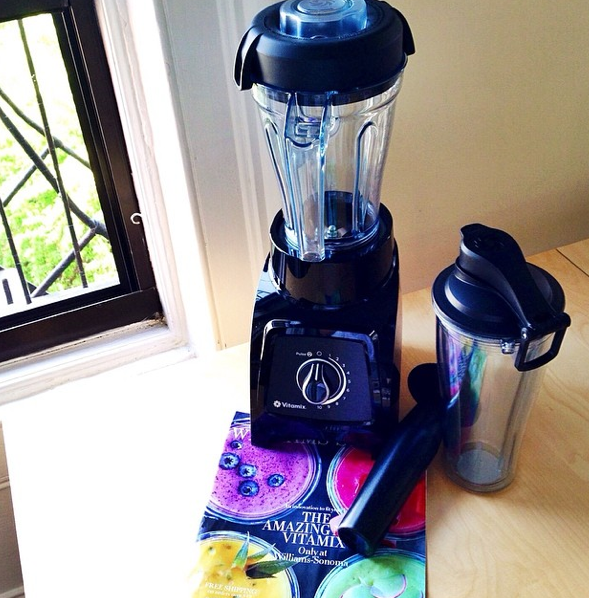 Ok I should probably stop staring at that Vitamix picture with googly eyes and get on with the contest rules.
Here's how YOU can win this beautiful Vitamix.
In the last contest, we focused on your favorite smoothie ingredients. But guess what? This cutie little blender does MUCH more than smoothies. So this time we're going savory with it. We're gonna focus on SAUCES, SOUPS and DRESSINGS. AHHHHHH! I know. I know it's too exciting to be real. But it is.
VITAMIX S30 CONTEST RULES: 
You must follow all of these rules exactly in order to win. I'm a Virgo and NOTHING SLIPS PAST ME, so don't mess around.
Follow me on Instagram:instagram.com/jennysansouci. (If you don't have instagram…get it and join the best party in town).
Post a photo of your favorite HERB OR SPICE and tell me what you like to do with it. (KEEP IT CLEAN, PEOPLE)!!
Tag @jennysansouci IN THE CAPTION (DO NOT tag me in the photo).
Use the hashtag #healthycrush in the caption.
Being creative or funny gets extra points with me always.
That's it. Daydream about WINNING all day long.
Contest ends on JUNE 3rd, 2014. You got 2 weeks to showcase your winning herbs and spices.
If you really wanna win, I highly suggest you listen to these songs exclusively, all day long.

To keep you guys in high spirits, I'm gonna be posting a bunch of soup, dressing and sauce recipes over the next couple weeks as I play with my new Vitamix S30.
Any questions, ask me in the comments.
Let's go, you crazy champions!!!! All we do is win.