Weekend treat time!!
My friend Alissa sent me her recipe for gluten-free cookies, and since it's Friday, I couldn't resist making them. I adapted the recipe a little bit, swapping in coconut palm sugar and coconut oil (coconuts, you own me). I used chickpea flour for the base of these cookies, and I was skeptical for a hot minute because the dough had a really weird taste to it – so I wouldn't recommend eating the dough, at all — but once cooked, they are delicious!!
Ingredients:
3 tbsp flaxseed oil
1/4 cup coconut oil
1/2 cup water
1 tsp vanilla
1/4 cup maple syrup
1/2 cup granulated sugar – I used coconut palm sugar
1 1/2 cups gluten-free flour — I used chickpea (garbanzo) flour
1/2 tsp sea salt
1/2 tsp baking soda
1/2 cup organic chocolate chips, carob chips, or chopped raw chocolate pieces
*To avoid white sugar, I used grain-sweetened chocolate chips, which are sweetened with barley & not gluten-free. So don't use those if you're hardcore gluten-free. I love 'em though.
Heat Oven to 375.
Whip together flaxseed oil & water
Add coconut oil, vanilla and maple syrup
Stir in the rest of the ingredients
If the batter appears too wet, stir in some extra flour.
Drop tablespoons of batter onto greased cookie sheet, bake 8-10 mins. Makes 24 cookies.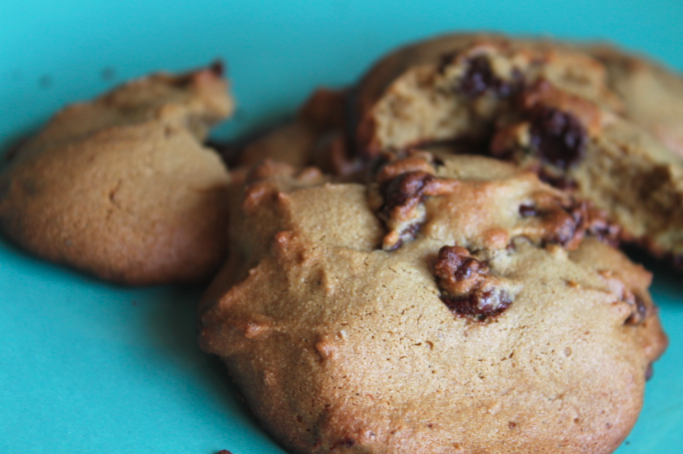 YUM …P.S. these are vegan, too. Joy!