Hey friends!
I'm back in New York City after being in San Diego for 3+ weeks. It was so awesome to be in the warmer weather and to go running wearing shorts. (!!!) I was definitely questioning my sanity getting on a flight back to NYC. But there was something that made the transition back to the colder weather much more bearable…finding my friend Robyn's new cookbook at my doorstep when I got home!!!
Go With Your Gut: The Insider's Guide to Banishing The Bloat With 75 Digestion-Friendly Recipes. 
I missed Robyn's book launch while I was in California, but I'm so happy to be sharing it with you now. I've had a chance to really flip through the book and check out her recipes (not that I needed to, honestly, she's a healthy wizard in the kitchen and I trust her wholeheartedly) and…well, the book is AWESOME.
Robyn has been my go-to friend for healthy cooking advice for years, ever since we both graduated from the Institute for Integrative Nutrition.
She's always giving me the best little tidbits about healthy cooking and eating, and I often hear her voice in my head saying, "Jenny, nuts are not popcorn!!" when I find myself eating a handful of nuts straight from the bag. Haha!! She's also my spirit animal in some ways (like when she brings green juices to Phish concerts).
You should see the two of us when we go to a health food store together. It's quite the extravaganza.
Robyn's book Go With Your Gut contains incredible recipes that will help you figure out your perfect way of eating that doesn't involve restriction — it only contains health-enhancing, gut-friendly, and really fun advice. She will help you get in touch with what your body is truly asking for, and will teach you about the connection between your gut and the rest of your life. She's smart, witty and best of all, she knows how to have a good time. :)
There's a reason they call your gut "your second brain" — it affects everything!
Some of the recipes from Go With Your Gut that I'm pumped to try:
Restaurant-style garlickly greens (YES!)
Flavored waters
Homemade saurkraut
Gut-friendly gummies (WHAT!)
Bone broth
Curry & turmeric roasted squash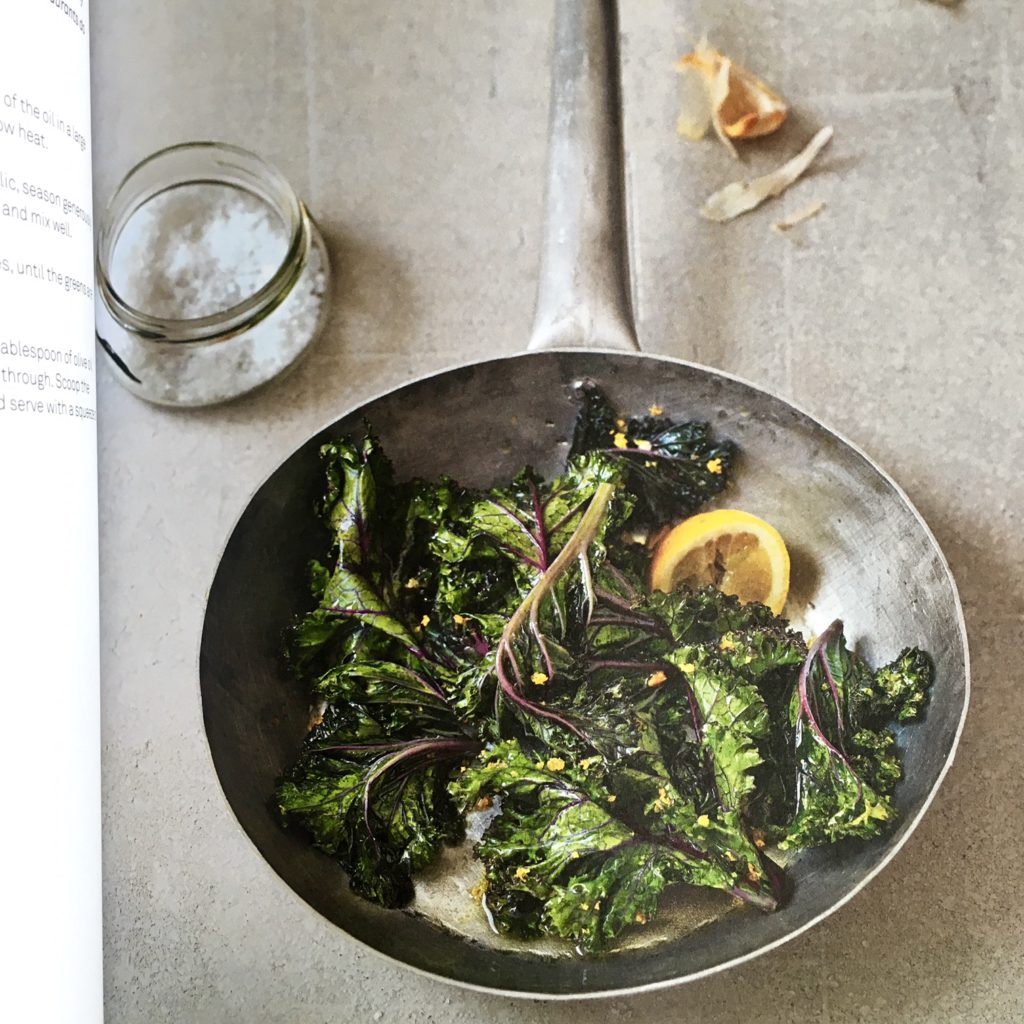 The photos in the book are gorgeous and Robyn gives lots of great lifestyle tips as well, sprinkled throughout the book.
I am loving this book so much, in fact…that we've decided to host a little book giveaway here on Healthy Crush! It's a glorious day.

One lucky winner will get a copy of Robyn's book — Go With Your Gut: The Insider's Guide to Banishing The Bloat With 75 Digestion-Friendly Recipes. 
In addition, the book winner will get a copy of my e-book, the Rapid Reset 1-Day Cleanse!! It's the perfect reset for your energy and mood and will help you feel better FAST. It includes all my best tricks from years of experimentation.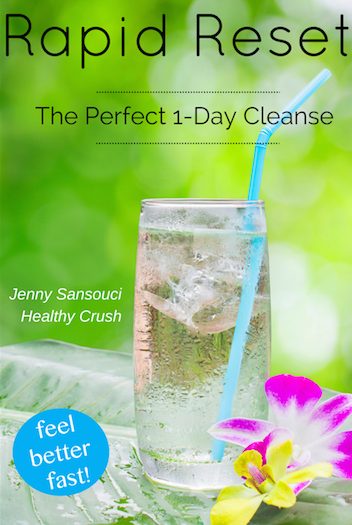 Um, I'm excited.
HOW TO ENTER:
Robyn's book is all about your gut, which is the home of your intuition.
Her dedication in the book says…
"This book is dedicated to you and your intuition, that sparkle in all of us. May you be guided by your inner resource, that purest place of you, and watch your whole life expand."
I want to hear about a time in your life when you went with your gut, or listened to your intuition about something, even if it went against what seemed "logical" or "reasonable."

I LOVE hearing about this kind of stuff, so chime in (in the comments section on this blog) by Wednesday, 2/24, I'll pick my favorite answer from the comments. The winner will be informed on Thursday, 2/25.
Yeah!!!!
I'll start with a couple of mine to get things rolling. These are 2 times in my life that really stand out to me. 
Go With Your Gut Story #1:
A few years ago, I had a book deal. A publisher had reached out to me and asked me to write about a specific topic. It was a subject I definitely "could" write about, and it was a nice little chunk of money, so I agreed to do it. It seemed like the logical thing to do and a "good opportunity." The problem was, I just wasn't that excited about it. I was finding it extremely challenging and energy-draining to churn out each chapter – not because the work was that hard — but because my heart wasn't invested in it. I felt resentful at myself for saying yes to the book with every single word I wrote. Every time the publisher reached out to me for more chapters I felt sick. NOT a good place to create from! My gut was screaming – this project isn't right for you. I spoke to 2 of my friends about it, one being David Wolfe, who I thought would be thrilled I was writing it (it was a book about a superfood), but both of my friends could see the way my eyes were dull when I talked about it, and how I was struggling to defend the reasons I said yes to the project. They said to me, "the money will never be enough." It was true. I didn't care about the book. It was one of the most difficult things I've had to do in my career but I ended up canceling the book deal. As a result, I felt so much lighter, so much more like me, and I created so much more space for things to come into my existence that are in perfect alignment with who I really am. Plus, someone else got to have the opportunity to write that book and it turned out great for her!! I haven't regretted the decision for a millisecond.
Go With Your Gut Story #2:
Not too long before Gut Story #1, I had gotten my lease renewal in the mail from my landlord, for the beautiful apartment in Brooklyn I had lived in for a few years. The apartment was amazing and in an incredible neighborhood. Plus, where else would I go? I had no alternate plan. As I put my pen to the paper to sign the lease renewal, I physically felt ill. My hand wouldn't even move towards the signature line. My gut was telling me I couldn't sign it. (There was more to the story of course — but I'll be brief here). I went to a yoga class to give myself a little more time to think about it. The yoga mat directly in front of me in class said (no joke!) "be true to yourself and you will always be rewarded." I stared at that message and cried throughout the class and knew I couldn't sign the lease. The decision left me with a million questions about my life and what I'd do next, but it felt right. Shortly after, my sister called me from LA saying she just had a room open up in her apartment, for the exact month I would be moving out of mine! I moved out there, and the experience blasted my life wide open. During that time, I met some of my best friends who I can't imagine not having in my life. From there, I was guided, step by step, into the next beautiful phase.
Interestingly enough I was going through my Saturn Return during both of these stories. If you don't know what I mean by that, don't worry, just ignore me and enter the giveaway!!!!
TO RECAP / GIVEAWAY DETAILS:

 
Leave a comment on this blog post by 2/24 (midnight EST) about a time you went with your gut and followed your intuition, despite what seemed logical or reasonable. (It can be just a sentence or two).
I'll pick my favorite, and the winner will be informed by email on 2/25.
You'll win a copy of Robyn's Go With Your Gut book, AND my Rapid Reset Guide!!!
Robyn's book will be mailed to your physical address, and my Rapid Reset guide will be emailed to you.
If you can't wait for the giveaway to end, and just wanna purchase Robyn's book now, or buy one for a friend…
Grab a copy of Go With Your Gut!!
Grab a copy of my Rapid Reset Cleanse (20% off with code: feelgood)
Cheers to going with your gut, I can't wait to hear your stories!!! Woohoo!!!
UPDATE!!! The winner has been chosen and notified by email. Congratulations, Kate! I was so inspired by your story of deciding to move to Colombia to teach English, and embarking on a path of healing your hormonal imbalances without prescription drugs. Talk about life-changing gut decisions! I hope you enjoy the books!! xx
Love,
Jenny