come on, who ISN'T going green these days!? you've probably at least thought about making some changes to get more green. or…at least HEARD the term going green and wondered what it meant.
well, if you're like me, you want to learn more about what going green really means, and how you can get started, even if you aren't in the market to build your own sustainable home.
and who better to learn from than the all-knowledgable justin timberlake and jennifer aniston!? haha – no but seriously, celebrity material included, this is a great book to get started and learn little tips and tricks to make your life greener and make an impact on the environment without much effort.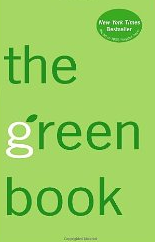 you can pick up this friendly friend wherever they sell books. and for all you commercially hip specimens out there, you can even grab one at urban outfitters. you'll pick up little tidbits like "don't get an ATM receipt," (but come on, i've been skipping that event for as long as i've had a bank account, i don't actually want to SEE my balance, people).
so go get it. be green.