Since today is 4/20, I thought it would be a good time to answer a question a friend asked me a few months ago. We started talking about how I went to nutrition school and I told him I was coaching people to make healthier choices. He said, "I know this is probably a stupid question, but….I smoke a lot of weed and I always get the munchies and eat the worst food. Any suggestions?"
:)
Well, first of all, it's not a stupid question. It happens to a lot of people. And for the sake of this article, let's just assume "smoke less weed" is not an option for this person (hey, I'm not a drug counselor). So, if you're going to smoke weed no matter what, and you always get the munchies and eat crap, what can you do?!
Here are a few things that might help you do the least amount of damage to your body when you get the munchies:
Prepare food ahead of time. Make some of your favorite healthy (but also flavorful, of course) foods – ones that you know you'll be excited to eat, set them up and have them ready to go.

Stay away from processed artificial junk. If you know you're going to be consuming an excess amount of calories in one sitting, at least try to choose whole foods — meaning foods that you can picture in nature (no, Oreos don't grow on trees).

Learn to make healthier versions of your favorite foods, or find a restaurant that will deliver them. There are places that make things like vegan, gluten-free or whole wheat pizza, Chinese and Thai restaurants that have fresh vegetable dishes with brown rice, and there are plenty of healthier sweets out there.

Stay away from convenience stores & gas stations. These are the worst places to pick up food especially when your judgment is impaired. Do your food shopping at a healthy store beforehand.

Make sure your kitchen is stocked with healthy, wholesome snack options, and that you don't even have the option of opening a bag of Doritos because it's not there. Here's a list of some healthy snack ideas — and it's important to have some salty and some sweet options, because, hey – you never know what kind of craving will strike.
Snack ideas:
Hummus with whole wheat/sprouted grain pita or baby carrots
Guacamole with organic, whole grain tortilla chips
Fruit (grapes, berries, & watermelon are great options, or a big bowl of all different kinds of fruit)
Nuts or seeds of any kind – almonds, pistachios, sunflower seeds
Dates (amazing topped with almond butter!)
Smoothies with fruit & almond milk (try it with mango & blueberry)
Olives or pickles
Salted edamame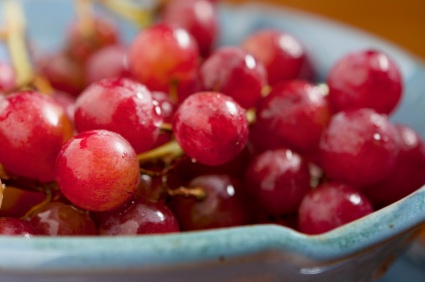 Hope this helps! And for the record, no, I am not promoting drug use, but the reality is that people are out there getting the munchies as we speak, and they might be looking for nutritional suggestions too. :)
What are some healthy snack foods that you love?