I have a new love.
The Green Mango smoothie at One Lucky Duck!
The first time I had it, I was enjoying some guacamole with a friend, and saw this smoothie on the menu. Cilantro in a smoothie? WEIRD! But, the more I thought about it, the more I realized how perfectly a cilantro-mango smoothie would go with fresh guacamole. I decided to take a chance and order it.
WHOA! I'm so glad I did. The smoothie is bright, crisp and refreshing – and perfect with Mexican food! It's literally my new favorite thing on the entire planet.
On the menu, it says the ingredients are:
mango, cucumber, cilantro, coconut water, lime
YUM! To make it yourself, try blending:
1 cup chopped mango (fresh or frozen)
1 small cucumber (peeled)
1 handful cilantro
Coconut water (as much as you need for desired consistency)
juice of 1 lime
Serve with chips and guacamole. Love every second of it.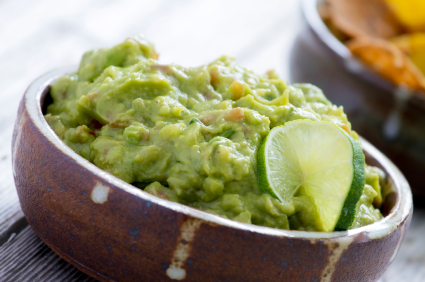 If you're in NYC, stop by One Lucky Duck in Gramercy or Chelsea Market and get one made fresh for you!