Last week, a very exciting event happened in my life: I got a Vita-Mix 5200 blender! This is not just any old blender. This is a magical blending powerhouse! It is seriously the most amazing blender on earth. You can make so many things in it – smoothies, soups, hummus, ice cream, sauces, dips, etc.  The blades are so powerful, everything comes out of the blender perfectly smooth!!
The main reason I wanted to Vita-Mix was so I could make GREEN SMOOTHIES. They are now my newest obsession. I love them so much that I just went on a 3-day green smoothie cleanse, where I drank only green smoothies for breakfast, lunch and dinner!

Why green smoothies? One of the main things missing from most of our diets are leafy greens. They contain so many essentials that help us thrive with health: vitamins, minerals, nutrients, enzymes, iron, calcium, potassium, magnesium, chlorophyll, phytonutrients, antioxidants and more. Greens are the ultimate best source of concentrated nutrition. Even if you eat a lot of salads, you aren't getting the most out of your greens. This is because many important nutrients are hiding inside the cell walls of plants, and these cell walls need to be ruptured for your body to get maximum benefits. For that reason, green smoothies are a perfectly delicious way to get optimal nutrition from leafy greens with minimal digestive work, without even tasting them!
You can get so much nutrition with so little work – making a green smoothie is SUPER easy! All you need is fruit and greens. That's it. Water or ice too depending on how liquidy or icy you like it.
In this smoothie below (keep in mind that this makes an entire blender full of smoothies- use less ingredients if you're only making 1 smoothie!)
2 bananas
2 green apples
1 cup coconut water
frozen raspberries
frozen blueberries
handful of kale
handful of collard greens
handful of baby spinach
Blend and drink! You will be buzzing with energy and your cells will squeal with happiness and fulfillment! Seriously, I'm not even exaggerating. Oh, and please note that if you use blueberries, your smoothie might look a little brownish instead of green. Don't let that scare you. It tastes just like a fruit smoothie. :) Use whatever fruits and greens you want.  Example greens to use: kale, collard greens, chard, celery, mustard greens, lettuce, spinach. If it tastes too "greeny" to you, add more fruit until you love it.
Here are just a few of the benefits of making green smoothies part of your regular diet:
More energy
Lack of cravings for "unhealthy" foods – cravings mean we are lacking certain nutrients. Our bodies are actually craving nutrition, and we're delivering that when we drink green smoothies.
Better digestion & detoxification – the greens literally sweep your digestive tract clean!
Radiant skin
Improved mood, mental clarity and focus
Weight loss – replace your normal breakfast with a green smoothie and you'll see results!
A natural high. I learned from Kimberly Snyder (she is amazing) that caffeine, morphine, cocaine and nicotine are all alkaloids, and give us a temporary high as the body is alkalized (but with tons of negative side effects). Raw greens have the same alkaloid effect on the body, but give you a healthy high with only positive benefits. It lasts longer while soothing and calming the body.  Yes, please!

You can also choose to use superfoods like maca powder, raw cacao powder, bee pollen, chia seeds, or whatever else you like. Do some research on Sunfood.com to check out different raw superfood yummies.
Could green smoothies possibly be the best creation ever invented?
I think yes!!  Try to drink one of these as often as possible, daily is ideal.  Get creative with your green smoothie! And please share your recipes with me if you come up with something delicious.
Enjoy, friends! And click the image below to get a special gift from me — free shipping on your VitaMix. :)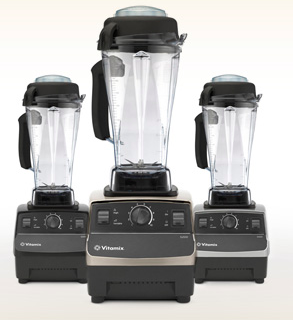 If you're thinking about purchasing your very own Vita-Mix, use this coupon code to get free shipping ($25 value)!! 06-005060