In just a few weeks I'll be heading out to
Boulder, Colorado for the Hanuman Festival.
I go where the high vibe is.
The Hanuman Festival's tagline is "Raise the Vibration," and that alone gets me amped up. This is the type of festival where you can literally feel the positive vibration pulsating through the air. Yoga classes, great music and a community coming together to celebrate all that is beautiful in the world? I mean, come on. Sign me up.
I use the phrase "high vibe" constantly, when I'm describing things in life that feel awesome. It seems like the best description, because it invokes an actual feeling about the energy surrounding something. When we surround ourselves with high vibe energy, that's usually when we feel the most connected, excited and alive.
I just looked up "vibe" and here was my favorite definition: "a distinctive emotional aura, experienced instinctively."
YES! I mean, really there's no way to fully describe what it feels like to be drawn to the vibe of something, but I'm pretty sure you get it. I try to listen to my intuition about where I need to be based on the feelings I instinctively have about the vibe, and it rarely leads me in the wrong direction.
Ok, I probably sound like a vibe addict and maybe I am. But now…let's hear more about raising the vibe at Hanuman. :)
I met Yoshi Aono in October at Yoga Journal in Estes Park, and he told me about the Hanuman Festival. I had a feeling I would be there as soon as I heard about it (most likely because I was high on Colorado vibes at the time).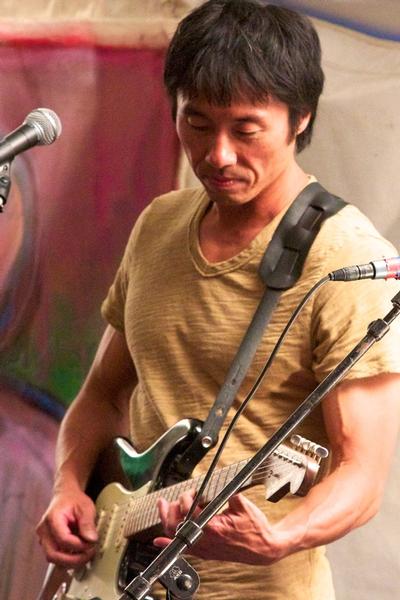 I decided to ask Yoshi what "raise the vibration" means to him when it comes to this festival. Because really, the reason people put on festivals like this is to heighten the collective energy, spread love, and create positive change in the world. And that is super high vibe.
Jenny: Yoshi! "Raise the Vibration" is the theme of the Hanuman Festival. What does that mean mean to you?
Yoshi: Raise the Vibration is a feeling which results from community having space to gather and share in a celebratory weekend. We operate with a certain level of engagement at work and at play. By coming together amongst like-minded people and sharing in a transformational weekend, our community is able to raise the bar and connect in a truly authentic manner.

Jenny: When a community comes together like this to collectively raise the vibration, what effect do you think this has on the rest of the world?
Yoshi: The effect of coming together in an intentional community inspires all to explore the best versions of themselves. As people return home, the experience of transformation rejuvenates and creates a ripple effect within communities. Inspired by Hanuman, we can create change through a commitment to authentic connection.
Jenny: Awesome.
So if you're not sick of hearing me say the word "vibe," come hang out with me at Hanuman! 3-day, 2-day and 1-day passes are now available. There's still space in some of the classes with teachers like Richard Freeman, Kathryn Budig, Tiffany Cruikshank, Saul David Raye and Rod Stryker….get tickets!

What does raising the vibe mean to you?