Well, it's official – the warm weather has arrived, which means long, leisurely days at the beach. If you're a frequent beacher, you may be familiar with the usual beach hut snacks. Today I snapped some photos of what most people at the beach were consuming.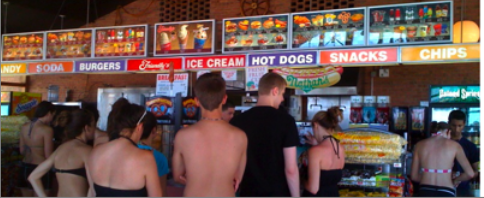 I think it's ironic that they sell all of this crap at the beach. It's bathing suit season, so you want to look great and feel great, right?! These highly processed, sugary snacks are sure to leave you feeling less than your best.
So how do you avoid the greasy beach snack bar? All it takes is a little preparation so you don't fall into the "I'm starving – I guess I'll just get funnel cake" trap. I have a few ideas for healthy snacks to pack when you venture out to the shore this summer. These snacks are sure to keep you satisfied and full of energy — and your body will thank you!!
First things first – if you don't have one, invest in a cooler. This should only cost you about $10 and it's worth it. Once you've got that part down, hit up your local health food store and pick up some of the following treats: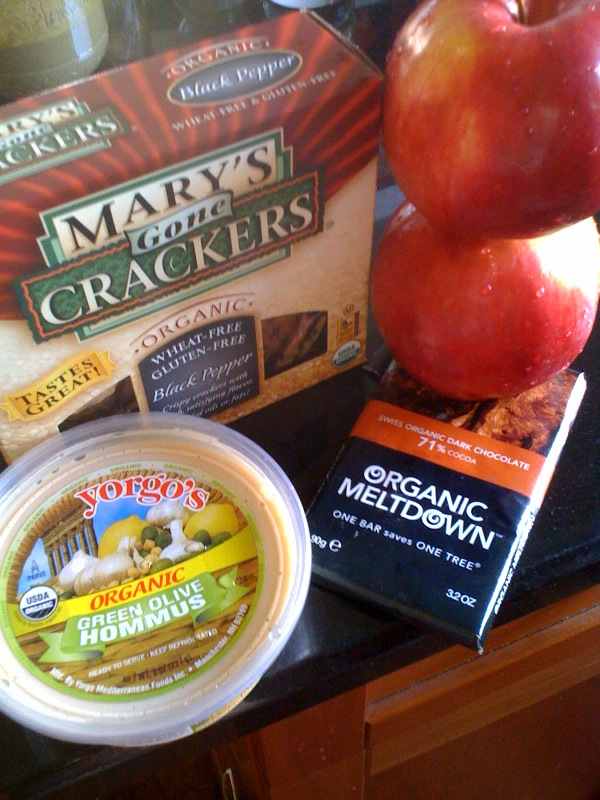 Apples: Apples are a perfect beach snack – they are sweet, crunchy, hydrating and refreshing. If you keep 'em in your cooler, even better – cold apples are like a dream to bite into in the hot sun, and will feel much better in your tummy than a sugary slushie :)  (What's so healthy about apples?)
Organic dark chocolate or raw chocolate: Raw chocolate or dark chocolate with at least 70% cacao is a perfect alternative to the Snickers ice cream bars you find at the beach snack bar. It is packed with antioxidants and can raise serotonin levels, which can help fight depression. Look for organic, vegan dark chocolate for the most benefits.
Mary's Gone Crackers: These tasty, crunchy bites are organic, gluten-free  and made from whole grains. The primary ingredients are brown rice, quinoa, flax seeds and sesame seeds. A guilt-free, tasty chip that's great for dipping. Whole grain beachy goodness!
Organic hummus: Along with your yummy gluten-free crackers, grab some organic hummus (Yorgo's green olive pictured above). Or, even better – make your own!
Green grapes: This is another amazing beach snack that tastes the best fresh out of the cooler. The little green orbs are like a burst of hydration in your mouth on a hot day. Feed them to your beach companions and you'll feel like healthy royalty. :)
Kale chips: Seriously, kale chips are one of my all time favorite snacks. They taste just like chips but are actually health-promoting leafy greens (read about the benefits of greens here)! So put down the Cheetos and get yourself some raw, vegan "cheezy" kale chips (made with ingredients like cashews and cayenne pepper). Kale chips are easy to make on your own, too.
Greens+ Bars: Forget the candy bars and try these natural energy bars, made with greens and superfoods. These things are great for getting instant energy if you're on the go, at the beach, camping, or just running around town. They are filling enough to be a meal replacement, too – and they taste great!! Check out the energizing ingredients.
Now let's talk beverages. Don't guzzle down sugary sodas (or worse, diet sodas)! Instead, choose these health-promoting drinks to keep you buzzing with energy all day.
Kombucha: One of my all-time favorite drinks. Kombucha is an ancient, fermented tea beverage that is said to be a "life-enhancing wonder food."  According to GT, it's organic and raw, detoxifies your system, restores balance and vitality, clears skin, aids digestion, is anti-aging, boosts immune system, and more. Multi-green is my favorite. The blue-green algae and spirulina will make you feel completely blissed out. So why aren't you already drinking it?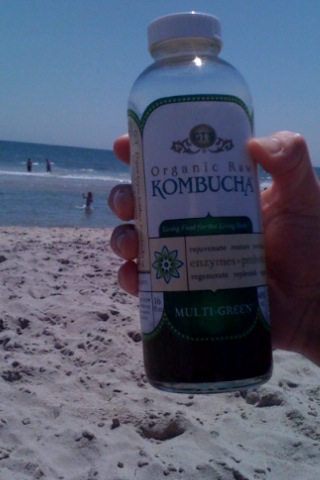 Coconut Water: Hyper-hydration!! This delicious coconut water (comes straight from the inside of a young coconut, nothing else added) is one of the best hydration methods out there. It's loaded with electrolytes and potassium, and has no added sugar like other sports drinks. So guzzle down some coco water and join that beach volleyball game. :)
The best part of eating healthy is that it gives you the energy to have even MORE fun (no food comas here). So these tidbits should help get your brain ticking when it comes to making your next beach trip, camping trip or road trip healthier this summer. Have fun, eat well and feel great!!!
xoxo