Greetings, little froggies. 
I call you little froggies because I saw 3 little frogs swimming in my parents pool last week. They swam so fast. I doubt the chlorine is a good thing for them, but they were like olympic swimmers, I swear. The 3 of them would perch next to the edge of the pool and when I got near them, they would all swan dive in at the same time and swim like mad. It was pretty sweet to see.
I'm here to write a Bali Guide today. One of the reasons is because I keep getting emails from people who are about to go to Bali, and they want recommendations (for Ubud especially) and I've been spending a lot of time writing them personal responses. It's happening enough that I decided it's time to put it all on the blog.
A little background before I begin. I've been to Bali twice, for about a month each time. So I guess that means I've spent about 2 months in Bali. It seems like longer.
Bali feels like a portal into another world for me, like Narnia, or Wonderland.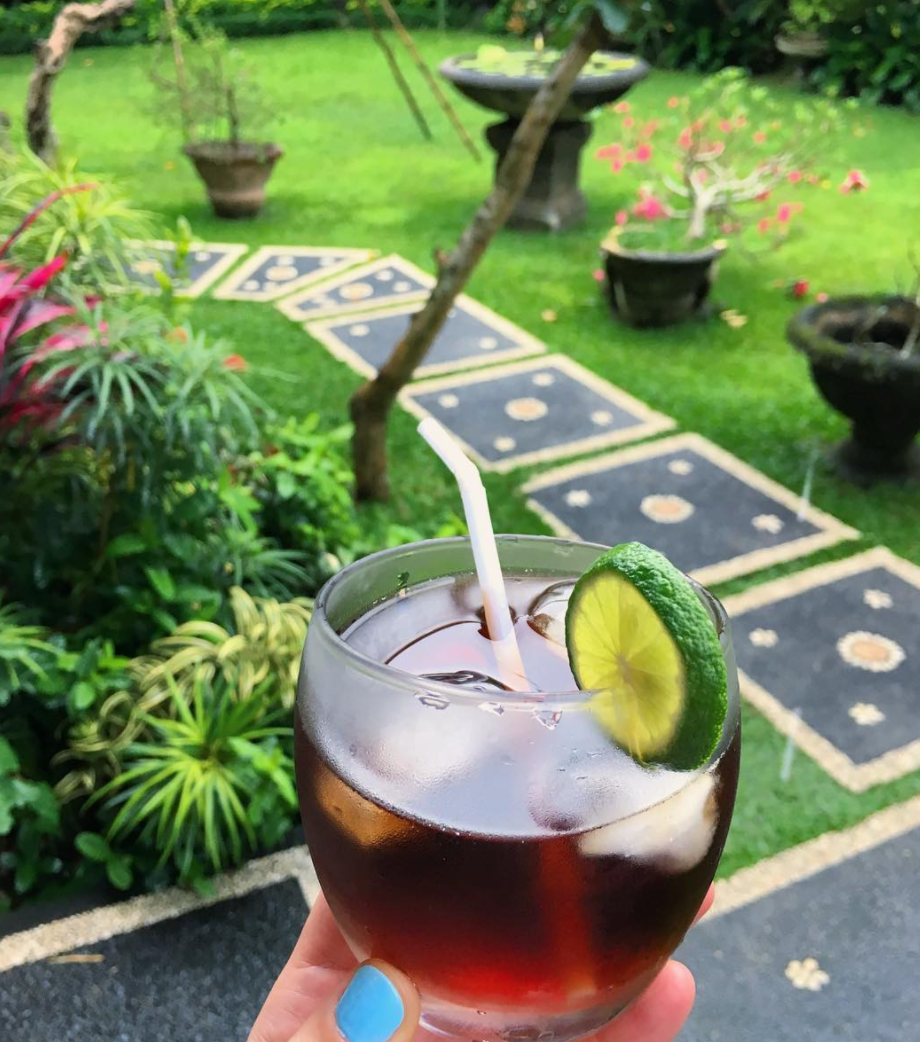 I think that's why I love it so much. I got there and I become a different person and life is a completely different experience and I don't even know that there's a world outside of it anymore. It's just like that.
They say Bali is a "vortex," similar to Sedona…where the energy is very powerful. I won't begin to say I know exactly what that means, but worth looking into if you're a curious cat.
People say Bali can help you unearth emotional stuff and sides of you that you didn't even really know were hidden there. Bali can churn up quite a bit of… stuff. My friends and I are always like "what the hell just happened in Bali?" Kinda like "what happens in Vegas" … except with consciousness expanding, instead of blacking out…haha! But not kidding. ;)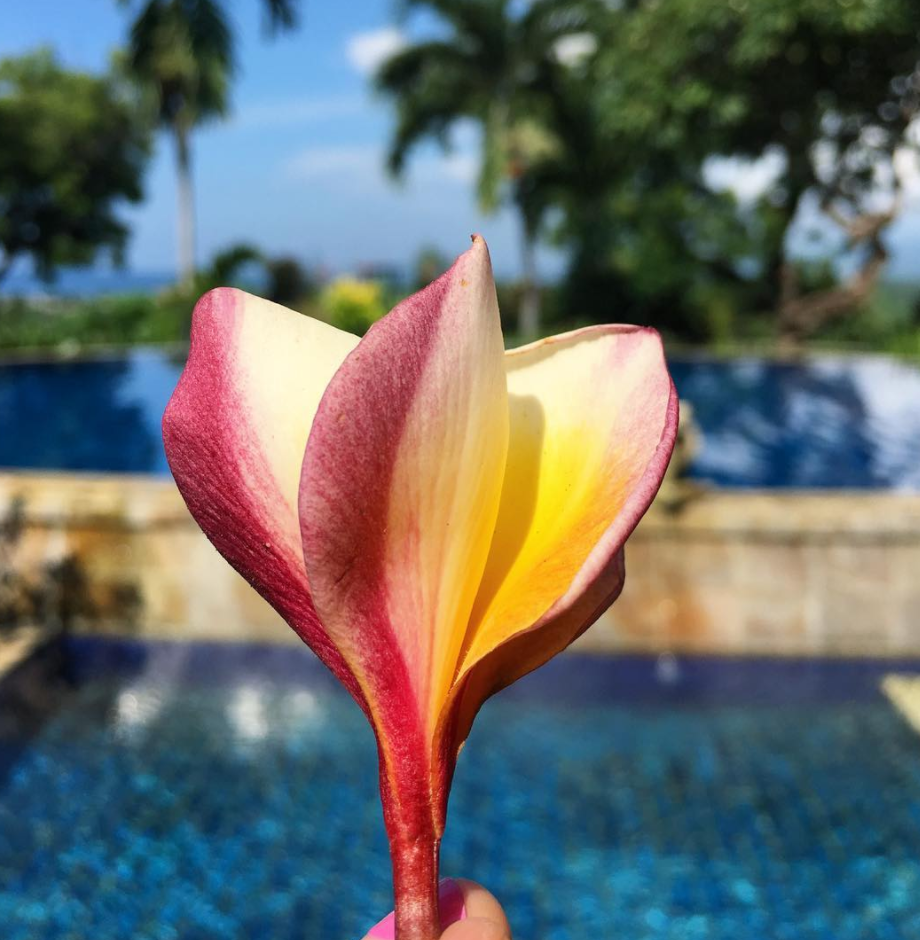 Maybe my outlook is a little skewed because both years I've been to Bali, I was there for a retreat where I felt like I got to meet my soul family and dance with them in the stars for awhile.
But irregardless..
Here are some of my recommendations and favorite places around Bali. Note, I have only spent time in Ubud (weeks), Canggu (only a few days), and the Zen Resort (Singaraja, north coast). If you're looking for guides to Kuta or Seminyak, well, this ain't it. ;)
Almost all of the below will be about Ubud.
First off, you may want to read: How I Booked A Business Class Flight To Bali For $49
PACKING – It's HOT! Literally – anything heavier than skirts, shorts, t-shirts, tank tops, dresses, bathing suits, yoga clothes. flip flops, sandals, will be too much. The most I ever needed to cover up with is a shawl – anything like a hoodie or sweatshirt would be too much. And I wouldn't even think about wearing jeans. You'll sweat while you're walking down the street.
My tip for packing is always to bring a little less than you think you need – I always end up wearing the same few things, and it's SO casual there. And laundry is cheap (most hotels/homestays will do it for you). Also – if for any reason you forget something, there are tons of clothing stores around Ubud.
Here's a comprehensive guide to the weather in Bali, including information on the wet and dry seasons. I've gone in March both times, and it was near the end of the rainy season. We would get a crazy downpour at least once a day, but it usually wouldn't last long. I loved it. I LOVE the rain.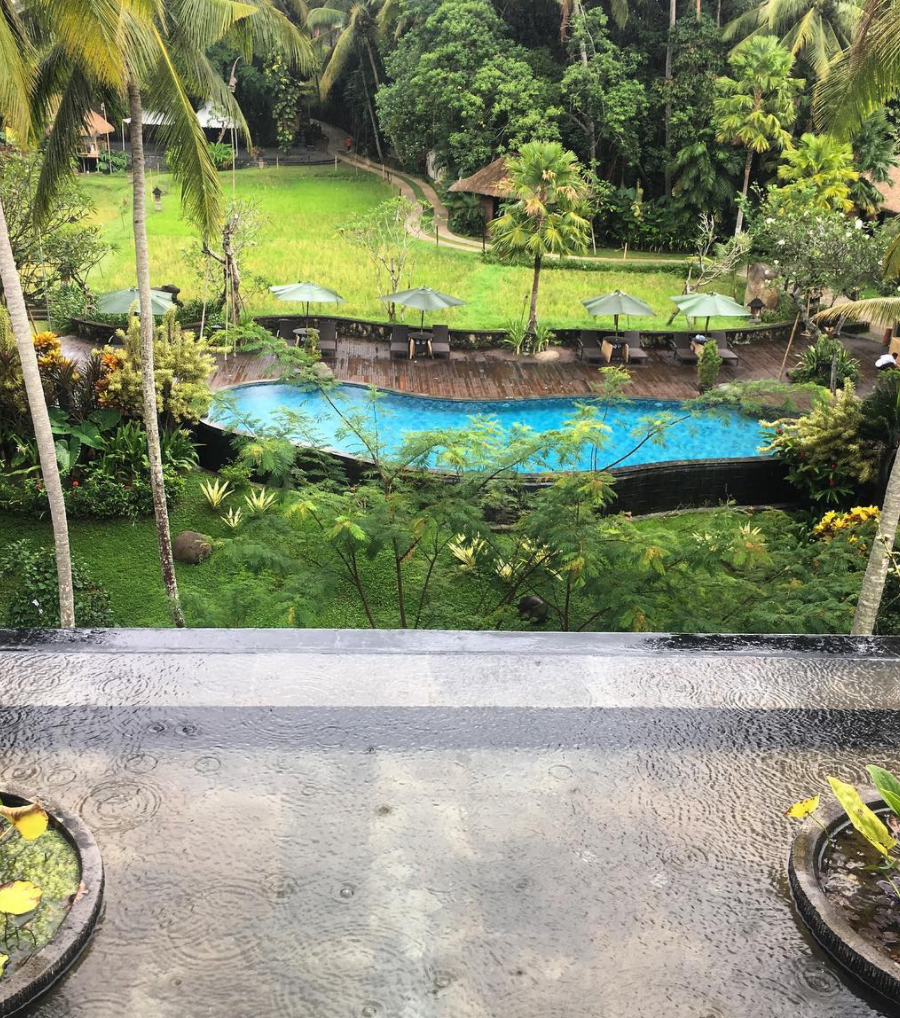 General Ubud Bali Info: 
You'll fly into Ngurah Rai International Airport (Denpasar). If you've arranged a car to pick you up through your hotel or wherever you're staying, they will be waiting for you in the waiting area holding up a sign with your name on it. Along with a LOT of other people with signs. :) If you didn't arrange anything, no worries, there will be lots of taxi drivers there, waiting to take you to wherever you need to go. A taxi from the airport to Ubud will likely be around 300,000 Rupiah ($20 USD)
Money is in Rupiah. 100,000 Rupiah is roughly $7.50 US. ONE MILLION Rupiah is about $75 US.  I recommend getting a currency converter app for your phone – it definitely makes life easier. Just search "currency converter" in the app store and you'll find one! Yes, you'll be a millionaire in Bali. 
Many places do take credit cards but I like to have about 500,000 Rupiah on me at all times just in case. (About $40). Everything is very cheap there.
Beware of holes in the sidewalk in Ubud, especially if you are walking at night. Don't play on your phone while walking around Ubud. :)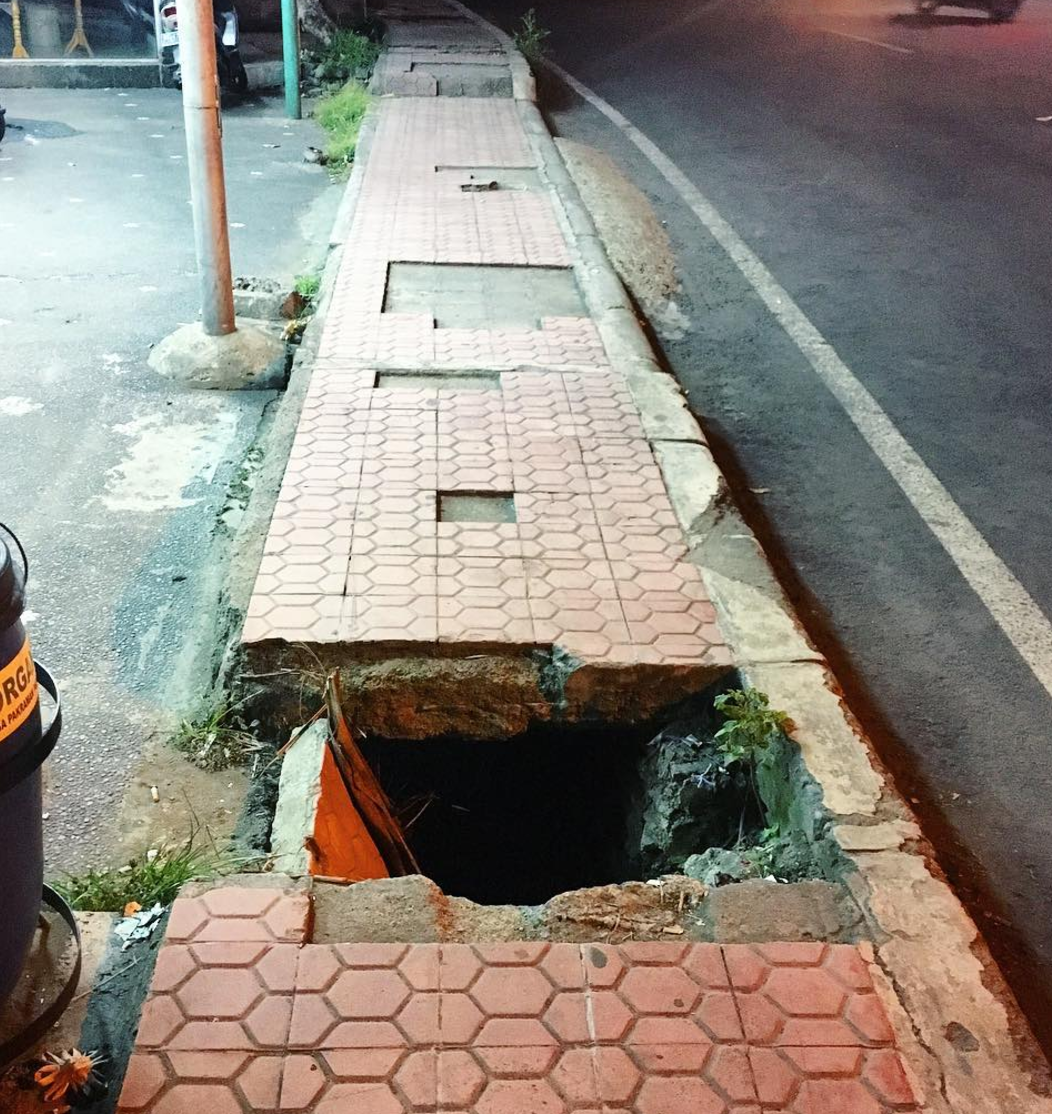 You will see prayer offerings all over the road. They are beautiful and switched out every single day. Read more: Decoding The World Of Balinese Hindu Offerings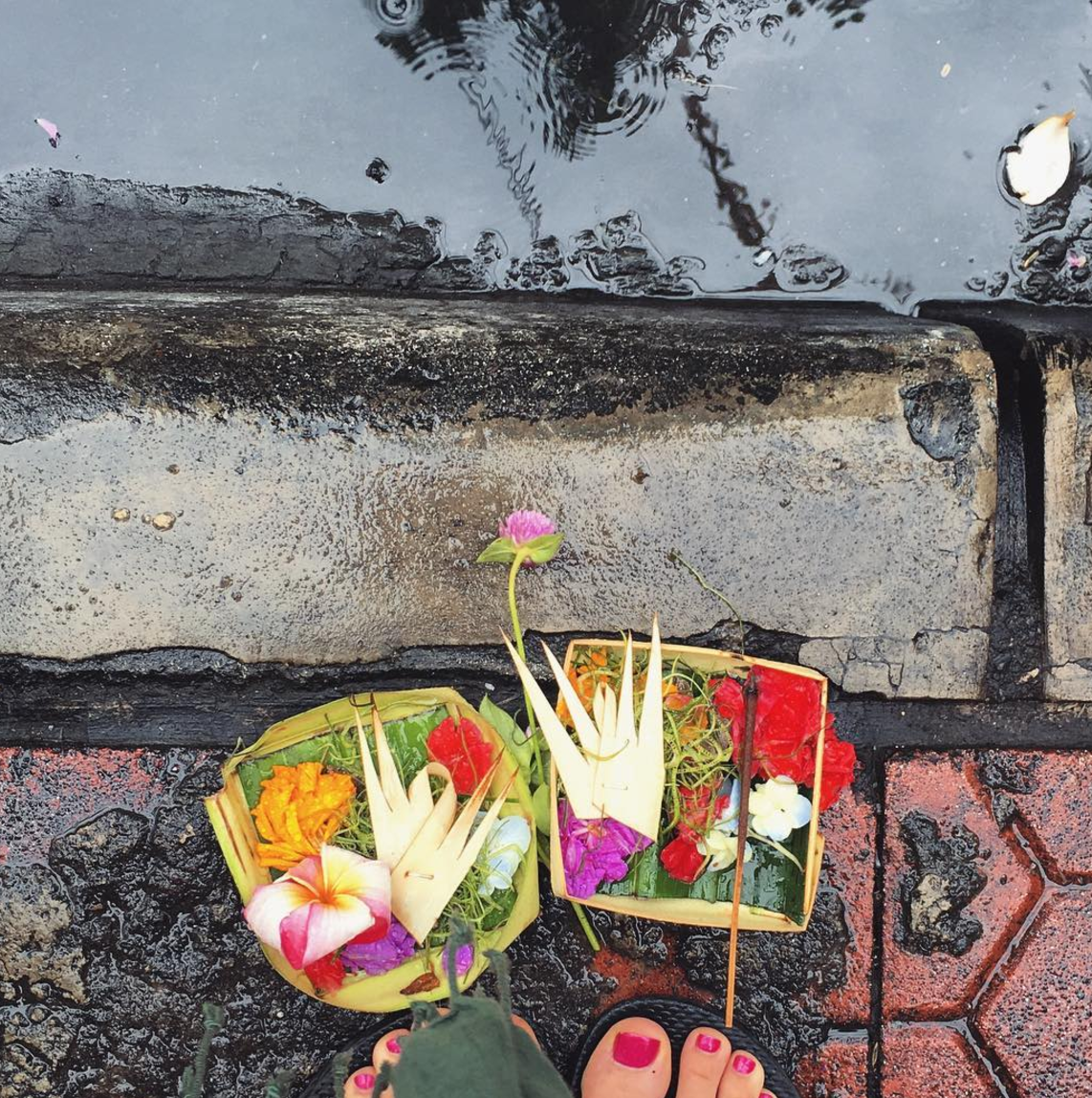 Ubud Tips
The main part of Ubud is a big circle, the 2 main roads are Monkey Forest and Hanoman. You can walk around the whole thing and get a feel for it, and you'll get the hang of it. There are TONS of stores, restaurants, and cafes.
Ubud center is definitely walkable, but many people choose to rent a scooter. I never did, but I got to ride around on my friend Bria's, she took me everywhere on that thing — and it was so much fun. If you're looking for a taxi to get somewhere a little further out, any hotel will be able to book you one, or, you can just ask one of the Balinese men on the side of the road saying "Taxi? Taxi? How about tomorrow?" They are everywhere. :)
Most of the food in Ubud is geared towards the yoga crowd, a lot of it is vegan. You'll definitely find your superfood salads and smoothies and kombuchas and raw chocolates and avocado toasts…in great abundance.

Other Ubud Must-Knows
Coco Mart — A huge grocery store in the center of Ubud right down the street from Yoga Barn. Perfect for getting big bottles of water, snacks, or random things you may find yourself needing (I bought a fan there, for instance). My favorite snack to get there is the Bali Sea Salt Cashews. :)
Hubud Co-Working Space — A great place to park yourself and get work done, with the fastest wifi in Ubud. they also have events all the time, people teaching classes, etc. Be sure to check what events are going on. To join, just walk in, go to the front desk, and ask them to see their membership options. There are rooms upstairs that you can book for Skype calls or small meetings. If you're a "digital nomad," Hubud will be your mothership. They have free coffee, tea and water, and there's a food / juice / coffee cafe connected to the space where you can buy food and treats. I have spent many a day, writing many a blog in that sweet rustic space. :)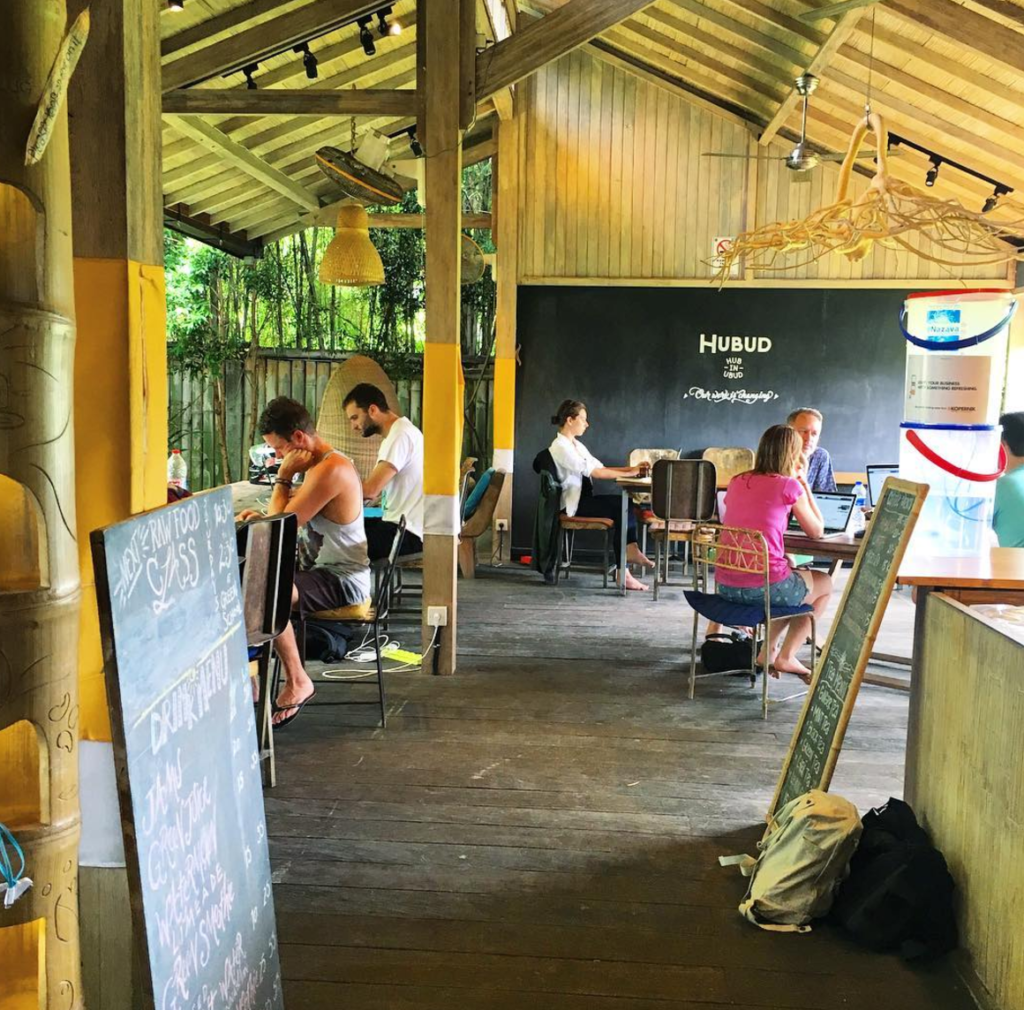 Monkey Forest —
 This is right around the corner from Hubud. You don't even have to go inside the monkey forest to see the monkeys!! But definitely walk by — you will see so many monkeys. Just be careful with your stuff – they will jump on you and steal your sunglasses, water bottle, etc. Keep everything zipped up! But they are adorable – especially the babies.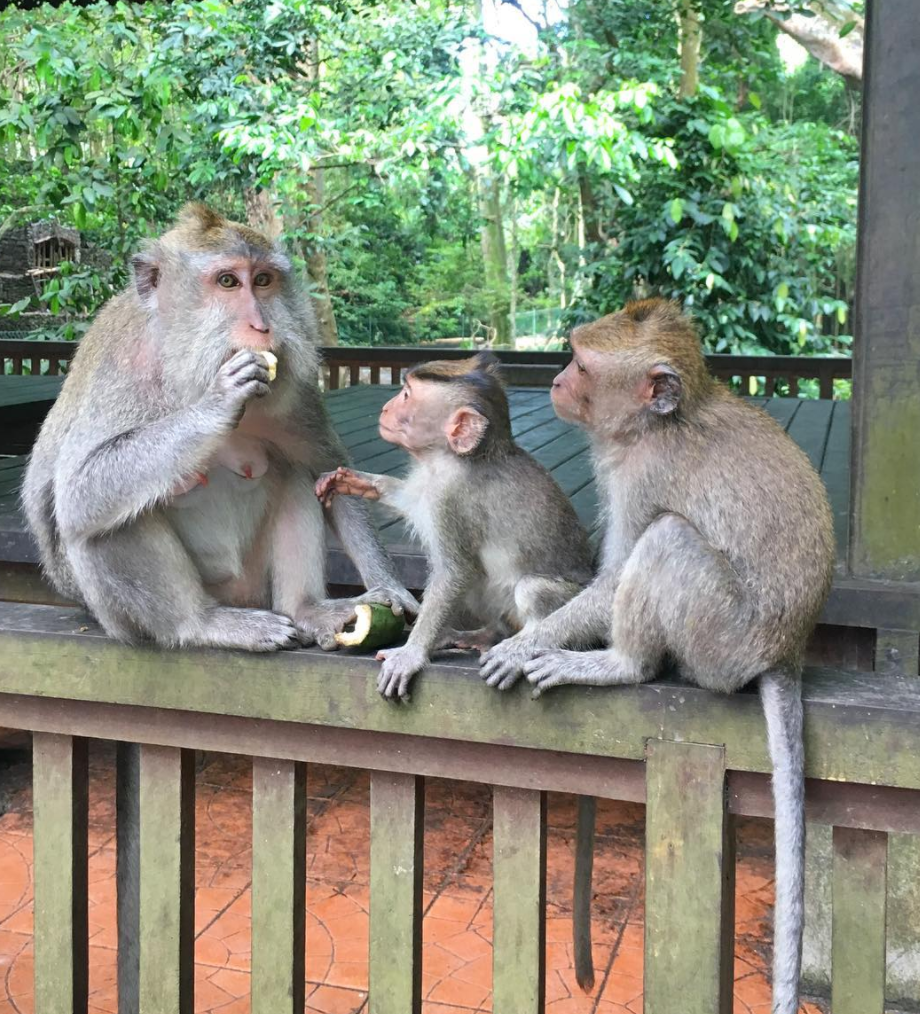 Yoga Barn: This place is HUGE, a total yoga heaven. They have tons of yoga classes, as well as gong bath meditations (you lay on the floor on cushions and close your eyes and they play gongs and you go on a little ride into dreamland), Tibetan bowl meditations, and more. They have yoga mats there, so you don't need to bring your own unless you want to. Schedule here. There's so much!
Aside from the Yoga Barn, a couple of popular places to do yoga that I've personally been to are Intuitive Flow and Radiantly Alive. Check out this great post: Ultimate Guide to Yoga in Ubud.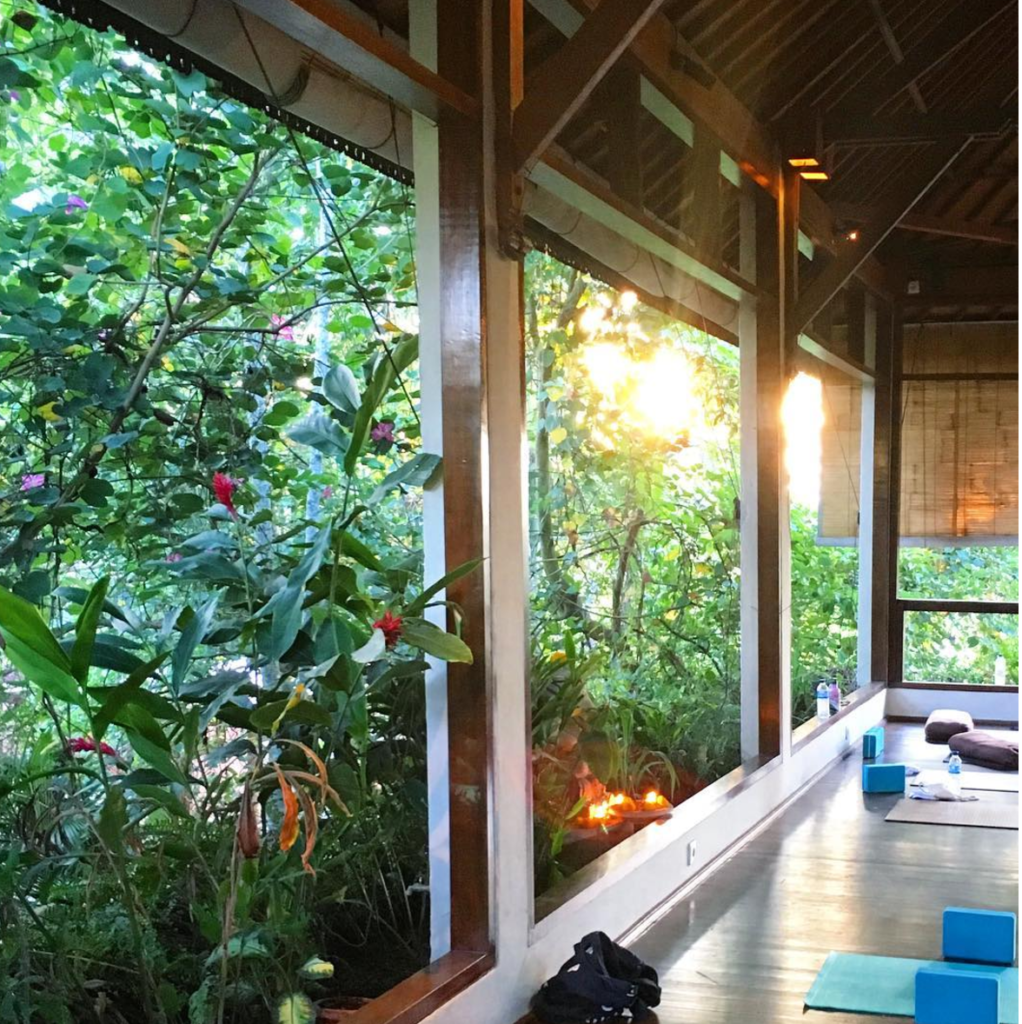 Yoga Barn Garden Kafe: An awesome cafe inside the Yoga Barn. I loved going there in the mornings, and would get a nut milk latte (iced, no sugar). They will always give you sugar syrup on the side anyway, but I just said no to that. They also have great smoothies and other yummy food.


KUSH Ayurvedic Spa at the Yoga Barn (yes, they have everything at Yoga Barn!) — There are literally spas with cheap massages everywhere, but one day I got the Abhyanga massage there,  you can sign up at the front desk at the spa. It was about $20 USD (and this is actually one of the more expensive massages in Ubud…you can find great massages for $10 US or even less – they are EVERYWHERE).


Dragonfly Village – They have an herbal steam sauna, salt water pool, delicious cafe…bottom line, it's legit. Check here for the schedule of when the herbal sauna is open, with a bonfire…on Thursday nights, it's silent. So good.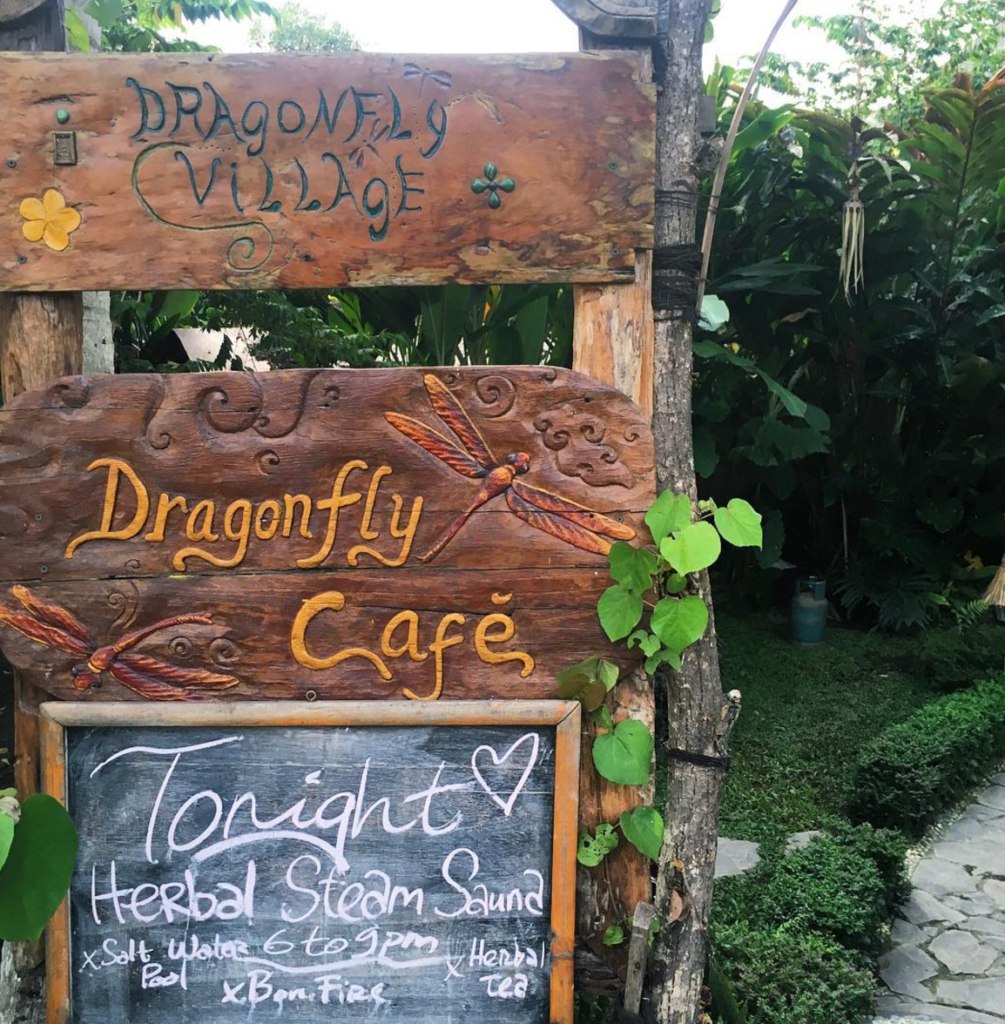 Campuhan Ridge Walk
 — If you want a great hike / walk, ask your hotel how to get to Campuhan Ridge. This is also one of the places you could actually feasibly go for a run in Ubud (aside from the treadmill at Plataran). :) If you walk all the way to the end, there's a little restaurant where you can grab a bite.
More info
.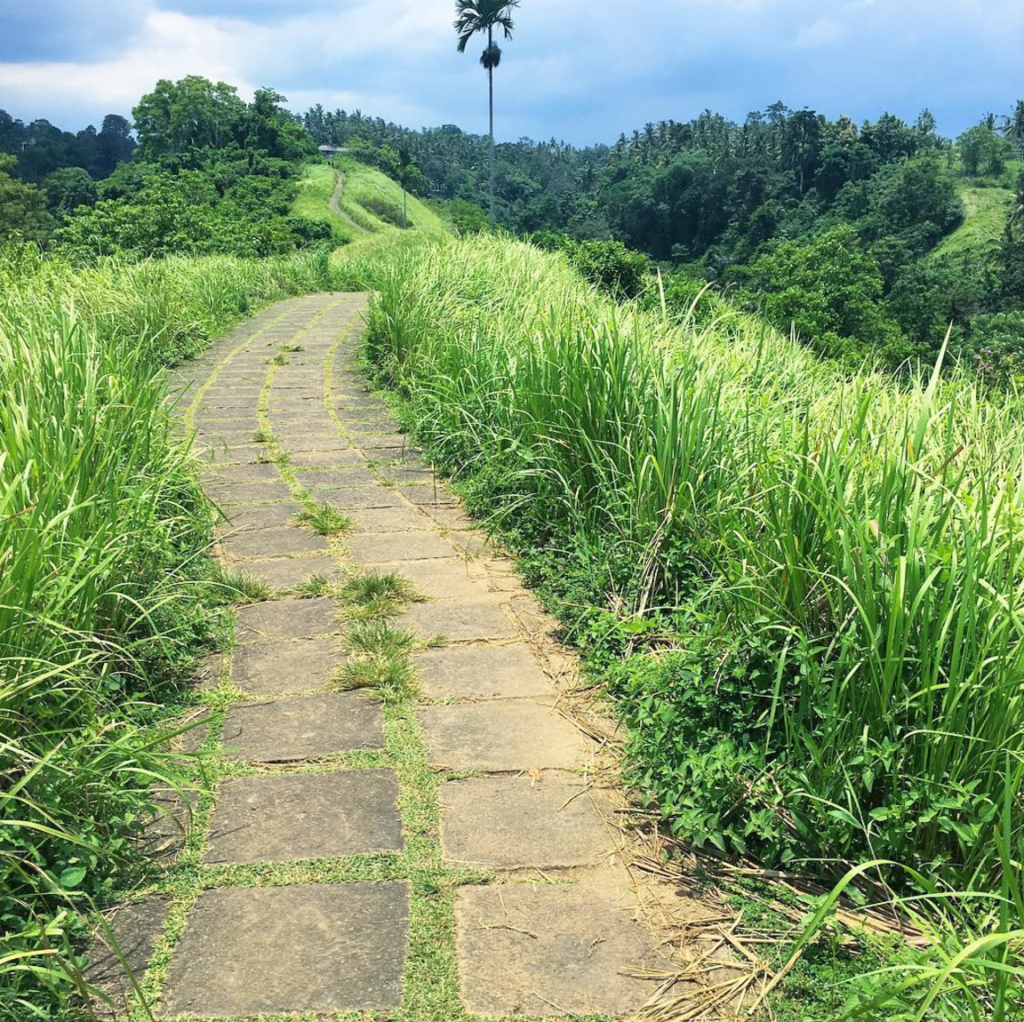 Ubud Food Spots I Love: 

Food tip: Try the dish "gado gado" anywhere. It's a well-known vegetarian Balinese dish, and worth a try. Veggies + peanut sauce + egg + usually tofu/tempeh. 

(For all of these restaurants, just plug these into your Google Maps and they will come up).


Clear Cafe –  The decor is just amazing. Everything on the menu is awesome. My friends and I ate there so many times last time we were there. My favorite place. Get the "Rabbit Salad" (I think that's the name) with sesame ginger dressing. And add feta. ;)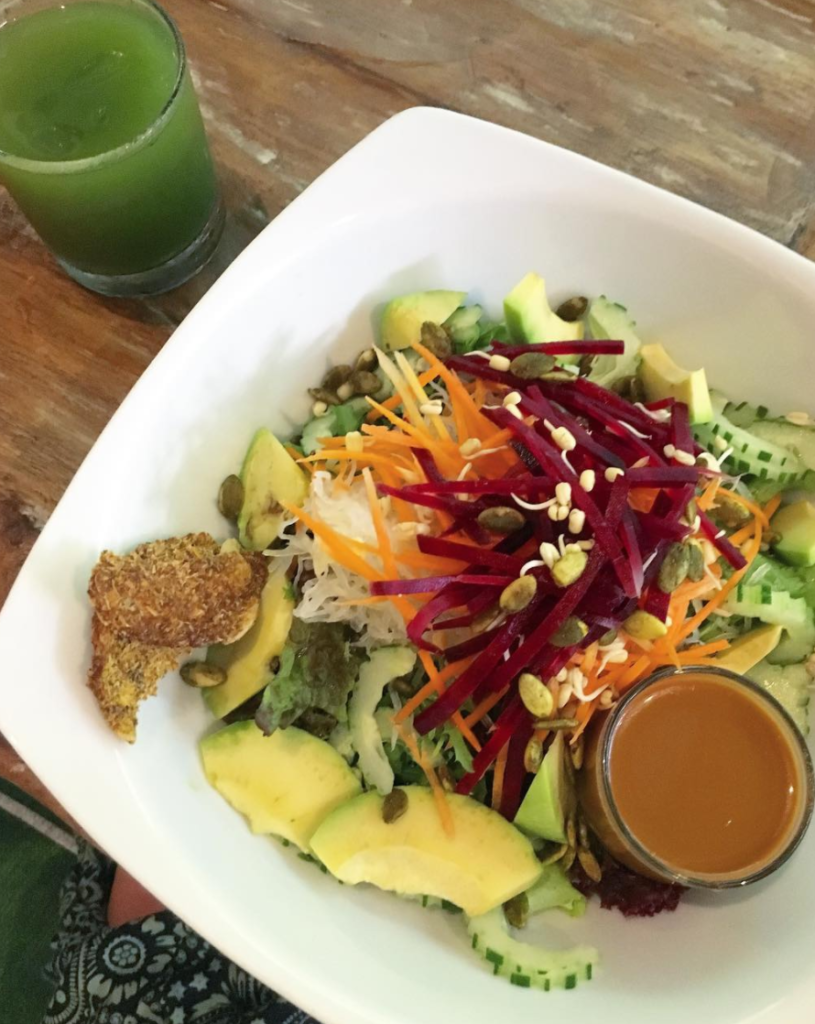 Down To Earth Cafe and Market — A small health food store that will have supplements and healthy snacks, tea, etc. I bought a "moon cup" there and I swear I will never go back to tampons! (sorry TMI). They also have vegan ice cream and a restaurant up above the market where they have wifi if you want to work. And pick up some Chok Chok chocolate there!! Either Chok'lapa or Wedang. So good.
Atman Kafe — A great, small place on Hanoman, they have wifi and good "bulletproof" butter coffee. Also get the avocado toast there on the gluten free rice bread. You will freak out!
HINT ABOUT ATMAN KAFE — there is a smaller spot right next door to the main Atman that's air conditioned but has the same exact menu. AMAZING if you want to get work done on a hot day. Which is every day. The AC portion is located right behind the ice cream stand. You will see it. It's called "Atman Chill."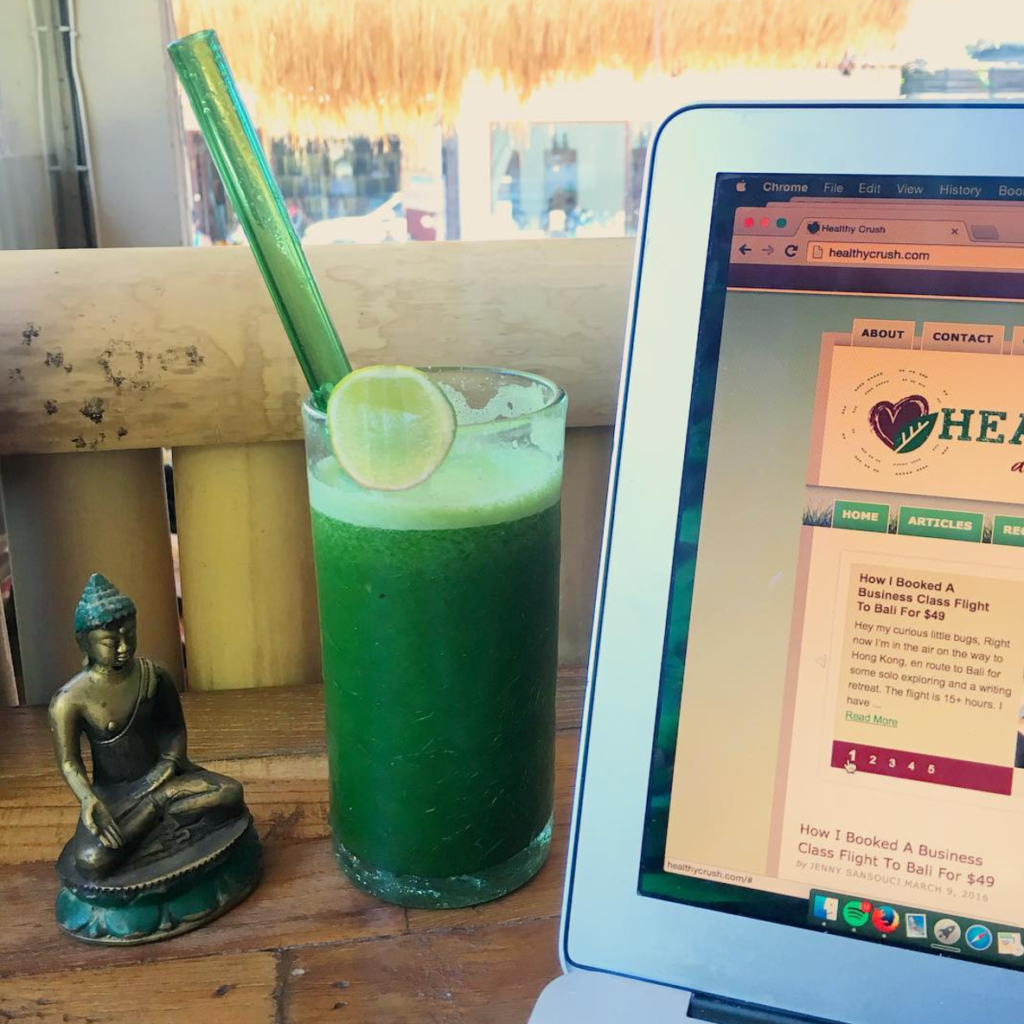 They just added ANOTHER Atman Kafe called "Atman Nourish" – it's right nearby and much bigger. That one is all vegan (the regular Atman has some meat dishes).
Seeds of Life — Bria took me here on my first visit to Ubud. It's magical. Get the raw vegan mexican lasagna. TRUST!!!!!! It's sold out a lot because it's so good. Sit upstairs.

Habitat Cafe — Right next to Hubud Co-Working space, this place is perfect for eating breakfast or brainstorming with your buddies before a day of working and wifi. Get the eggs florentine on gluten-free bread. And a Happy Kombucha. Awesome.
Sage –– Get the Jackfruit carne asada bowl. Vegan, but you won't believe it. (I'm not vegan, but I kind of am in Bali).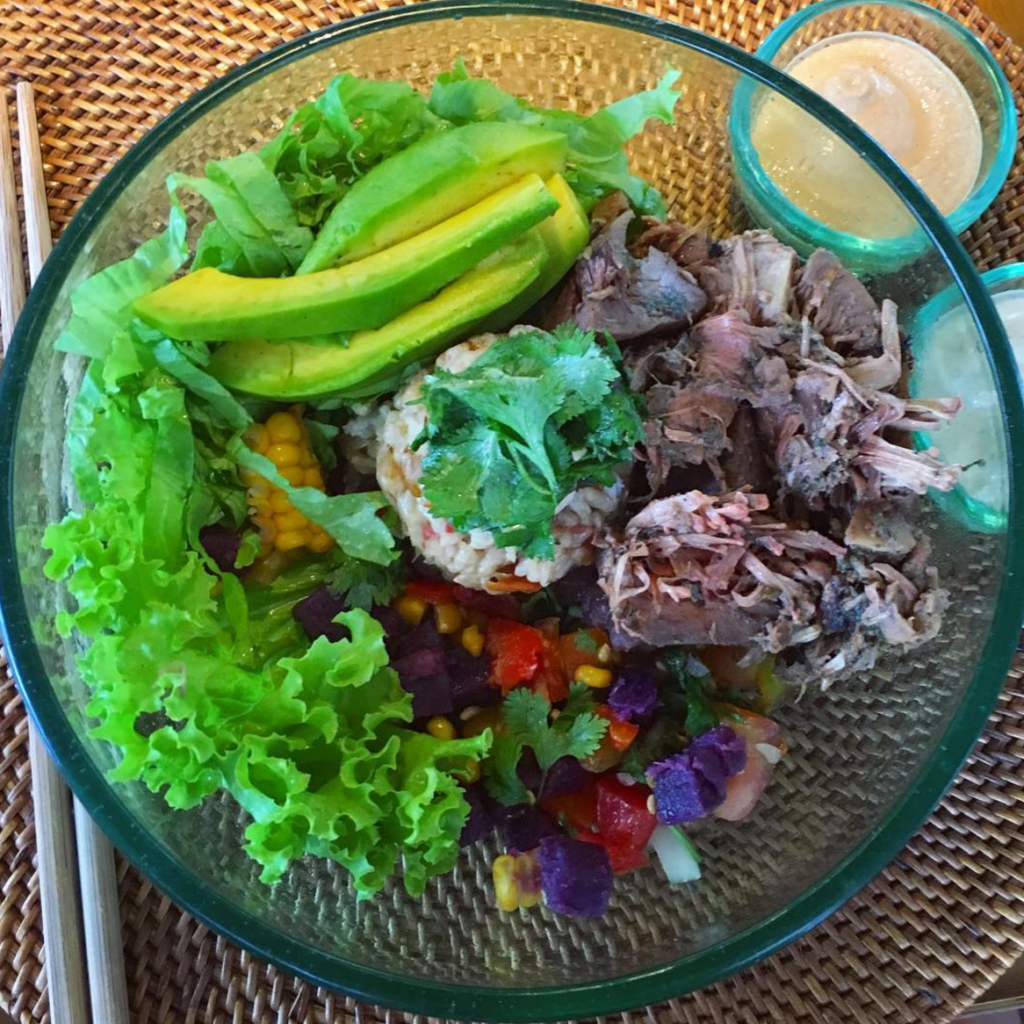 Kafe — Owned by Yoga Barn but in a different location — very very popular. Good spot to go upstairs and sit and read or do some work and get a coffee or a bite, often pretty crowded.


Buddha Bowl –– This might actually be my favorite place to eat in Ubud, mostly because my Bali friends and I have eaten here so. many. times. (I'm looking at you, Andrea, Joel, Jeremy, Miles and Kathy…). Delicious Vietnamese and Thai food. Get the Northern Thailand style curry noodles. Almost like it's straight from Chiang Mai. ;) SO GOOD. Get a coconut to drink out of. And the rice paper rolls too. Yum. Can we go tonight?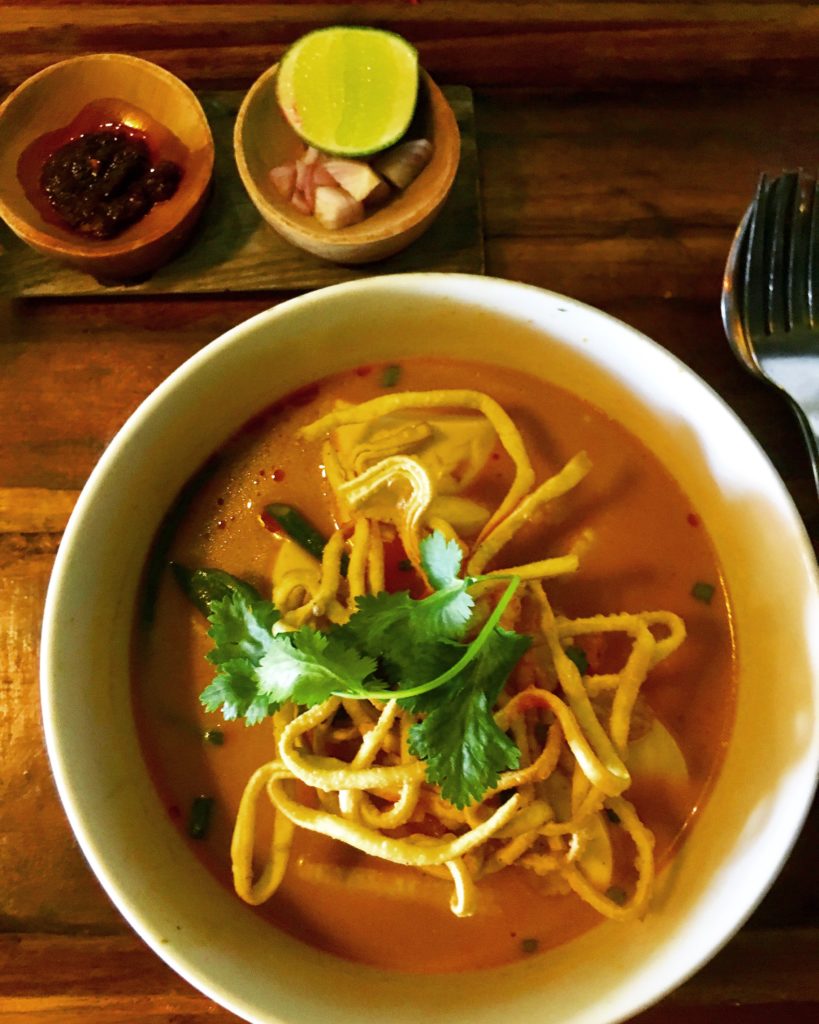 Soma –– "High vibe organic delights!" A big, open layout restaurant, cushions to sit on…definitely a high vibe delight. Yet another pro tip from Bria: get the anahata soup (green soup) and the pumpkin pancakes, and break the pancakes up and put them into the soup like dumplings.
Alchemy: The most incredible salad bar ever! It's in Penestanan village so a bit of a walk from Ubud center, but an easy cab or scooter ride. Again, if you want an awesome place to sit and do work with healthy food… go there immediately. And take an instagram photo, of course. It's unreal.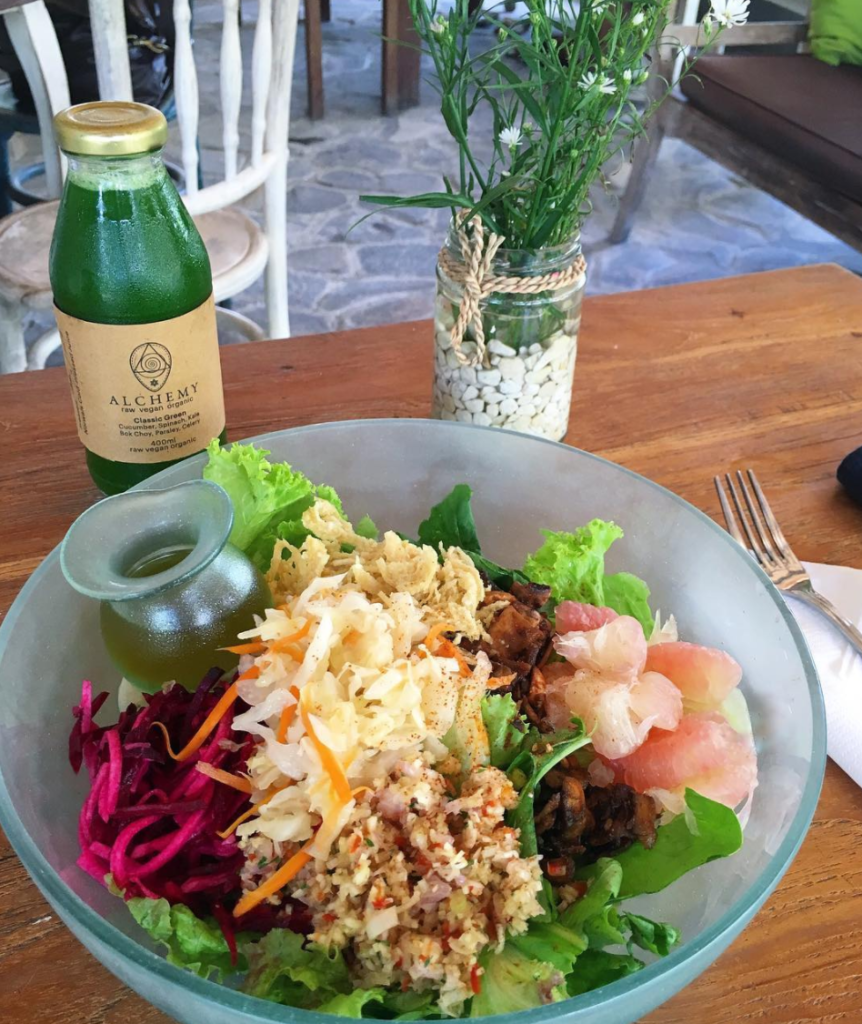 Seniman Coffee: If you're a coffee freak, you must go to Seniman. I don't even need to say anything else except most people say it's the best coffee in Ubud.
Canggu
I went to Canggu for a weekend (a beach town about an hour from Ubud) and it was cool — a bit like Ubud but with a beachy vibe.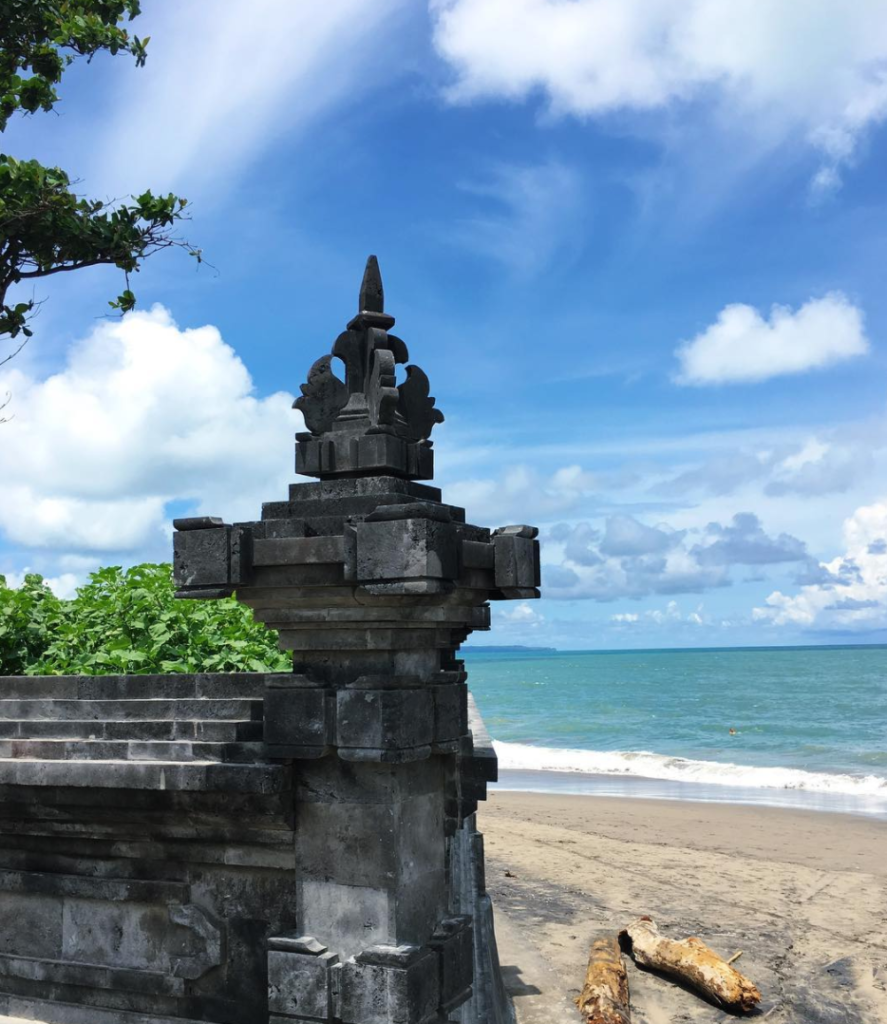 There are lots of "digital nomad" types around there too. They have a great co-working space called the Dojo and there are plenty of cute little places to eat. I loved the Betelnut Cafe (turns out there's one in Ubud too!?) and Avocado Cafe, I stayed in a hotel called The Kirana.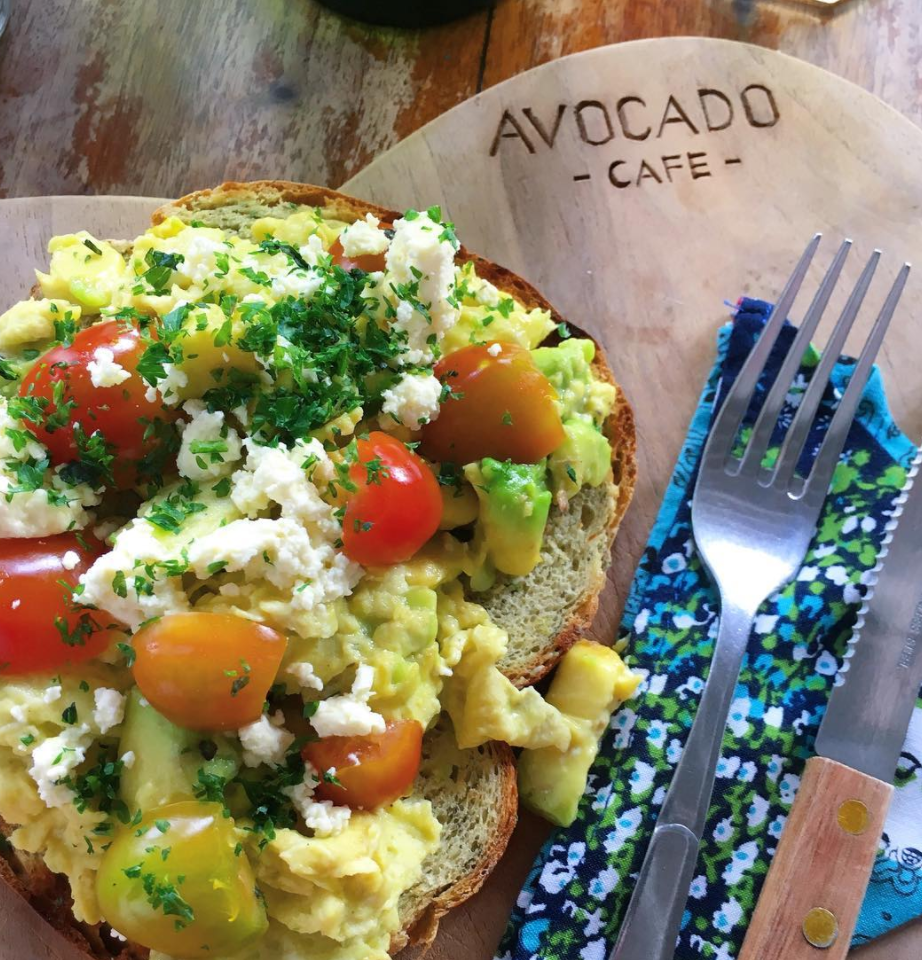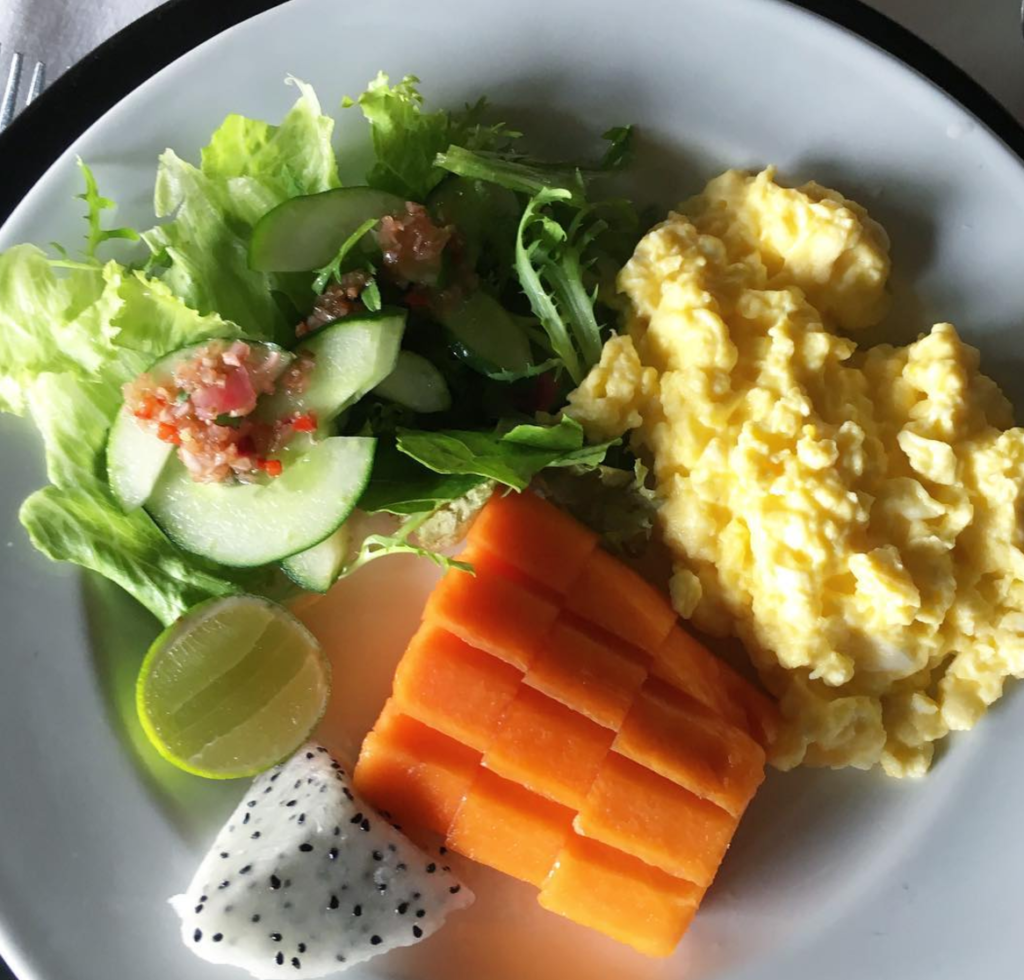 Second of all, the photo at the top of this blog post (the rose petal bath) was from Zen. 
This is a view from one of the rooms.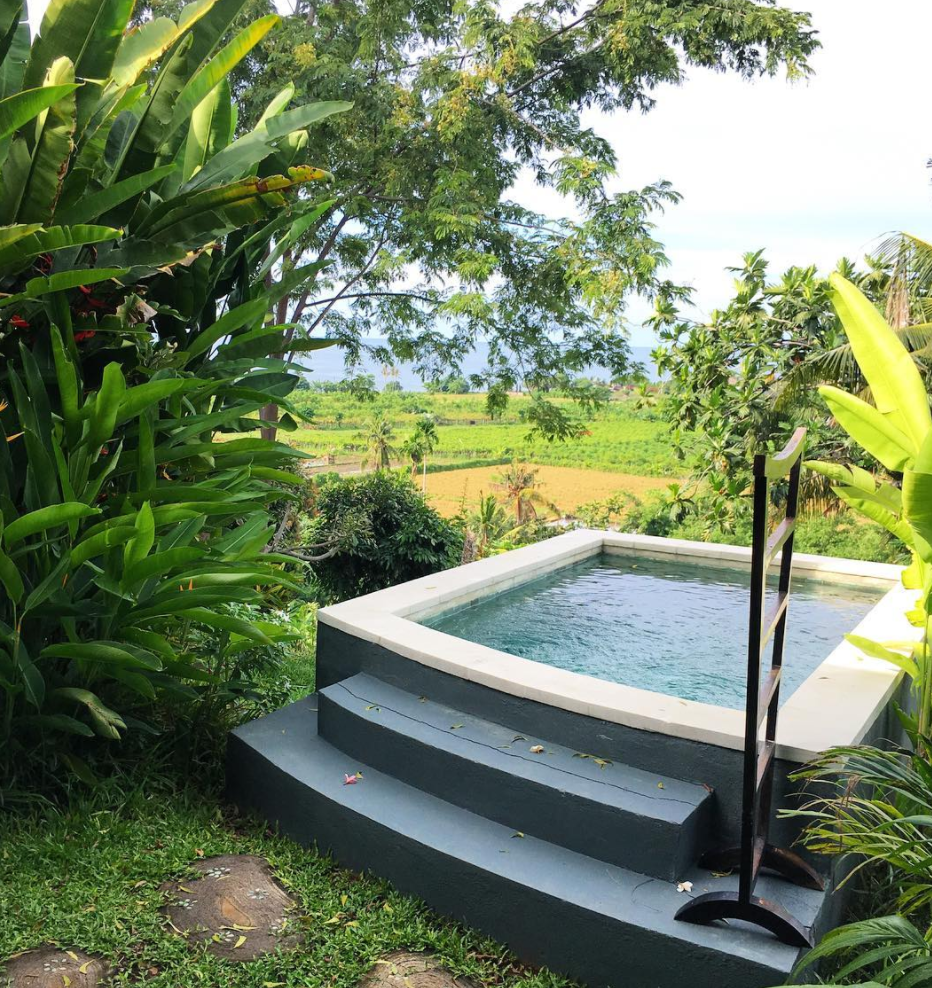 The Zen Resort was the home for the Creative Rehab Bali retreat that I've been fortunate enough to both attend, and co-host at over the last 2 years. The staff at Zen treat you like family. The food is healthy and delicious, the Ayurvedic spa treatments are absolutely incredible, the entire place is so beautiful, it's like a mirage.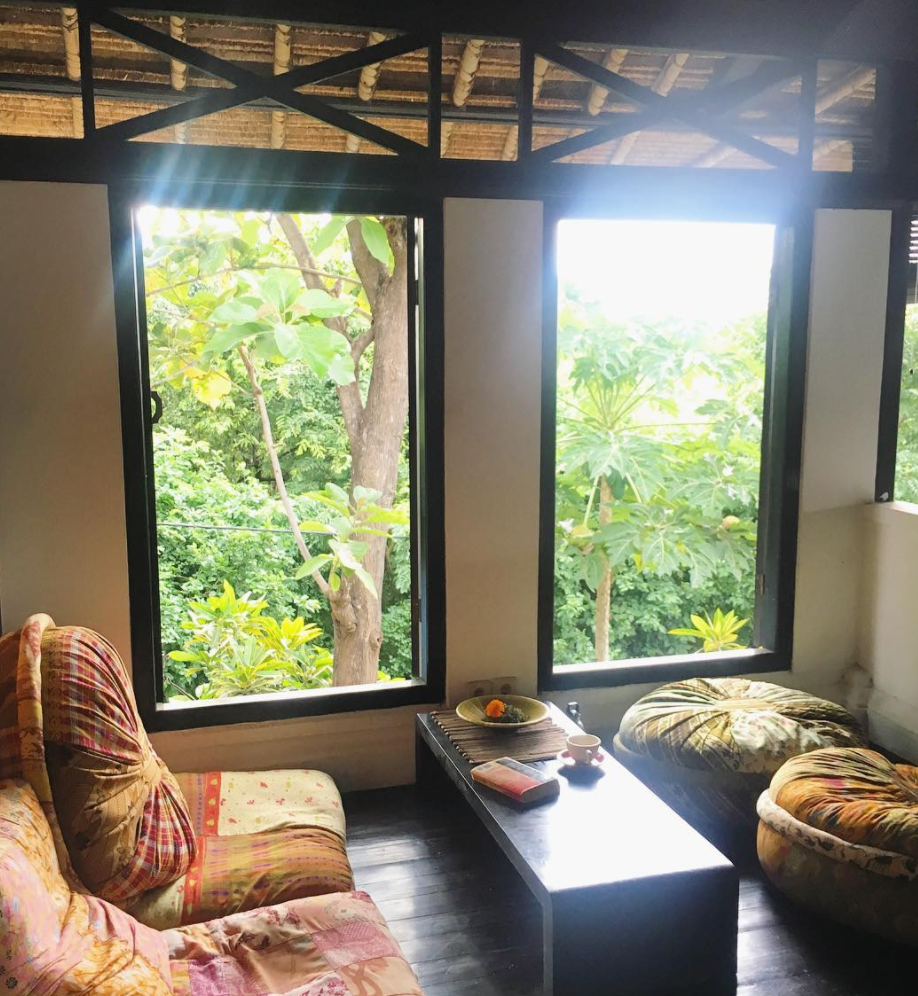 The Zen Resort is one of my favorite things about Bali, and the world. :)
What questions do you guys have about Bali?
I'll add more as I think of it – but this is the basic info for now that I'd send to you if you wrote me an email asking me about Bali!
What am I forgetting here, my friends? Please chime in, in the comments – so we can make this guide better!
Especially if you have any tips for other areas of Bali.
Shine on, stars!