Hey party people!!!
I just got back from Vegas. When I told people I was going to spend 4 days there, everyone was all like "Why would you go to Vegas? It doesn't seem like your type of place." People said the same to me about Burning Man, which of course made me want to go there even more. :) Few things make me more excited than finding the gems of health and wellness in unexpected places. Plus, being unpredictable (and unreasonable) is fun, and I like a challenge.
Even more than that, though, I love showing people (and reminding myself!) that there's always a choice. What activities you participate in, what you put into your mouth, who you spend your time with, what your attitudes are about life…you always have a choice! And you can feel as great or as awful as you wanna feel. Isn't that an empowering and also moderately terrifying realization? It's all up to you.
I just KNEW Vegas would have some awesome healthy offerings, and I was determined to uncover them and share them with you guys. I wanted to break through the Vegas stigma of being a place of ONLY indulging in unhealthy vices. Can't you party and be healthy at the same time? I say hellll yes!!!
So I grabbed my healthy adventure buddy Joel and we hit the town. There were SO many cool and healthy things to do in Vegas!!! I'll be the first to admit, I'm certainly not free of vices…there were definitely a few things that didn't make it onto my instagram feed. ;) I indulge sometimes too (I'm a human, yo) and I hang out with the consequences. But it's really amazing to see that healthy options do exist in a crazy party town like Vegas, and that it's possible to nurture and nourish yourself along the way.

Surprisingly, it's kind of a breeze to find healthy spots in Vegas – ESPECIALLY if you're willing to get creative and venture a little bit off the Strip. Nothing is too far away, rental cars are pretty reasonably priced, and parking is free everywhere in Vegas. Plus, the Downtown Vegas area (around Fremont Street) is super fun to check out.
So here we go, let's party!!! Here were some of my top picks for Staying Healthy in Las Vegas.
Superfood Smoothies
GrassRoots, 124 S 6th St, Downtown Vegas
This was one of the first stops on the Healthy Vegas tour. My friend Kirk told me it was his favorite smoothie spot ever (like, ever), so I knew I had to make it happen. I geeked out there. This spot is downtown, close to Fremont St. where a lot of the action is. They have every superfood you could imagine! My favorite thing? The "caffeine and greens" menu, where they add cacao or coffee beans into the smoothie. My top recommendation: get the Mint Capigreeno — fresh mint, coffee beans, avocado, dandelion greens, dates, cacao nibs, peppermint drops, spinach and wheatgrass. GO THERE.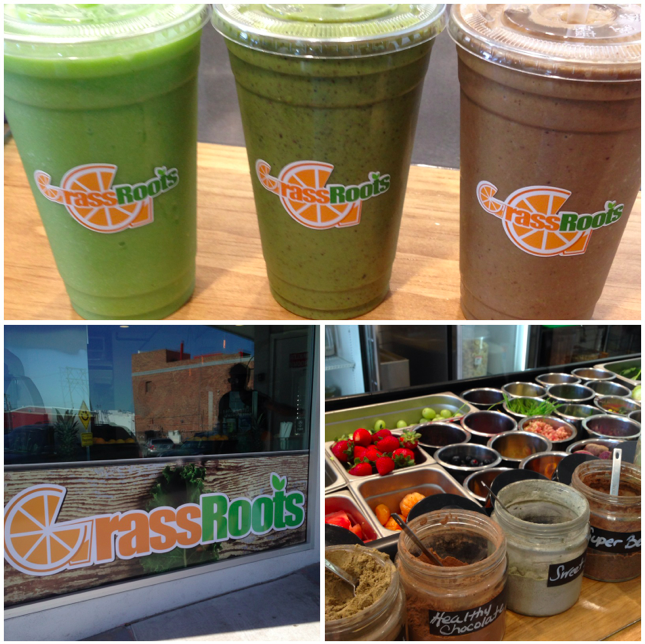 Healthy Lunch/Brunch Spots
Eat, 707 Carson St, Downtown Vegas
Eat is an awesome brunch spot, it warms my heart to think about it. I can't wait to go back to Vegas and eat there again! No joke. Invite me to Vegas tomorrow and I'll say yes, just to go there. YUM! This place focuses on local and sustainably sourced ingredients, and the atmosphere is so cute and homey. I got a scrambled eggs, green tea, avocado…and they had my favorite hot sauce (Cholula). This place is charming, and a great way to take a break from busy hotel breakfast buffets. It's only open for breakfast and lunch – so get on it!!!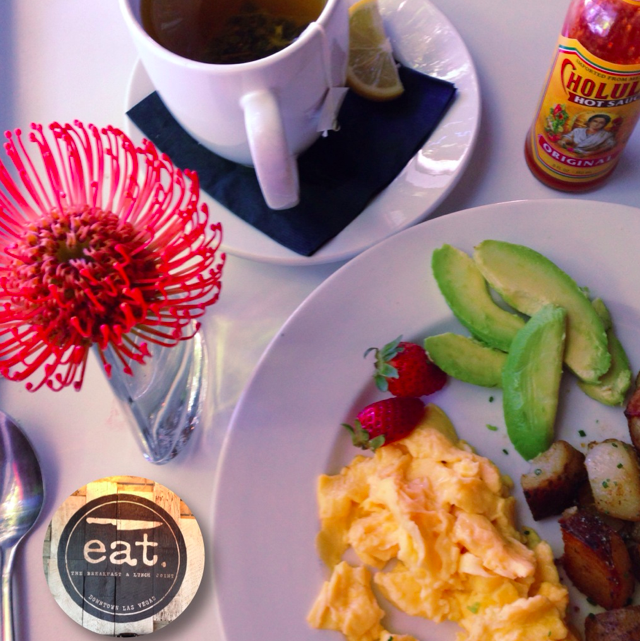 Canyon Ranch Grill, inside Canyon Ranch SpaClub – Venetian/Palazzo, The Strip
I was super excited to check out Canyon Ranch Grill, mostly because it's inside a spa.  This one is on the Strip, inside the Canyon Ranch Spa Club at the Venetian. The cool thing about that is you can have a spa day, relax, rejuvenate AND eat a healthy meal all in one place. I also spotted a rock-climbing wall inside the spa if you're into that. Pretty cool. They have a great menu where breakfast is served all day (music to my ears) and they have smoothies, kale chips and lots of organic teas.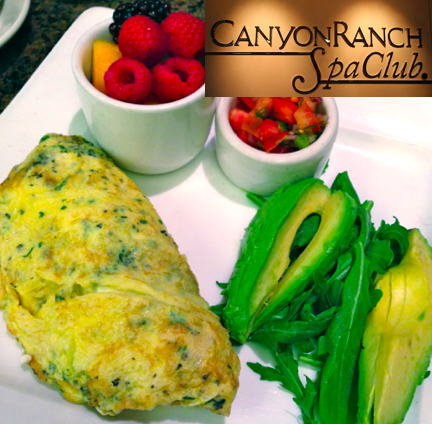 Wild, 150 Las Vegas Blvd North, Downtown Vegas
Wild is another fun and cute lunch spot, and they also serve dinner, so if you're in the downtown area make sure to check it out. They focus on farm fresh, gluten free ingredients. The photo below is the fig salad (on the bottom) and salsa and guac on the top. Wild says, "It is a promise to choose ingredients that have been harvested with respect to their primitive state. It comes to us as it has come from the earth: already perfect." I dig that! I just found out that they have a couple of NYC locations too, which means healthy Vegas can live on in my heart every day.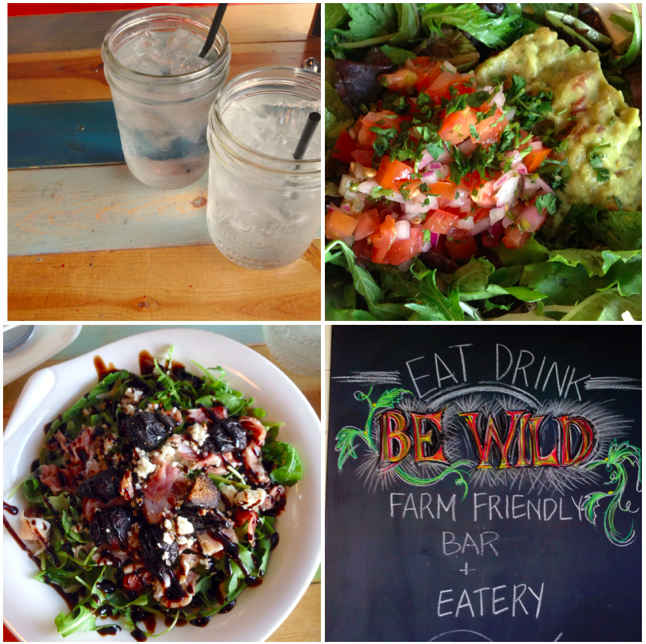 Hangover Helper

Reviv Wellness Spa, MGM Grand, The Strip
If you need hangover help, an immune system boost, or just want more energy, the Reviv spa inside the MGM Grand offers vitamin and antioxidant IV infusions. They have B12 shots, glutathione shots (the master antioxidant) and a few other options as well. I didn't personally get one because my needle-phobia was acting up, but I was excited to see it because I've gotten these kinds of IVs before and I can tell you they give you so much energy, and really help you feel better fast. They basically give you superhuman powers. :) Don't worry, there's a trained medical staff that administers the IVs. You can even have them come to your hotel room if you can't get out of bed!! OH VEGAS!!! You slay me.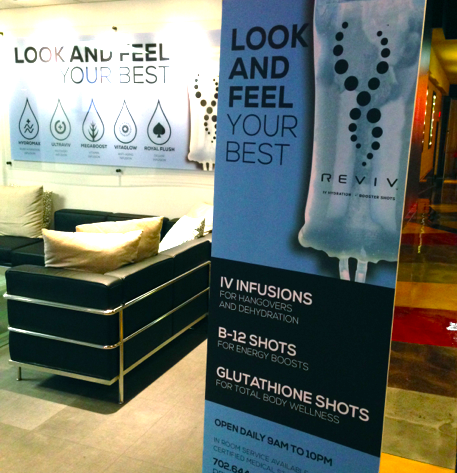 Hiking
Red Rock Canyon –   about 20 mins from the Strip
Hiking at Red Rock Canyon is one of my favorite things to do in Vegas. Please don't skip this one. If you rent a car (or you own a car) and drive about 20 miles from the Vegas Strip, you'll find the most beautiful spot to explore and hike. The mountains are incredible, and there are countless trails to choose from, whether you want to go on a 20 minute hike or stay there all day. You can climb the rocks and find your own little nooks to perch on. SO much fun and an awesome way to get some fresh air – and not the kind of fresh air they're pumping into the casinos. ;) Go at sunset if you want some seriously awesome photos, and to avoid the mid-day heat.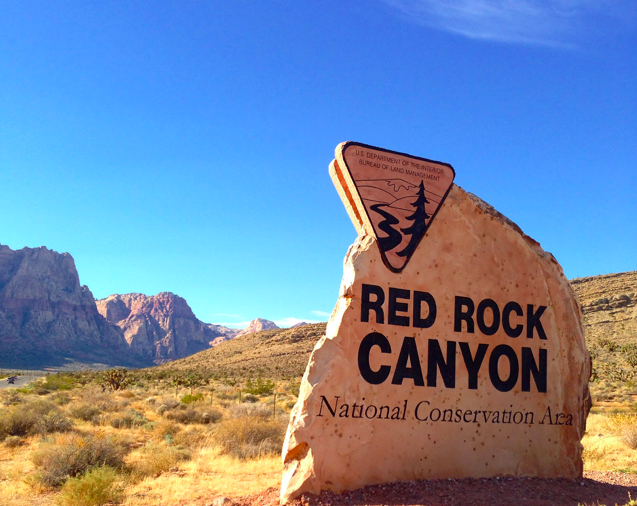 Raw Vegan Food, Juice and Snacks
GoRaw Cafe, 2910 Lake East Drive
This spot is off the strip, but it's on your way if you're going to/coming from Red Rock Canyon – a nice spot to pick up some pre or post-hike superfood snacks. They have a raw vegan meal menu and juice bar, and you can sit down and eat at tables or just pick up some pre-packaged health food snacks like raw chocolate, kombucha, kale chips, trail mix and more (which is what I did). Be careful if you have a health food store addiction like I do, there are wayyyy too many fun things to find there!! :)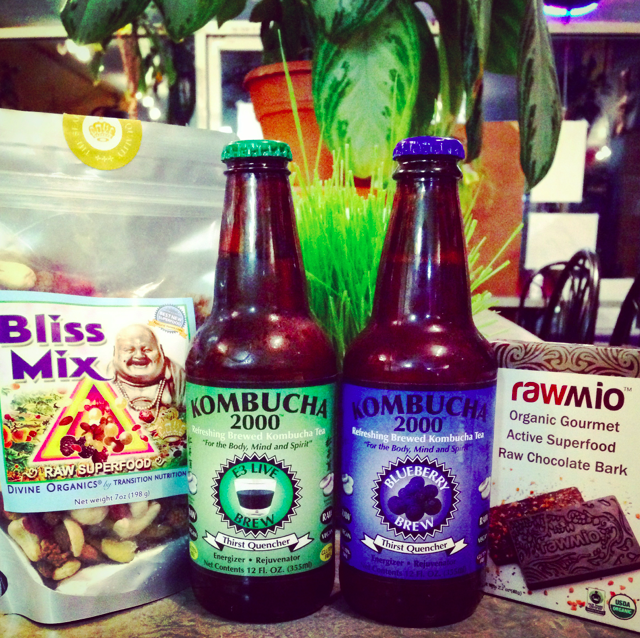 Organic Juice Bar…Inside A Casino
JuiceFarm, inside The Palazzo, The Strip
I was SO incredibly amped up to find this organic, cold-pressed juice bar ON THE CASINO FLOOR. So cool!! They have tons of juices to choose from and they even offer cleanses (if you're juice cleansing while you're in Vegas…well, congrats, you one-upped me) and juices specifically for hangover help. I was in love with the cucumber – lemon – parsley juice as well as the watermelon – mint. Take a green juice over to the blackjack table for extra good luck. :)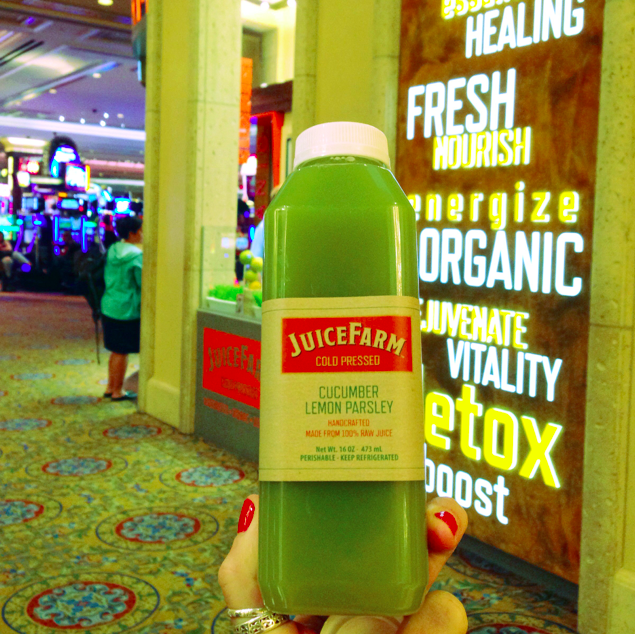 Juices and Smoothies….Spiked!
Squeeze Fresh Cocktails, at the Linq, The Strip
This is hands down my newest favorite thing about the Vegas Strip. Why? Because this cocktail bar makes all of their drinks from fresh juices or smoothies – and they use no fake syrups, artificial sweeteners, or bottled juices. You can get a green "cleanse" juice and spike it with cucumber gin, a tequila cocktail made with berries, coconut water or chia seeds…you can spike it with whatever alcohol you want (or keep it virgin!) There's something for everyone here, and it just blew my mind with how awesome the concept is. There should really be more of these bars in existence. The best part? It's right on the Strip at the Linq (across from Caesar's Palace), there's outdoor seating and plenty of people-watching to be done…so if you're cruising the strip you have no excuse not to stop there!!!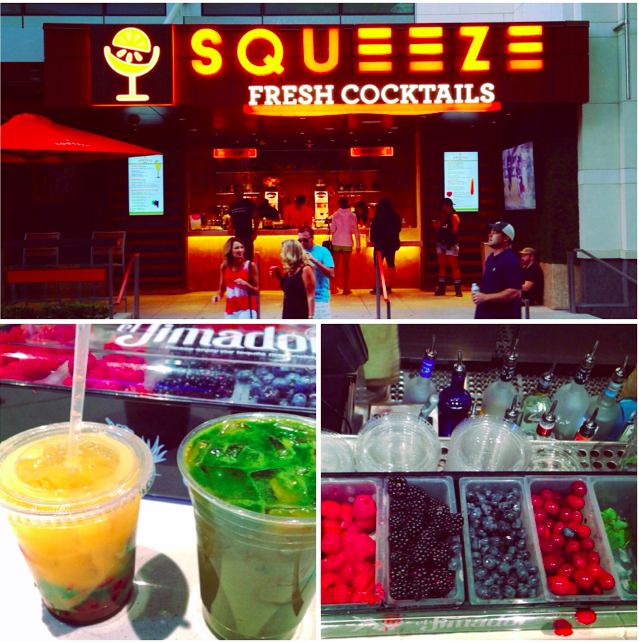 Healthy Hotel Rooms
Stay Well Rooms, MGM Grand, The Strip
When I found out the Stay Well Rooms existed, I knew I had to check it out and report back immediately. My verdict? Definitely one of the coolest hotel experiences I've had. The first perk is that you get to avoid the normal check-in line at the hotel (which can be crazy busy) and you get your own "stress-free check in." Check out the photo below to see what I mean.
The MGM Grand has a special "Stay Well" floor (check out that cute elevator button below), and as soon as you get off the elevator you are greeted with fruit-infused water and the air just smells super clean. The room is equipped with air purifiers, aromatherapy diffusers, vitamin C infused showers, a "dawn stimulator" with lighting that wakes you up gradually, blackout curtains so you get the best sleep ever (at 9am I was convinced it was the middle of the night still), filtered water in the sink, healthy menu options and more. You even get a welcome message from Deepak Chopra on the TV. This is where I want to stay every time I go to Vegas!!!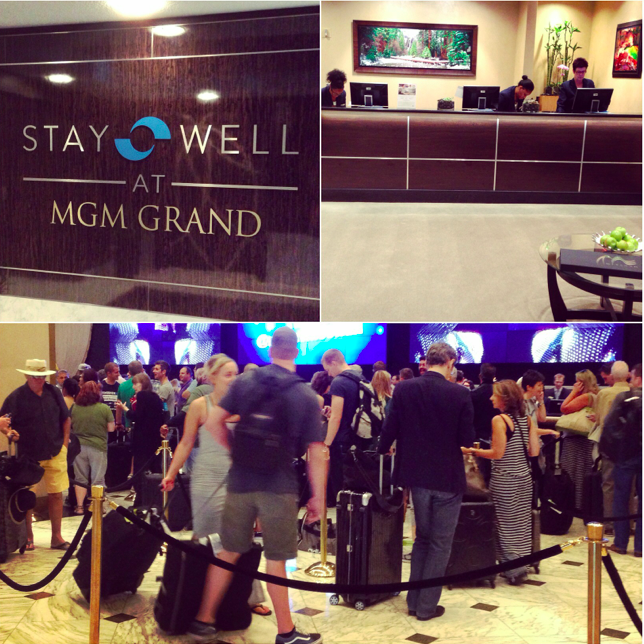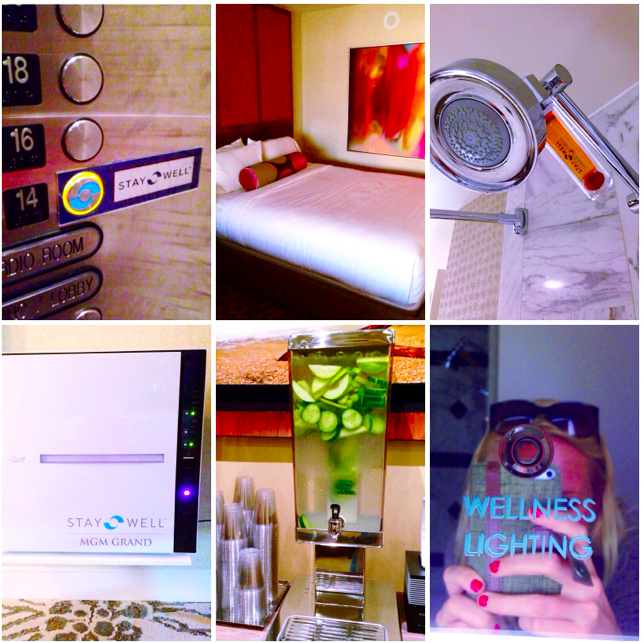 Whole Coconuts
Sea – The Thai Experience, inside Bally's, The Strip
"Whole coconuts" gets its own category because this made me so happy. We had dinner at Sea Thai inside of Bally's, (they also have one of these restaurants in Williamsburg Brooklyn, which somehow I've never been to even though I've walked by a million times). When you order the coconut juice from the beverage menu, you are greeted with one of these young thai coconuts to sip coconut water out of. BEST THING EVER! There is no better way to hydrate while you're partying in Vegas. Even if you don't sit down for dinner here, I bet you could even just order one of these to go, and carry it around the casino. HOW COOL WOULD YOU BE?!?!?!? Please do that, and take a photo and send it to me. Thanks. :)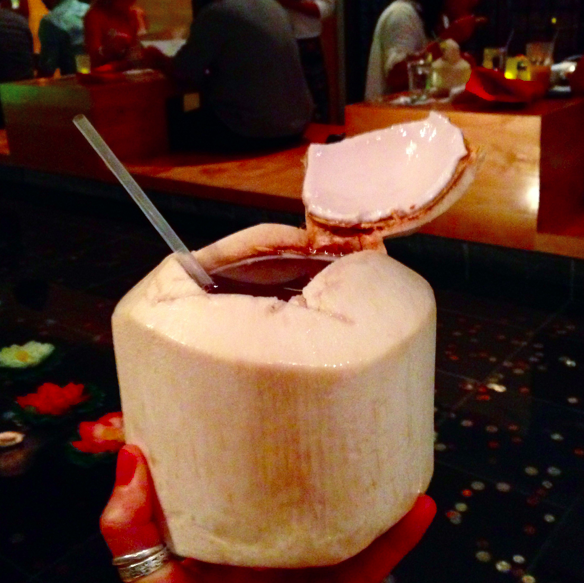 Oxygen Bars
Various locations all over Vegas
I've always been curious to try an oxygen bar and I finally got my chance. These things are located all around Vegas, all over the Strip, inside casinos and hotels…so you're bound to come across one at some point. Basically you breathe oxygen into your nose for about 20 mins. We tried the eucalyptus, lemongrass, and tea tree infused oxygen, and it felt pretty cool. How legit are oxygen bars? I have no idea, but it was fun, my breathing felt more clear, and I got to wear a plastic hose on my face and giggle about it. There are all kinds of different types of oxygen you can choose from, so go wild!!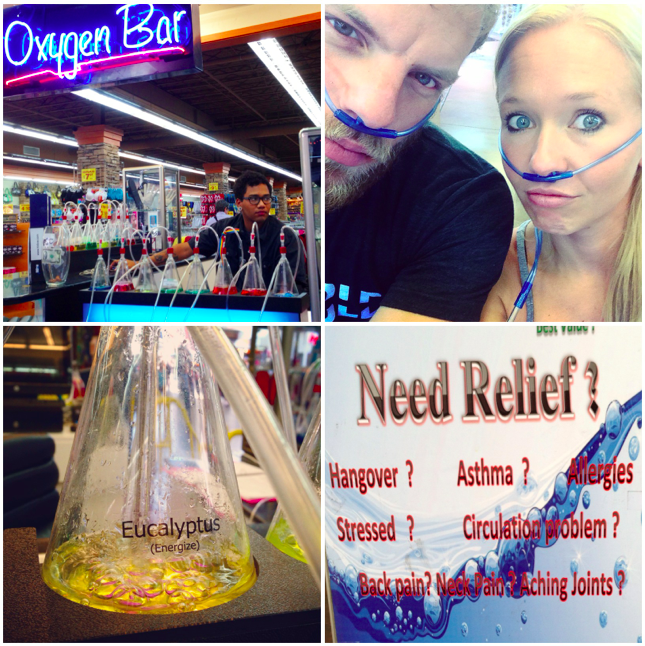 Grass-fed Burgers (in lettuce wraps….with sweet potato fries)
I'm gonna go ahead and call grass-fed burgers with sweet potato fries healthy "ish." :) There are a lot of gourmet burgers to be had in Vegas, but I did a little digging to find a couple of spots that offer grass-fed. Why grass-fed?
The Blind Pig, 4525 Dean Martin Drive, outside the Panorama Towers
Bachi Burger (multiple locations – I didn't eat here, but hear good things)
We got some pretty great grass-fed burgers in lettuce wraps at The Blind Pig (they have good vegetarian options too – my sister had the vegan burger and said it was delish – and there's also a market attached to the restaurant that's open during the day, with fresh juices and smoothies!) Why lettuce wraps? My motto – ditch the bun, have more fun. ;) Get that gluten bomb outta here. I'd personally rather get my carbs from sweet potatoes than some boring old BUN anyway. Who's with me!?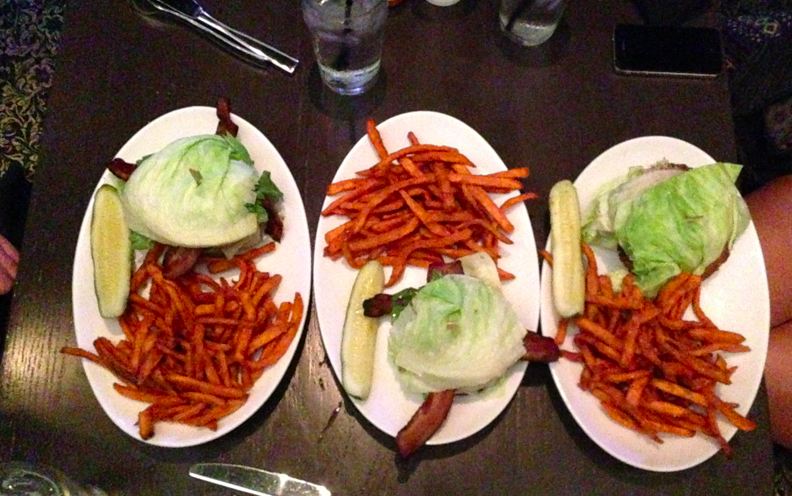 Yoga/Fitness
While I didn't actually go to a yoga class in Vegas, I saw that Modo Yoga has recently opened up there – one of my favorite yoga studios in NYC for hot yoga! Sweat your toxins out after a long night on the strip.
Check out 14 Awesome Vegas Workouts here — including yoga with dolphins!! Clearly, I need to stay in Vegas for longer than 4 days.
Spas and fitness centers – located in most hotels
Navigating the Buffets
Oh, the infamous Vegas buffets. Here's the thing. At all of the hotel buffets, you have the choice of every kind of food imaginable. This is where you may have to practice a little discipline. While it may be SUPER tempting to eat 500 warm beignets with chocolate filling (I may have had ONE), you will also have the choice of tons of vegetables, proteins, and healthier options, because the buffets have EVERYTHING. I tried the Bacchanal Buffet at Caesar's Palace (the sweet potato tater tots were ridiculous), and I've heard the Wynn, the Aria, and the Wicked Spoon at the Cosmopolitan all have great options too. Fill your plate up with lots of awesome veggies, proteins, and healthy fats like guacamole first…and try to go easy on the bready foods and desserts.
Other things my (awesome) instagram followers recommended to me that I didn't get a chance to visit:
The Grateful Yogi – yoga and kirtan
Whole Foods Vegas – apparently has an incredibly HUGE salad bar section.
Juice NV – they call themselves an "urban farm stand" – not sure why I didn't go here, it's on my list for next time!
Honey Salt – Farm to table food, looks really cute
Simply Pure – at the Container Park downtown, from what I hear, it's amazing organic vegan food. Tons of people recommended it to me but I couldn't get it together! Next time.
Rachel's Kitchen – people recommended this spot a few times too — looks like they have a little bit of everything here!
Greens & Proteins – another place that looks worth checking out, a big variety on the menu.
Juice bars in hotels – apparently there are good ones at the Wynn, Encore, Bellagio and MGM. Seek out at your own risk, I haven't tried 'em!
Ok guys, that's it! I never thought I'd say it, but I really loved Vegas!! Just like anywhere else, you find what you're looking for there. If you're looking for health and wellness spots, there's plenty to be found. If you're looking for…other things…well, you'll find that too. ;) My main advice would be to do a little bit of advanced planning before you go, so you can scope out the spots you want to visit, because you can get lost quickly in Vegas and end up in Hershey World for hours with no idea where the exit door is.
If you have any other deliciously healthy and rejuvenating tips to give me about Las Vegas, please, share in the comments!!!
Viva Las Vegas…Healthy Crush style!!!! Mission accomplished.