Last time I was in Los Angeles, I was here for a week and I did a super intense amount of healthy things. Check out my original Healthy LA Guide.
This time, I've been here for a month. You can probably imagine the crazy amount of healthy antics I got into! I have so much more to report on now. California is popping off the chain with nutrition, wellness, fresh produce, and other healthy extravaganzas. It's kind of insane. And I know there are lots of things I didn't get a chance to check out. But I'll be back on the west coast very soon for more.
The funny thing is, when I decided to move to LA for a month a lot of people were like "Really? You like LA? It's all Hollywood actor types and entertainment industry stuff."  Well, yes, that stuff is here of course, but there's SO much going on in health/nutrition/wellness that it makes my brain almost explode! Seriously. I went the entire month only doing super awesome healthy inspirational things. I didn't even get into any of the TV/movie stuff or notice any celebrities. Well, except for Pete Wentz, but I mean…clearly I manifested that one on my own. My point is — LA is a SERIOUS healthy hot spot. Don't forget it. ;)
Anyway, here are some of the healthy things I loved in LA this month:
Food: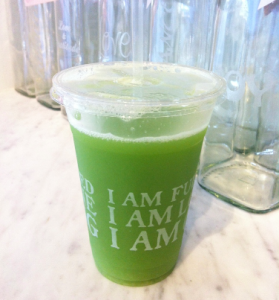 Pressed Juicery (West Hollywood): Awesome juices! A great place to pick up a cleanse. I loved the "Greens 3" juice. So good.
Euphoria Loves Rawvolution (Santa Monica): This is a raw place, and it was totally next level awesome. I got the "red enchilada," a green juice, and a few specimens of raw chocolate. Everything rocked. Casual vibe, near the beach. Go.
Planet Earth Eco Cafe (Hermosa Beach): This place is adorable! I got a fantastic green smoothie and the hummus/veggie wrap. They also have organic, fair trade coffee and lots of delicious goodies.

Open Source Organics Juice Truck (Vine & Selma, Hollywood): This truck rocks my world! One of my favorite things to do in Hollywood is hit up Runyon Canyon Yoga (more on that below) and then take a walk over to the Open Source truck. Best. Ever. My new friend Brother Echo is the mastermind behind this truck, and he is AWESOME. (Check out the video he and David Wolfe made when we stopped by the truck). Go there, get the Superherb smoothie and a green juice, and thank me later.
Cru (Silverlake): My recommendation is to head over to the House of Intuition (more below) and then hit up Cru afterwards (or Sage…also in the area…but you gotta try Cru too). That's what I did, and it was bliss. I got a chocolate-maca smoothie that was 100% otherworldly, and a collard wrap with pumpkin seed "chorizo" – whoa.

Cafe Gratitude – Venice: The newest Cafe Gratitude! I knew I couldn't leave LA without checking it out. It's gorgeous, has plenty of outdoor seating, and is the perfect ending to a day at the beach. Everything there is awesome, but I'm partial to the "I am Festive" taco salad, the "I am Healthy" green juice (or the "I am Strong" protein smoothie) and the "I am Vivacious" kale chips. RIDICULOUS!
Seed Kitchen (Venice): Another good healthy find in Venice. I got the "chop-chop" salad and a freshly made green juice. My friend had the asian kale salad, which was also awesome.
Planet Raw (Santa Monica): Huge menu of insane superfood goodness. I tried a few things – the raw nachos, kale salad and avocado salad. Also I got an E3Live Kombucha + some medicinal mushroom chocolate, naturally. Oh, and some coconut water straight out of the coconut. Super awesome place.

Hollywood Farmer's Market (Ivar & Selma, Hollywood): This farmer's market BLEW MY MIND. I mean, it's huge and they have everything you could ever dream of. The sheer amount of avocados that exist there is enough to merit an immediate trip. Spend the whole day there!!! (and stop by Brother Echo's truck while you're at it – right around the corner). This farmer's market is open on Sundays from 8am-1pm.
Yoga:

Runyon Canyon Yoga (Fuller Ave Entrance, Runyon Canyon- Hollywood): This is my favorite thing about Hollywood, HANDS DOWN! Donation-based yoga 4 times per day with really great teachers. All you have to do is show up with a mat and an open mind. These yoga classes are outside on the ground, so if you're the type of person who will be bothered by a little dirt on your mat, don't go. :) I love this!!!!
Black Market Yoga (Hollywood): Daniel Overberger (one of the teachers at Runyon Yoga) holds more donation-based classes on La Brea in Hollywood. I really like Daniel as a teacher, and I dig these classes because he plays rock music. Mondays & Wednesday evenings – 7pm. Monday classes end w/ a 5 minute meditation.
Maha Yoga (Brentwood): Go here if you want a super intense, fun yoga class! I took a class with the owner, Steve, and it was a hot, sweaty super-charged workout with loud, fun music to keep us going. After the class I was like "did that just happen? That was crazy!" But I felt amazing. Beautiful studio.
Golden Bridge Yoga (Hollywood): This is a kundalini studio, which is much different than the vinyasa classes I'm used to. Really cool experience, though, with a lot of focus on breathwork and repetitive movements and mantras. I felt a total healthy high after this class! Definitely the spot if you're into kundalini yoga. They have a great cafe and store too, with lots of healthy treats, spiritual books,  yoga clothes, etc.
Healing/Other: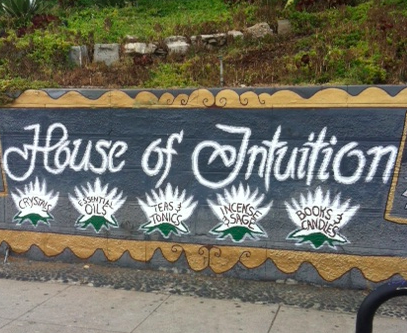 House of Intuition (Echo Park): This place RULES! My intuition definitely led me there. If you're into astrology, tarot, clairvoyance, crystals, or other forms of spiritual healing, you seriously must go there. I got an astrology reading with Maja, and it was so on point. I felt so much clearer on a lot of things in my life after she went through my entire chart and showed me how each planet was affecting me. She gave me some wonderful guidance (it turns out that my Saturn Return is just ending, which made a lot of sense). If you don't know what the heck I'm talking about…that's cool. I'm so into this stuff. If you're curious, just pop in sometime and get a feel for the vibe.

Dharma Punx (Hollywood, Santa Monica): Dharma Punx was one of the first places I knew I had to go when I got to LA. I've been many times in NYC and it's just a beautiful thing. It's a meditation group and Dharma talk (based on lessons from Buddhism, but you don't have to be Buddhist or anything like that to attend). It's donation-based, and led by Noah Levine — he's got a lot of incredible wisdom to share. You can just walk in, sit yourself down on a meditation cushion and go with the flow. And if you're lucky maybe they'll have vegan burritos for sale there. Dharma Punx is seriously too cool.

Sweat Shop LA: (Hollywood): Infrared saunas! This is the place to sweat it out. You can read more about my experience here. Loved it.
A Course in Miracles Talks: Marianne Williamson (Beverly Hills): Ah, I have to admit I didn't get to any of the Marianne lectures this month. I tried, though! The night I went, it turned out that Marianne was out of town, so I got to hear Jacob Glass speak instead (he rocked). If you're interested in A Course In Miracles or just want to hear a beautiful lecture that will make you feel really inspired, go to the Saban Theater on Monday nights at 7:30pm.
If you don't see your favorite spot on here, it may be in my original Healthy LA Guide.

That's it for now! If you have any other Los Angeles healthy tips, please leave them in the comments!!