I've been in London for a week with my friend Gabby, and of course, I've been scouring the town for health food to see what's out here! To my surprise, along with all the fish & chips, pubs, scones and fancy cakes there are tons of health food stores, healthy restaurants, green juice joints and raw chocolate! It's been quite lovely, actually. :)
This is a recap of some of the places I've tried during my stay. Of course, this isn't a fully comprehensive guide to being healthy in London, so if you have anything to add to the list, please let me know in the comments below!
Here are a few places to get your greens on, London style:
Joe & The Juice – various locations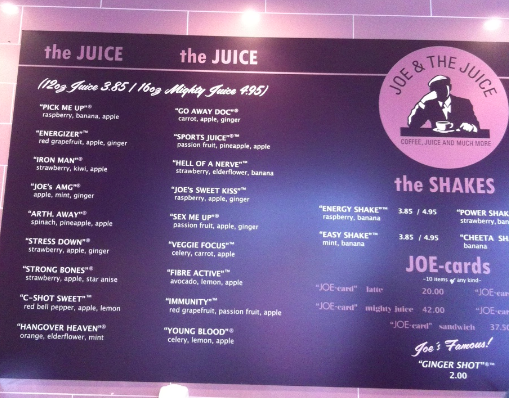 The 46 Dean Street location of this cute juice joint was right down the street from my hotel in Soho, which was super convenient. The juice menu was fantastic – they use fresh ingredients and have cute names like "Go Away Doc" and "Stress Down" and "Hangover Heaven." Gabby and I loved the "Veggie Focus" (we added spinach and ginger)! Such a great find.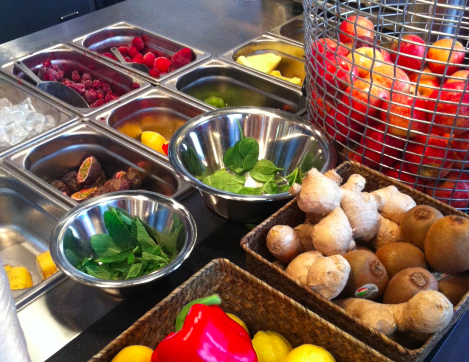 Crussh – various locations
My friend and London local Ritu introduced me to this place, and I had a healthy crush on it immediately (ha). These convenient salad/smoothie/juice bars are are peppered all around London! I visited the 47 Eastcastle Street location. It's the perfect place for lunch on a busy day. There are lots of pre-prepared salads and sandwiches available, as well as a fresh-pressed juice and smoothie bar.
I had the "Super Greens Salad" — Mixed greens, broccoli, French beans, cherry tomato, edamame, peas, radish, red onion, toasted almonds, poppy seeds and a delicious wasabi dressing – soy sauce, lemon juice, olive oil & wasabi. It rocked my world. I also got the "Green Goddess" juice – apple, kiwi, pear, lime, cucumber, spinach & celery. Lots of green happening over at Crussh. :) If only they would remove that extra "S."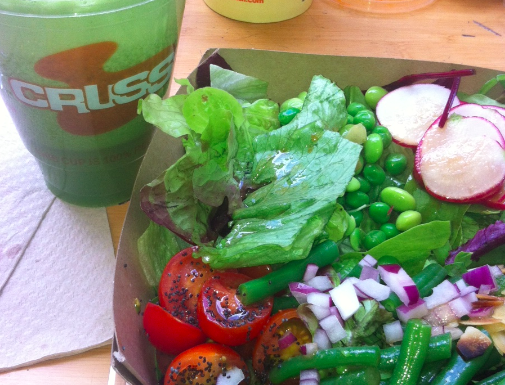 Vantra – 11-13 Soho Street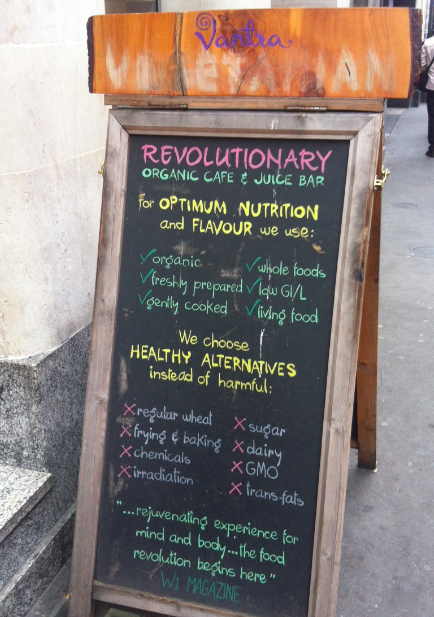 I had the pleasure of visiting Vantra in Soho with some awesome health-minded friends — Gabby, Ritu, Kyle and Sean Patrick. The restaurant is a vegan buffet, and there was really something for everybody – even the non-vegheads loved it! You can choose to get a single plate or an unlimited plate depending on how hungry you are. There were tons of fresh veggies, curries, raw foods, juices and smoothies. We even drank fresh coconut water out of the coconuts!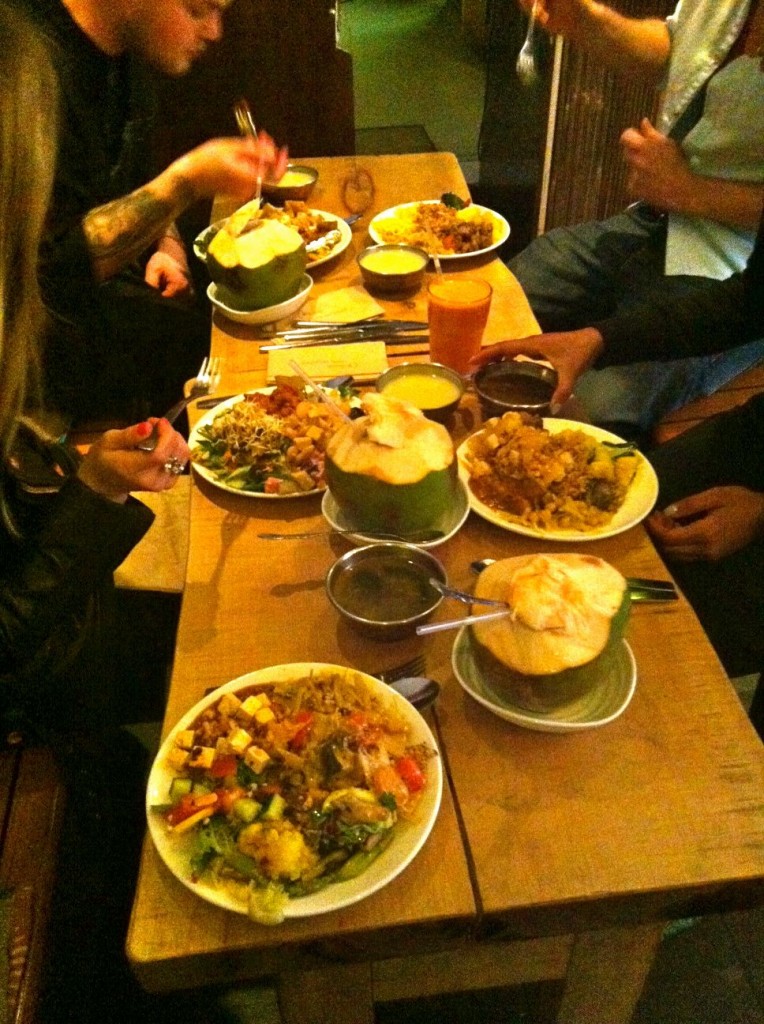 We came back to Vantra another time just for raw desserts and smoothies. The banana-cinnamon nut milk smoothie was awesome. View menu.
Check out their sister restaurant, right around the corner – Vitao.
Saf – Above Whole Foods in Kensington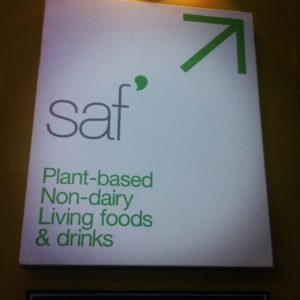 Saf is another good casual lunch option if you're in the Kensington area of London. It's a sit-down restaurant, but it's actually inside the Whole Foods, on the top level. We had a nice experience at Saf with the starters — kale chips, seasoned sunflower seeds and olives. Overall they have a really nice healthy menu and make a killer green juice! I wanted to get the Green Detox Salad, but they were out of it, so I had the Spicy Thai Salad, which I wouldn't order again. Gabby's meal was a hit, though — the Lebanese wrap — super tasty. Check out the menu. (Thank you, Tricia, for the recommendation)!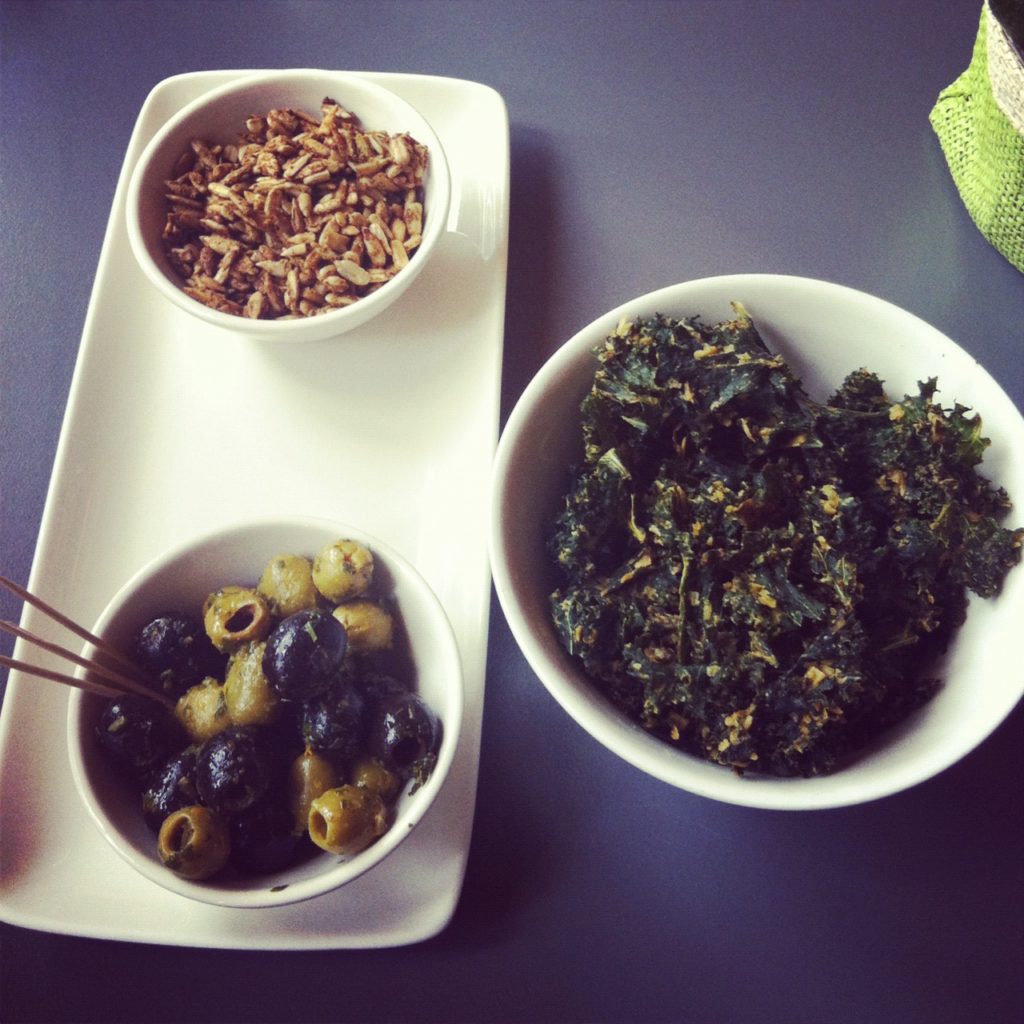 Whole Foods – various locations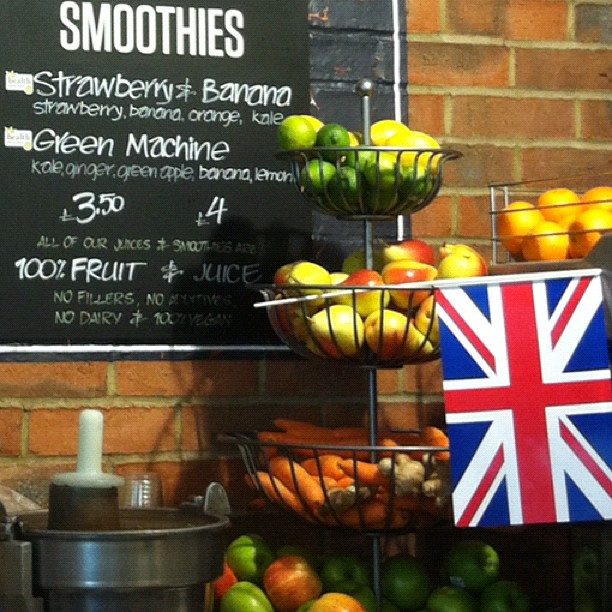 Whole Foods never disappoints! We were able to visit the Kensington and Picadilly Circus locations, which were both great (and had free wifi). I went to the Picadilly one in the morning, since it was so close to my hotel, and I got incredible green smoothies made fresh with kale, ginger, green apple, banana and lemon. It was awesome.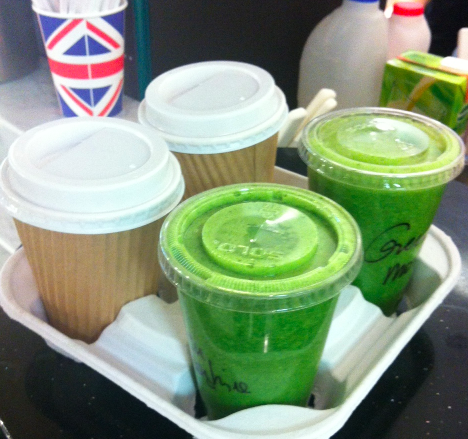 Portobello Wholefoods – 266 Portobello Rd, Notting Hill


Despite the name, this place isn't affiliated with Whole Foods — it's an independent health food store, and I thought it was very well stocked with lots of healthy snacks and organic food. We even found the Greens+ bars we'd been looking for the whole trip. Coconut water, raw chocolate, kale chips…I mean…come on! It was a great little treasure to stumble upon after shopping on Portobello Rd. Check it out when you're in Notting Hil.
Here are a few other places to check out — I didn't actually eat at any of these, but I passed by them and they seemed worth looking into:
Inn The Park – St. James Park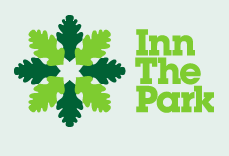 I was taking a walk in St. James Park the other day and happened upon this restaurant. I assumed it would be touristy and just have traditional English food, but when I looked closer I saw a green juice on the sign! How cool. The Mr. Green Genes: apple, pear, lime, spinach, broccoli, celery, watercress. Yes!! I can't vouch for the rest of the menu but I can assure you….that green drink is gonna be good.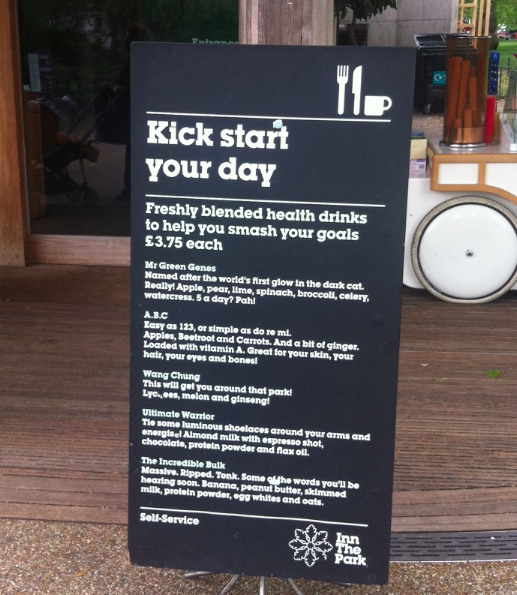 Pod — various locations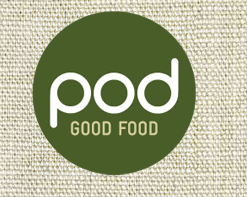 I wish I ate at Pod! It looks so cute. There are tons of locations around London and the food sounds super healthy. They use seasonal food, focus on sustainability for their ingredients, packaging and building materials, and the food sounds awesome. They have teas, smoothies, superfood salads and wraps, "detox boxes" and more. Check out their menu.
Leon — various locations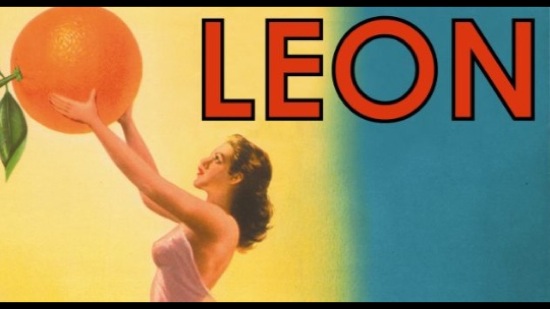 Leon seems worth checking out – I kept seeing them all over London. They also have a focus on sustainability and their menu contains allergen information, pinpointing which dishes are gluten free, dairy free, low glycemic, vegetarian, etc. Check it out!
So enjoy London and all it has to offer – scones and all – but make sure to get some greens while you're at it! :) BRILLIANT.

Have you tried any of these places? Know of any other awesome healthy places in London? Let me know in the comments!