A few months ago in my Food Therapy class at the Natural Gourmet Institute, my teacher Dr. Annemarie Colbin told us she was helping to set up healthy cooking classes at the Henry Ford hospital in West Bloomfield, Michigan. She explained that the hospital is on the cutting edge of nutrition and wellness and incorporating all kinds of alternative healing modalities into their services. I immediately wanted to visit and check it out! I finally got the chance to see it last weekend, and Annemarie was right — this is no ordinary hospital.
It's quite possibly the healthiest hospital in existence. It's not only a place to go when you're sick – it's a place to truly enhance your quality of life.
Henry Ford West Bloomfield Hospital, like many hospitals, offers 24-hour emergency care, specializes in cancer, women's health, radiology, bariatric surgery, behavioral health, heart & vascular health, neuroscience, orthopaedic surgery, senior services and more. It's a place to get top-notch medical care – but what makes this hospital different is the focus on prevention, wellness and nutrition for their patients, staff, and the surrounding community.
How is Henry Ford West Bloomfield unique? For starters, there's a wellness center, a demonstration kitchen for healthy cooking classes, a farmer's market on the premises (!!!), and a healthy, organic cafe for patients to order food from. This is the kind of hospital I could spend some time in!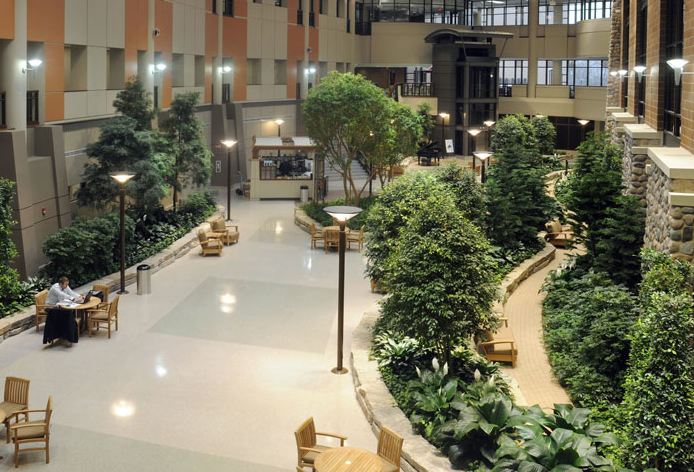 From the moment I stepped through the front doors, I felt calm and at ease (not a normal feeling for most people when they enter a hospital). There was no trace of the cold, white, sterilized hallways with fluorescent lights that you find in most hospitals. On the contrary – there was pleasant classical music playing, a sanctuary/spa-like atmosphere and a feeling of hope and healing in the air.
Right away I noticed the Vita Wellness Center, which offers integrative healing services in conjunction with traditional therapies. The wellness center is overseen by a committee of doctors, scientists, nurses and caregivers, while providing alternative treatments like acupuncture, traditional Chinese medicine, reiki, massages, spa treatments and yoga classes. Because the center is inside one of the country's most advanced medical facilities, it's the ultimate integration of Western meets Eastern healing. Patients, visitors and the surrounding community can get a full range of health and healing services.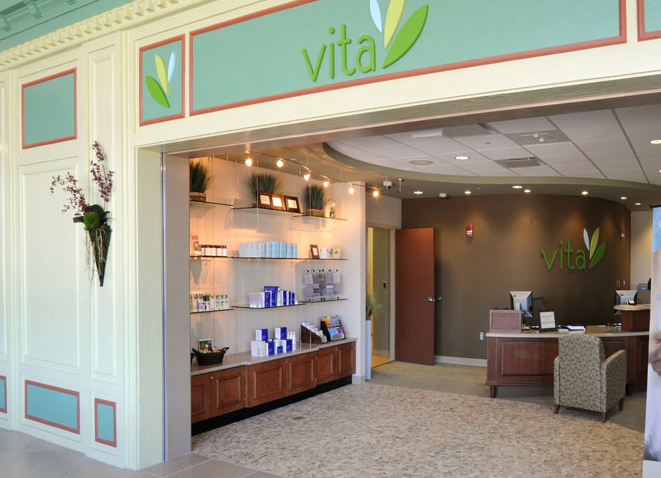 There are also specialty classes at the wellness center like Live Well with Cancer, Managing Menopause, Heart Smart, and Pre/Postnatal Nurture.
Perhaps the most innovative part of the hospital is the 90-seat demonstration kitchen where they offer classes on preparing meals for people with specific illness like cancer, diabetes and heart disease. I also noticed a sign for a class called Food Happiness 101, brought to you by the Natural Gourmet Institute!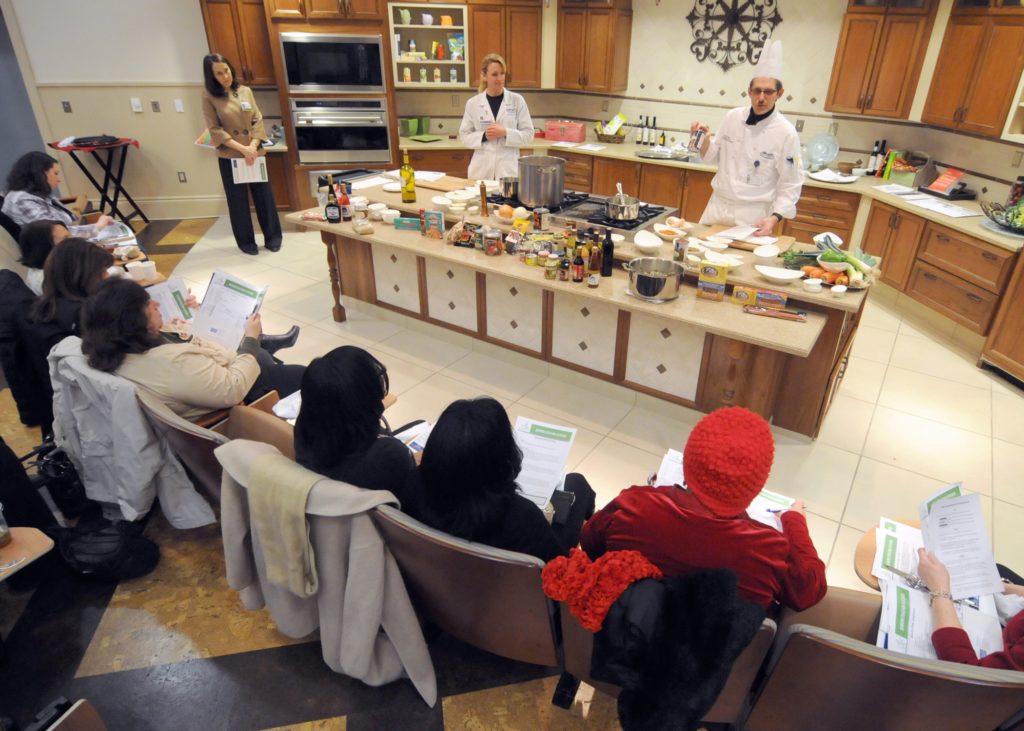 If you've ever been to a conventional hospital, you know the food is usually not health-supporting – jello and piles of unidentifiable mush are common. Instead, at Henry Ford West Bloomfield, they offer fresh, wholesome food made from organic, sustainably grown produce. I got to peek at the patient menu and was blown away. Here are some of the options that patients are offered:
Quinoa Florentine with Fresh Vegetables
Seared Salmon with Lentil Salad & Tomato
Soups: Shiitake Barley, Red Lentil, Tuscan White Bean
Mediterranean Hummus Plate
Fresh Organic Strawberries
Wheat & Flaxseed Rolls
Pineapple Mango Smoothie
Gluten-Free & Vegan Desserts
Wow! My contact at the hospital recommended we stay for lunch, so I tried the 3-bean vegetarian chili and a vegan granola bar. Both were just as delicious as any food you'd find at a healthy restaurant! In the cafe, I noticed lots of health-promoting options (including gluten-free), as well as a dessert bar called the "moderation station." There are different health tips situated on every table in the cafe, like "Try Meatless Mondays" and "Choose Organic Produce."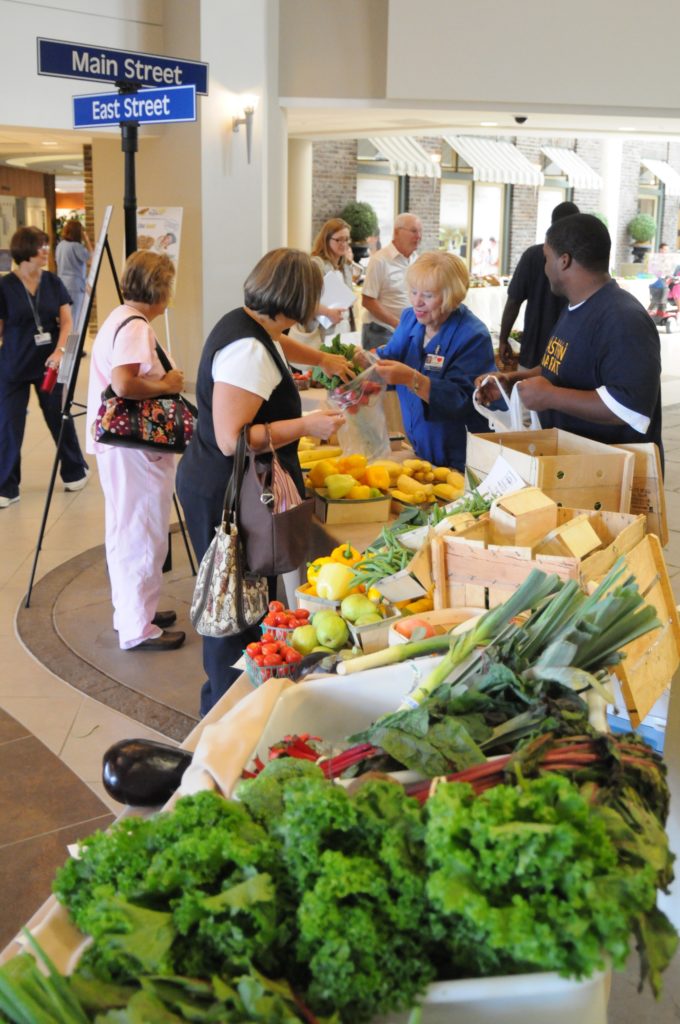 My visit to Henry Ford West Bloomfield Hospital was such an inspiring experience! I hope other hospitals start following suit — this could be the beginning of a major revolution in health & healing!

For more information, visit the Henry Ford West Bloomfield web site.