One of my closest friends, Nicole Jardim, is a hormone genius. I'm talking absolute GENIUS here. Whenever we hang out, we spend the majority of the time talking about things like hormone imbalances, PMS symptoms, sex drive, the best birth control methods, the best time of the month to have sex, what happens in each phase of our menstrual cycles… it's literally thrilling (and very hilarious when there are men around listening to us discuss cervical fluid). ;)
Check out our recent video we did together — Is The Birth Control Pill Destroying Your Health?
Watch video below or link to video here.
I've learned SO much about my own
hormones, PMS symptoms, and sex/birth control
from Nicole, I can't imagine not having her in my life.
She's the best friend every girl needs.
Seriously!!!! She knows everything. I'm obsessed with her.
The Best Period/Fertility Apps
Good news — she helps women everywhere take control of their hormonal health so they can feel sexy, energetic, clear-headed, feminine, gorgeous and vibrant. Who doesn't want that? :)
If you wanna learn how to get a grip on your hormones, Nicole's got some insanely awesome free videos here.
Videos on Bringing Back Your Period
You really want to have a sleepover party with Nicole in real life. But the next best thing is her videos.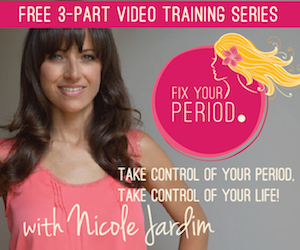 You'll learn:
The Most Common Hormonal Imbalance

What is Estrogen Dominance?

What You Can Do To Balance Your Hormones

What Tests You Should Get and How To Understand Your Hormone Tests
Nicole also has a program dedicated totally to helping you get rid of your PMS symptoms so you can feel awesome more often. 
Painful cramps

Fatigue

Bloating

Cravings

Anxiety/Depression


Irregular Cycle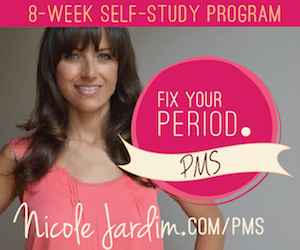 How To Get Rid Of Your PMS Symptoms (painful periods, fatigue, cravings, bloating, and more)

How To Balance Your Blood Sugar

How Hormonal Health Is Related To Digestive Health – And What To Do About It

How To Detox Your Body of Excess Hormones

How To Fix Thyroid Imbalances

How To Fix Your Adrenal Glands

Shopping List and Recipes for Healthy Hormones


How To Become an EXPERT On Your Menstrual Cycle

Tons more….



You don't have to live with painful periods, PMS and hormonal imbalances. Seriously!
I hope you guys love learning from Nicole as much as I do. She's brilliant and she can help you. :)
Speaking of PMS…if you're having chocolate cravings, here's the healthy chocolate brands I approve of.
The Best Period/Fertility Apps