"Starlight, I will be chasing your starlight, until the end of my life."

–muse ~ starlight
I have a string of star-shaped lights in my apartment. When I turn them on, they cast a beautiful, warm glow of sparkles all over my wall.
The thing is, these lights actually take a little bit of work to plug in. They have one of those long plugs, and the outlet is behind the couch, so I can't have them plugged in AND have the couch actually be up against the wall at the same time. If I don't have the couch up against the wall, it will jut out into the room and take up too much space. I just laughed out loud at that…small NYC apartment problems.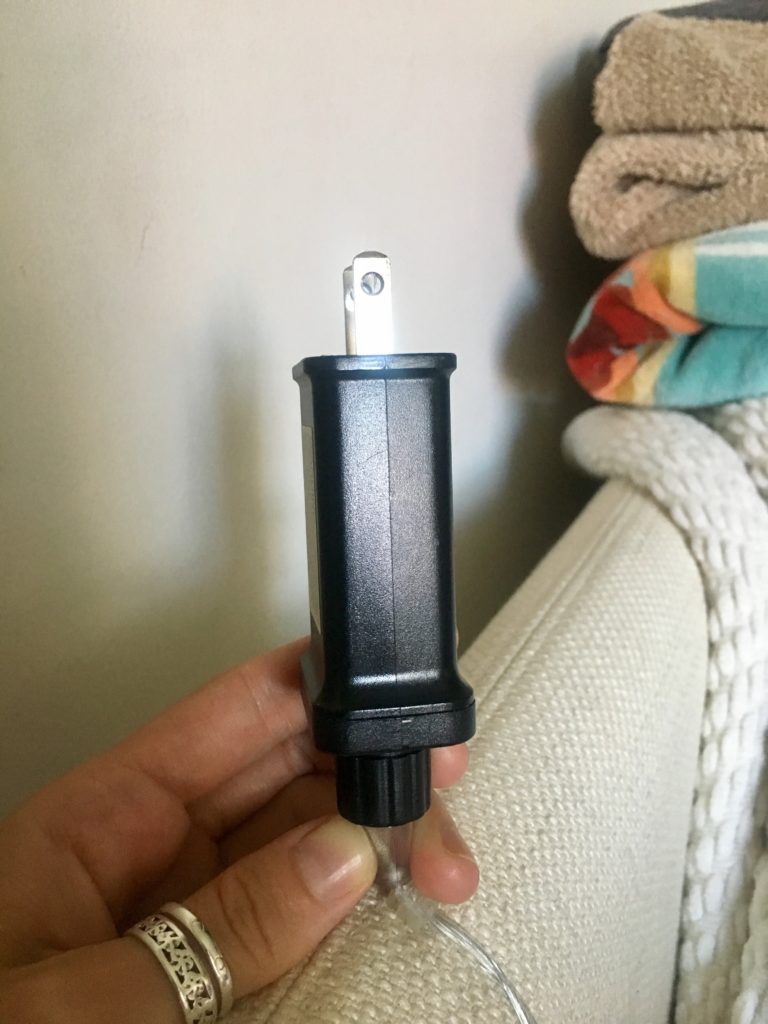 So basically, every time I want these lights to shine, I have to physically move the couch out a little bit. This makes a loud sound on the floor that likely wakes up my downstairs neighbors every time I do it late at night.  Which doesn't seem like that big of a deal, but my point is…it does take a little bit of extra effort, just a tiny bit of discomfort each time I want to get these babies sparkling. 
But it's worth it…once they're plugged in, they're so beautiful. 
I know what you might be thinking. Why not just move them to another outlet that's easier to access? Well, sometimes our environment doesn't naturally set us up for complete ease, so we have to do extra work to make things shine.
I got to thinking yesterday…this is just like us. We all have this sparkling light inside us, but sometimes it takes some extra effort to plug ourselves in so it can actually shine through.
When our environment and circumstances fully support us being plugged in and lit up, it feels easy. I was on a coaching call with my amazing starfriend and emotional-mindset coach Tessa yesterday and I told her, when I was in Bali it felt so easy to be…well, just basically a piece of light, all the time. I woke up there feeling like I had no choice but to be plugged in. My environment totally supported that. There were "outlets" everywhere! This is the feeling you may have felt on a healthy retreat, or when you've got a rocking morning routine, or after exercising, or when you're surrounded by people who just completely light you up. 
But when our environment doesn't naturally set us up to be turned-on lightbulbs, just the way my little NYC apartment doesn't support the ease of plugging my starlights in…well, we have to do the extra work.
"You know that it would be untrue, you know that I would be a liar…

if I was to say to you, girl, we couldn't get much higher."

-the doors ~ light my fire
We might not always wake up feeling lit up and plugged in, but we can get there. And it's important to know what that work looks like for you. 

A few of the things I do to plug myself in: 
Drink yerba mate
Read a passage from a daily book (as you know I'm on a massive Daily Stoic kick right now)
Talk to a person who reminds me of just how powerful my inner spark is (thanks Tessa!)
Listen to music and DANCE (I'm currently listening to this song)
Watch a video or listen to a podcast that gives me sparks of possibility
Move!!!!! Get those endorphins pumping in any way possible. This has been more difficult for me since fracturing my tailbone, but it's hands down the best drug on the market.
Meditate – I don't have a daily practice at the moment that I've been consistent with, but when I do, it's a game changer. As far as what kind of meditation, I am trained in TM (mantra meditation) but also love just sitting quietly and breathing and listening.
Clean – light has trouble shining through a cluttered space…
Write – this could be blogging or journaling or any other kind of writing. It releases any pent-up energy.
Float – my all time favorite way to get rid of mind clutter so the truth can shine through. :)
There are so many more, but those are a few.
What do you need to do each day to plug yourself in?
"We'll build a fire in your eyes…"

–yeah yeah yeahs ~ gold lion