Hi, friends! If you know me, you know how excited I get about raw chocolate. My love for it is borderline excessive at times. Especially around the holidays, when the general love for chocolate is thick in the air. Wheee!
One of my all-time favorite brands of raw chocolate is Gnosis Chocolate. Vanessa Barg, founder of Gnosis Chocolate, went to the Institute for Integrative Nutrition with me — and that's where her chocolate business got started! For years now, I have truly loved supporting (and eating) her high-quality, packed-with-superfoods chocolate.


What's so awesome about Gnosis chocolate?

Made with respect for the origins of cacao, the well-being of our society, and Earth's natural majesty, Gnosis products celebrate health and integrity. To ethically sourced cacao, they add low glycemic sweeteners and high nutrition superfoods – resulting in an exquisite balance of flavor and function. Elegantly packaged with only the most sustainable of materials, Gnosis is an indulgence to delight both palate and conscience.
Wow.
Gnosis chocolate bars are loaded with superfoods, healing herbs and spices, and most importantly, love. :)
Did you know that chocolate can actually boost your immune system and keep you healthy and happy? Well, Gnosis Chocolate can!! In the most delicious way possible, I might add. That's the best news ever, right?
I bet your mouth is watering for some of this chocolate right at this very moment. Well, luckily for you I'm giving away some of Gnosis Chocolate's most immune system-boosting treats to one winner!
THE PRIZE:
Ingredients include:
Cardamom, Ginger (circulation, digestion, anti-inflammation)
Cinnamon(glucose metabolism, circulation, cognitive fuction & memory)
Echinacea (activates white blood cells for immunity)
Ginseng (endurance, stamina, endurance, stress reduction)
Rose Hips (60% more vitamin C than most fruits, anti-inflammatory)
Burdock Root (liver support for blood detoxification & lymph cleansing)
Chaga Mushroom (immune supporting and antioxidant properties)

1 3-piece pack of CinnaPecan truffles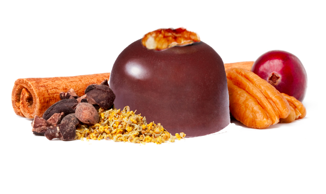 Ingredients include:
Elderberry – (boost the immune system, strengthen the heart, for coughs, colds, flus, and infections)
Siberian Ginseng – (energy, stamina, and physical endurance, memory, mental acuity, adaptation to stress)
Chaga Mushroom – (immune supporting and antioxidant properties)
Rose Hips – (60% more vitamin C than most fruits, anti-inflammatory)
Ginger – (digestive aid, source of antioxidants, and anti-inflammation)
1 SugarPlum GingerBread bar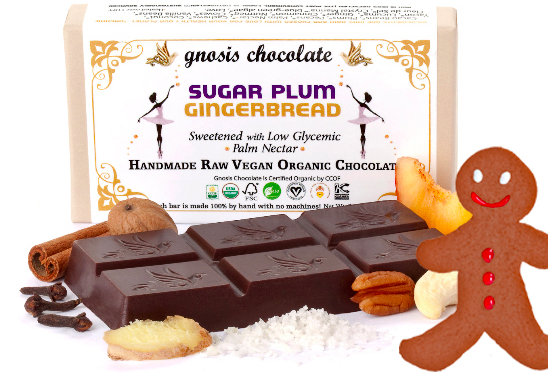 Ingredients include:
Plums (vitamin C, fiber)
Pecans (oleic acid, beta-sitosterol – a natural cholesterol-lowering compound)
Cinnamon (glucose metabolism, circulation, cognitive fuction & memory)
Ginger (circulation, digestion, anti-inflammation)
Cloves (antioxidants, metabolism, circulation)
Nutmeg (lower blood pressure, anti-inflammatory, anti-stress)
The winner will receive all 3 of these!! I've tried them all and they are just too amazing for words.

HOW TO ENTER TO WIN GNOSIS CHOCOLATE:
Simply post a comment on this blog post in the comments section below and share YOUR favorite immune boosting tip! What makes you feel healthy and vibrant during the winter months? 
CONTEST DEADLINE:
DECEMBER 19, 2012. I'll pick a winner at random and you will be notified by email.
If you want to purchase some Gnosis chocolate of your own, you can use the code HEALTHYCRUSH-10 for 10% off everything on the site (excluding items that have already been marked down). The promo code will be active through January 10th. Place orders by Monday, December 17th for definite pre-Christmas delivery!
 Good luck!!