The other day I stepped into Life Food Organic to pick up a juice and I noticed that one side of the wall had been opened up. Curious, I stepped through the opening, and I found myself inside the brand new Sweat Shop LA. Upon closer inspection, I found it was full of individual infrared sauna rooms! I'd heard a lot about infrared saunas but I'd never been inside one. Of course I was intrigued, so I chatted with the guy at the counter for awhile. He told me the infrared sauna heat penetrates deep into the body to help get rid of all kinds of toxins. "How about toxic emotions?" I asked. He laughed. I was serious. ;)
Anyway, after reading through some info, I went back to the Sweat Shop later that evening to give it a whirl. All I can say is that after spending 45 minutes in the infrared sauna (during the 45 mins I did have to open the door to let some cool air in a few times), I felt like my whole body was sparkling and I was walking on a cloud. No joke! I looked at my face in the mirror and I was glowing. I swear, my skin has never looked or felt so good. It was awesome!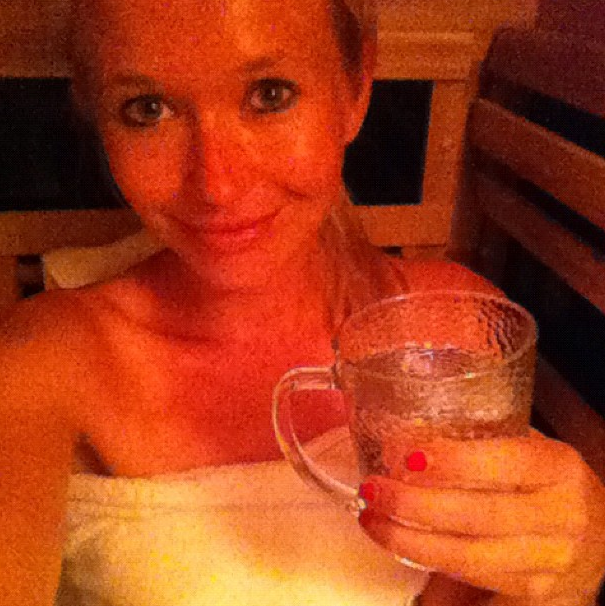 Benefits of an infrared sauna according to the Sweat Shop LA:
Detox your body
Burn calories
Strengthen cardiovascular system
Beautify complexion – improve skin tone & blood flow

Healing & pain relief for injuries
Speed up your metabolism
Relax and de-stress the body
Improve immune system

How is an infrared sauna different than a regular sauna? An infrared sauna's radiant heat penetrates deep into the body directly in the same way as natural sunlight, but without any harmful rays. Regular saunas heat the body indirectly through hot air/steam. The guy at the Sweat Shop explained that the heat goes deeper into the tissues for more detoxifying effects, and also that infrared saunas provide a more sanitary environment than regular saunas/steam rooms.
If this excites you, search out a place with infrared saunas in your city and sweat it out! Some people even buy infrared saunas for their homes. That is super intense…in the best way.

Learn more about infrared saunas
Overall my first infrared sauna experience was a total win.
Have you ever tried an infrared sauna? What did you think?