What a dumb title for a blog. I just used it so you would click on it. You already know my answer to this question.
I haven't written an emo post in awhile because I've been so busy getting out of my comfort zone, working on my fitness, dancing and generally being unmessablewith. I've been feeling better and happier and more alive than I ever have before. Confident, courageous, strong, free. I've been listening pretty exclusively to hip hop music like a maniac, thinking I don't even have the time to listen to the emotional stuff anymore, I feel so good I don't even want to indulge in it, I'm too busy just crushing life.
But yesterday, on Valentine's Day, I woke up and read a chapter from The Dance, and I remembered that love still makes me cry. Oh yeah, there it is.
Sitting in the locker room at Soul Cycle yesterday with my friend Jamie, a Taylor Swift song came on. "YES, I love Taylor Swift!" I said. "What!? Taylor Swift? I would never think of you like that," she said. I had to smile and laugh at that. It's so funny how different people get to see such different sides of us. Jamie has been my workout buddy over the past month and she sees me as powerful, independent and totally crazy. I've been so insanely excited about my life lately I feel like I'm gonna burst sometimes.
But really, I've got the most emo little heart. :)
I thought about love all day yesterday in between sweat sessions. I feel really fortunate to have fallen in love with a lot of different people so far in my life and I know I'll fall in love with countless others. I thought about all the pain and all the magic. My life so far of loving fiercely and taking risks and being vulnerable and not giving up on people just because others warn me to be safe or to protect myself. My sister and I are both this way, our wild and fiery hearts, feeling things so intensely. We've had countless, endless crazy love conversations over the years, flown across the country for each other during breakups, supported each other in taking ridiculous risks in the name of love, cried into each other's pillows, never judging each other for the situations we find ourselves in or the people we find ourselves loving. It's been quite a ride and we'll probably write books about it.
Love doesn't always feel easy. Sometimes it feels like (in the words of my dear Taylor Swift), "wishing you never found out that love could be that strong." There are times when I've seriously wanted to go Eternal Sunshine style and get an operation to erase full people from my memory. But really, love shapes us, changes us, molds us, blows our minds and our hearts and our lives wide open, tears us apart, pieces us back together. It's everything. It's totally unexplainable to my analytical Virgo brain, which might be why it's so enticing, it makes me want to free fall. I can't help but feel that we are so incredibly lucky to experience love with each other on this crazy little green and blue beach ball floating in space that we live on. I mean really.
This is the passage from The Dance I read on Valentine's morning, and I cried with gratitude because it was so beautiful, it's exactly how I feel about love.
"A life where there is love is often messy. Life without love is neater, but neatness is really preferable only in bathrooms and written reports. Dancing alone is often easier and certainly less complicated than dancing with someone else, but there is nothing quite so satisfying as creating even one moment of real beauty moving gracefully with another. Perhaps to find this beauty more often, these moments of moving in exquisite alignment with each other and with the music that guides us, we need to let go of our ideas of what the dance should look like and let the messiness of love guide us." -Oriah

I write every morning in my journal, usually 2-3 pages. I wrote only one sentence in my journal yesterday.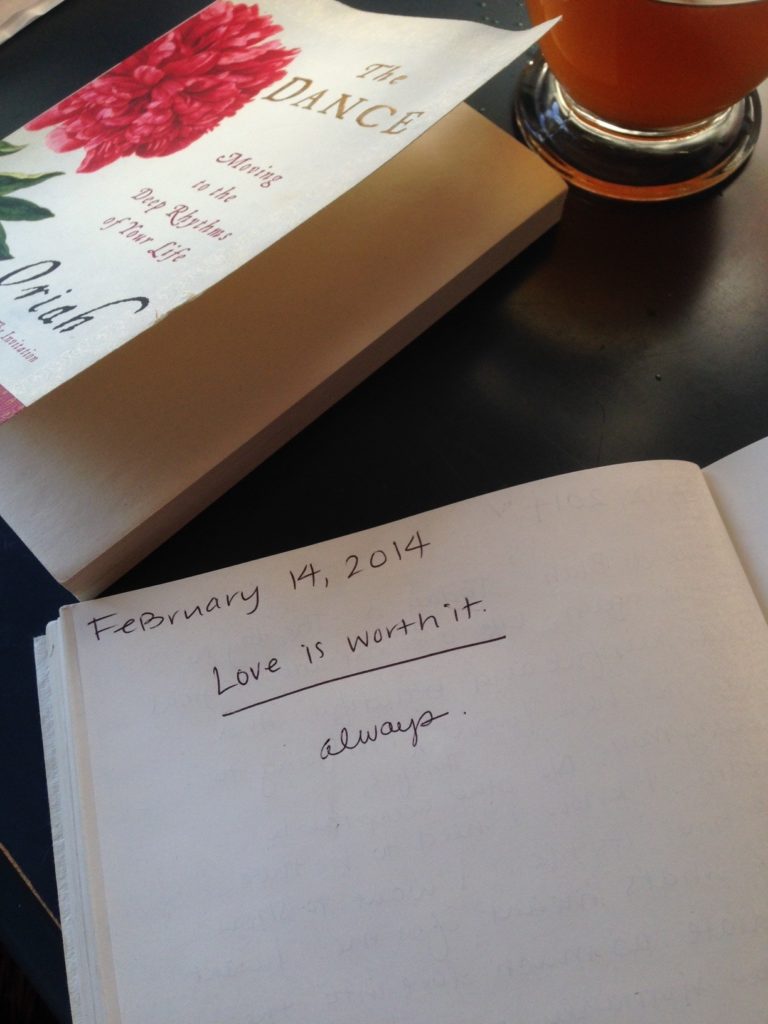 "Let us risk remembering that we never stop silently loving those we once loved out loud." –Oriah

Love. It can look like a lot of things. It can be experienced in so many forms.
Let's be more open to loving people when all we want to do is shut down. It's legit. It's awesome. It's worth it.

Ok ok, hopefully you guys aren't crying right now. If you are, go listen to some hip hop and snap out of it. We had our emo moment together and now it's time to get back to being cool.