We all know hydration is at the top of the list for great health – and I've been on an endless quest for the perfect water bottle for awhile now. I've tried out a few different kinds over the past few months, but hadn't been able to find anything that would really get me PSYCHED about drinking tons of water. My classic Nalgene was too wide for me to easily carry around. The stainless steel/aluminum bottles left an unpleasant metaly taste in my mouth, and I really didn't like not being able to see how much liquid was left in the bottle.
I did a lot of research on what bottle might be best for me. My requirements were as follows:
Clear bottle / able to see liquid inside
BPA-free (Bisphenol-A, a toxic substance commonly found in plastics)
Easy to carry around, won't spill if I put it in my bag
High level of overall awesomeness
My search finally ended when I found the KOR Delta. I read all about it online and ended up purchasing one in Sawgrass Green.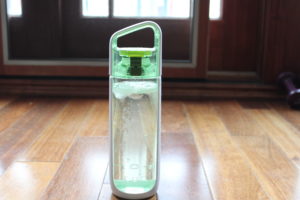 You could say I was just a teensy bit excited when the bottle arrived in the mail. I loved it immediately. Here are some things that cause my endless love for my KOR Delta so far:
It has all of the requirements I mentioned above (BPA-free, clear bottle, easy to carry around, etc)
It has a lock on the cap so if you bring it in your bag and slosh it around, no liquid has a chance of escaping
It has INSPIRATIONAL QUOTES on the inside of the cap so you can get pumped up about life while you're hydrating (you can even put your own quotes in)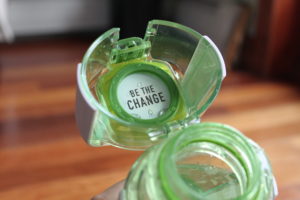 It has what they call "the perfect spout" – not too wide and not too narrow
It has a handle on the top that's perfect for carrying around at the gym or yoga studio
The cap stays in place while you're drinking, no chance of it hitting you in the face
KOR has a "Thirst for Giving" program, where they donate a % of profits to a water-related non-profit
It looks really, really cool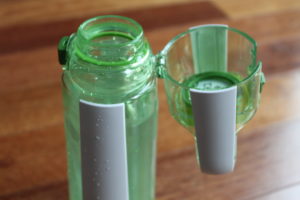 So there you have it. I've been using this bottle for a few weeks now and I have no complaints. I'm drinking way more water than I was before. I get excited to fill up this bottle and drink out of it while seeing the words "BE THE CHANGE." Yep. Water rules. :) I've also heard from people that this water bottle is ideal for biking and camping.
Anyway, if you're looking for a water bottle that has all of the qualities I mentioned above, you may want to try a KOR Delta.
So I would love to know…do any of you out there have the KOR Delta? What is your favorite water bottle?